Hey people, I hope you all like all the previous articles. To continue to provide the best valuable knowledge I will share the tutorial on how to upload audio using the Audioship app. I will also explain all the details about Audioship. So, keep reading and enjoy.
Well, YouTube is the most-watched video platform all over the world. And YouTube has millions of creators and billions of visitors and users who are watching videos daily on YouTube.
So, to become a YouTube creator you need some platforms and software to successfully or I can say easily produce videos. So, you will need video editing software, audio editing software or apps and also you will need some hardware like a microphone, softbox lights, and a good camera.
Well, here is the solution on How to upload audio to YouTube, the software or app is Audioship!! So, keep reading this article it will also help you to create good and professional YouTube videos. Excited !! to know more about this???
So, let's start with the article.
Audioship – Upload audio to YouTube on the go!
Basic Idea About Audioship –
Though YouTube is a video-rich station, housing awesome video channels but the trend of uploading audio songs with lyrics or cool pictures is growing on almost every music channel. The best part is, uploading audio in high quality has become so easy with one simple tool: Audioship!
Audioship allows you to upload your audio songs, or full album within a minute without reducing the quality of your audios.
Also, read our article on – How To Delete Steam Account In Simple Steps.
In the upcoming sections, I will share complete details about the features and I will also guide you on how to upload audio to YouTube.
Let me share the features with you.
Rich Features of Audioship –
Fast conversion allows you to convert your audio files into video files literally within seconds. Four-minute audio takes 6 seconds to convert! You can find it easy with Audioship.
Audioship provides you with a watermark-free upload service.
It allows you to upload a single file or multiple audios in bulk at the same time (batch uploading). Uploading the whole album of audio has never been easier.
With Audioship you can Choose pictures of your own choice with the audio you wish to upload.
Audioship does not reduce the sound quality during the conversion.
It supports various audio formats like MP3, AAC, FLAC, WAVE, and OGG.
Audioship allows you to upload on multiple channels on YouTube.
There is no limits with Audioship. You can upload audio files of any size.
Audioship has a rich stock images library. You can select and use any image with the audio you are uploading.
Now you have an idea about Audioship features let me share with you how to use Audioship to upload audio to YouTube videos.
You won't believe how simple is to use this app to upload audio and convert it to video and upload to YouTube. Let me give you a quick overview of how it works.
Checkout – The 30 Best Free Sports Streaming Sites.
How Audioship works?
Here are 3 simple steps:
Select your audio file that you want to add to your video.
In next step select any image that you want to put in your video.
Now click on upload and you will be ready for uploading video to YouTube.
How To Upload Audio To YouTube. Step by step guide.
Now, You will get to know in detail the steps:
1. Visit the Audioship website.
2. Click on "Choose Audio Files to Start".
3. Navigate to the folder where you have stored the audio file(s).
4. When you select the desired file, an authentication dialogue box appears.
5. Select a login option from Google or Facebook.
6. After choosing a login option, click "Allow" to connect your YouTube account with Audioship.
(It will directly post the video to your YouTube channel)
7. Click on the 'image icon' to open the image selection popup box (For the picture to be displayed in the foreground of your uploaded audio).
8. Enter the description of your video. (All fields are not required to be filled)
9. Click 'Post all videos to YouTube'. IT will combine your audio MP3 file with your image and upload it to YouTube by converting them to a video.
This is all about how to use this app.
FAQs –
Read some questions here:
Is it free to use?
I can say yes and no both. Audioship has different packages from which you can select. There is free plan as well in that you can get 1 hour of upload per month.
Which audio formats are supported by Audioship?
All popular audio formats including MP3, AAC, FLAC, WAVE, OGG are supported by Audioship.
What does it mean by upload time calculation?
When a user uploads two 5 minutes of audio files on 2 different channels of YouTube, the total amount of time is calculated as 10-minutes. Similarly, 5-minutes audio uploaded on four different channels is considered a 20-minute upload time. The total time of upload is called 'upload time calculation'.
Why am I getting an error on my audio files longer than fifteen minutes?
The option for longer videos in your YouTube account has been disabled by default. You need to turn it on/enabled to upload your videos with more than fifteen minutes' duration.
Also read – LunaPic Free Online Photo Editor- In detail Guide.
Final words –
This is a great tool and I must say that you need to try it if you are any YouTube or using any tool to create any marketing videos or something like that. It's a great website or tool with easy-to-use and well-managed features.
Well, generally I don't use any such tools for my work but after getting into this tool I have started using this tool for some of my uploads on marketing.
Although it's not free or I can say its free passively if you want to use it for more stuffs like editing and growing your YouTube channel or something then you need to upload lots of videos to YouTube and i need to tell you that for that type of use you need to purchase the paid plans to use it.
Here are the paid plans for Audioship:
3 hour upload time – 3.99 USD
10 hours upload time- 9.99 USD
40 hours upload time- 19.99 USD
100 hours upload time- 29.99 USD
400 hours upload time – 59.99 USD
Try to go to Audioship website and check out the plans – Click here to go to website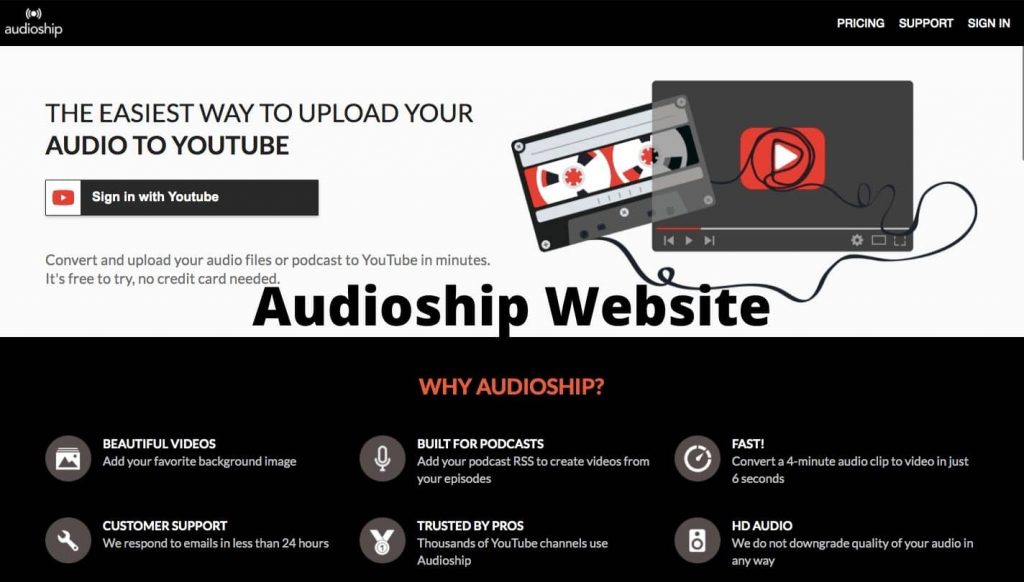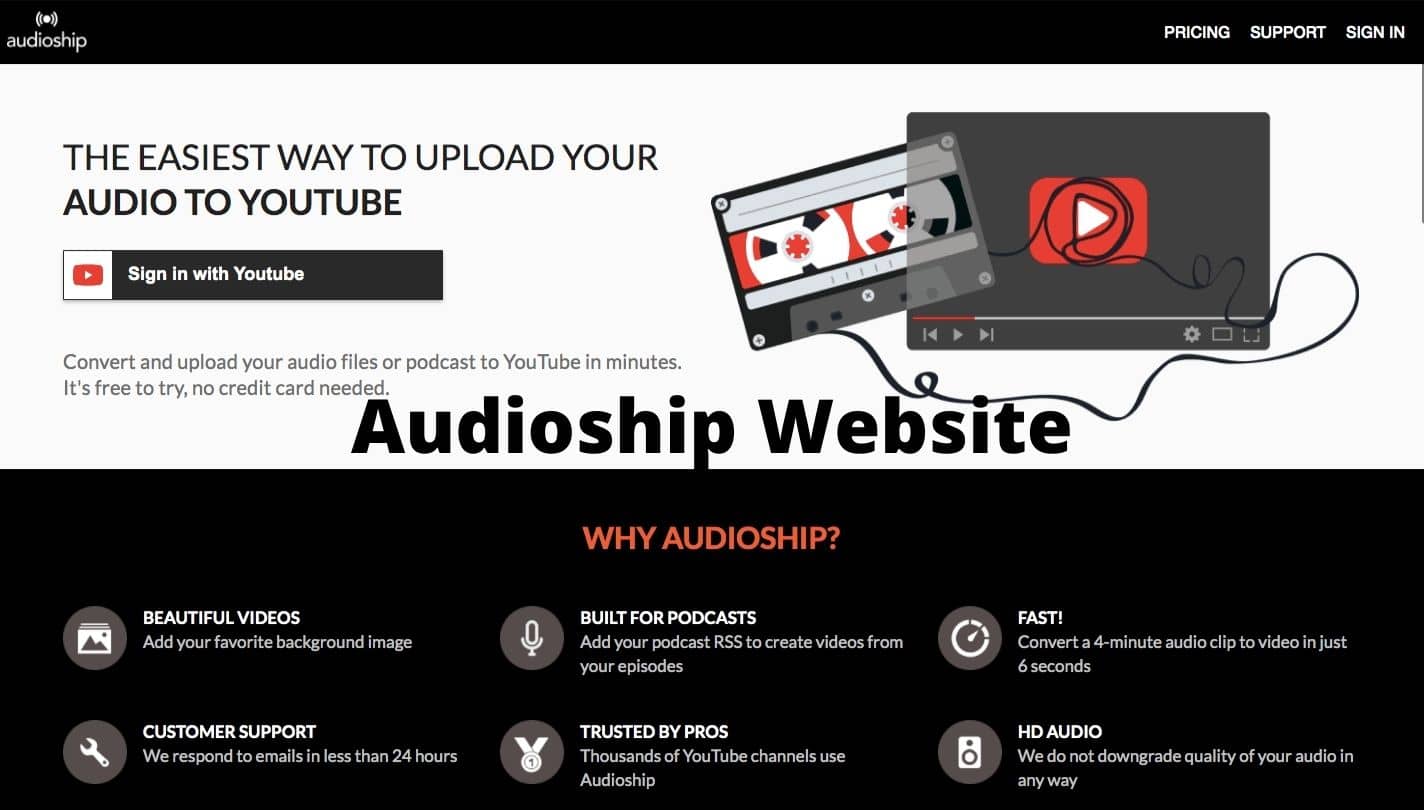 I must tell you that it's an awesome tool and website to use. You can try it to build your videos and manage your YouTube channel.
Let me know your views below in the comments.
Happy Androiding….