If you are a sports freak, then here is something that a tech freak has got to offer you all. In this article, we are sharing the Best Sports Streaming Sites of 2022 that you can use to watch Sports online.
Finding a reliable and updated source for watching Sports is a crucial thing. Generally, the sports match timings are such that not everyone can skip their or office. Hence people look for alternatives in their mobile phones or Desktop at work.
Luckily for them, there are a number of amazing free Sports streaming sites that offer a wide range of and most popular sports shows. And do not worry as they are not illegal enough to cause you any harm. Here we have enlisted the best of the best live sports streaming sites. Take a look –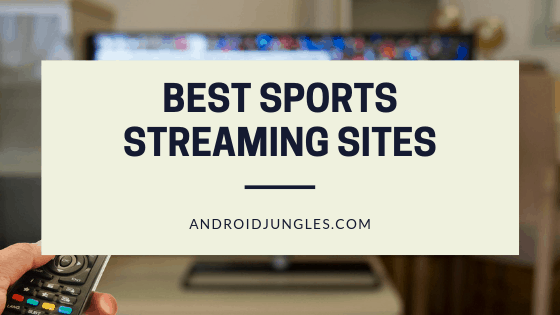 Best Free Sports Streaming Sites (2022)
Here we have the best Free Sports Streaming Sites for you all –
1. Live TV
To begin with, Live TV is the most popular Sports Streaming site having over 25 million visitors every month. The User interface of this site is quite intuitive and attractive as well. It has all the contents well arranged and hence users can have a seamless experience. The site is more popular in European Countries like France, Germany, Italy, etc.
The site has three sub-parts. You will find live scores on two pages and one of the three displays video archives. This section helps you to have the fun of the match that you already missed. You will get the notification of upcoming sports and events a few days earlier.
One can enjoy a wide range of games here like table tennis, athletics, bandy, equestrianism, greyhound racing, futsal, handball, winter sport, billiard, football, cycling, and combat, etc. Users can create accounts and hence stay more tuned to this site for updates and notifications.
The only drawback of this site is that it has just 10% US. The site should be more open to American Sports and NFL streams perhaps.
Batsmanstream is another popular Sports streaming site that offers a number of amazing sports matches like rugby, NBA, football, and NHL, etc. Almost all the sports streams are available on this site including the ones that have unheard events like Poker!
Batsmanstream was earlier popularly known as Dracula. The site is no less than the greatest sports channel. In fact, it is always online with over 95% uptime even at the time of major events like the Champions League.
The site gets updated to literally every 15 minutes. In the case of football, one can search by competition: Ligue 1, Bundesliga, FA Cup, La Liga, Serie A, Copa Brasil, etc. There are over eleven sections that are well categorized and organized – Handball, Hockey, Rugby, Tennis, Football, NFL, Basketball, Baseball, Volleyball, and Motorsports.
The only drawback this site has is the geo-restriction. The developers of this site should really work on some mirror sites so that people find it easy to access and do not have to use a VPN.
Now you might be wondering why I have included Reddit in this article. Well, there is a reason for it. No. Reddit does not have any sports streaming service but it surely is a large community that offers subreddit pages where updates are made every now and then regarding various events. These subreddit pages also host links for the sports freaks thus acting as a sports streaming website.
Cricfree is another great website offering free sports streaming. This site has a schedule that shows the match timings for this hour, the next hour, and the coming weekend. The site is well categorized so that users can look up the matches and games they are interested in.
There is a popular instant chat available on this site where the users can have their discussions. One can watch almost every international Sports channel here and that too live. The best part about this site is that the users are already notified about the coming ad and pop uplinks.
Now you all might be confused about why I have mentioned the 'empty' site on this list of best online sports streaming sites. Well, there certainly is a reason behind this. The site has got the best online sports streaming. The site has got over 10 to 15 broadcasts of each event.
The site not just randomly puts any links but all the links are amazing to stream sports. The site is recognized by many experts as a trustworthy platform. There might be some lack in the styling of this site. If you are looking for smaller matches, then this site is not where you should land.
Mamahd is another popular online sports streaming site that offers matches like UFC, WWE, cricket, Formula1, boxing, MotoGP, and snooker. The site is absolutely free to broadcast and has some really presentable graphics. One can find events like Horse racing, gymnastics, College basketball, and so on.
The drawbacks of this site have been in regard to the Live chat that appears to be disconnected after some time on the inactivity. At rare times, the broadcast stops unexpectedly. However, the site has been getting 20 thousand active users every month and that's surely a sign of massive growth.
The next one is Feed2all. This sports streaming website offers an amazing user experience along with great simplicity. The site has a clean User interface and enlists the upcoming games along with their logos next to the name. The layout and organization of the site are simple and classic.
One can find Cricket, Snooker, Moto GP, Formula 1, WWE, UFC, Live boxing, and so on games available. The best part about Feed2all is that it has very fewer ads interruption. On this site, one can select their current timezone and get the timings of the games.
The only drawbacks of the site are that the updates are a bit slower than usual and hence other sites get an advantage over this site. The second one that I would like to point out is the color pairing and logos of the games. Otherwise, the site is amazing!
Streamwhoop offers a powerful search tool that lets users find every match, event, replay, etc. The site has got clean layouts and reliable sections. Even the American sports are mentioned here which include – NHL, NFL, NBA, and so on.
The site offers free services without any issues signing up. The site would be an ideal one for American sports but it does not provide well with the European languages. The site has also had its downtime in the past.
If you are an Indian, then this site is one of the best options for watching Live Sports Online. The Sony LIV application from Sony Entertainment offers various Games like Cricket, NFL, Copa América, The FA Cup, Italian Serie A, NBA, The Masters, UEFA, La Liga, EPL, WWE, FIFA World Cup, The Rugby Championship, Super Rugby, PGA Championship, etc.
Sony LIV offers free sports streaming but it may not work in some areas and hence one will have to use the VPN to access it. Otherwise, users do not require any subscription. There is one limit that free users will have to come across.
The streams are delayed by 5 minutes without a subscription. However, that won't make a great change in my opinion. But if it does, then I would refer you to take the subscription or shift to any other free sports streaming website.
VIP Box, the last but not least, is the sports streaming site that has gained huge popularity over the last few months. The most crucial thing, in my viewpoint, is the interface of this site having large icons and a great layout. Another major part is the availability of the site in seven various languages.
Thus language is not a barrier for this site and people from all across the globe can take advantage of this free sports streaming site. One gets to enjoy games and matches like F1, College Football, NCAAB, Badminton, AFL, etc. Apart from this, the users can also have the fun of Swimming, Hockey, and Gaelic games and matches.
The icons on this site are used in an appealing way with amazing overall color combinations. The search bar has been developed to let users search particular games, receive information regarding the timings of the matches and games, etc.
WatchESPN is the best free sports streaming site that is free of all of that ad junk and is certainly a boon for the US audience. The interface is very well organized displaying scores of current top matches along with separate various categories. Another advantage of WatchESPN is that it offers both android as well as iOS apps.
VIPLeague is one of those amazing free sports streaming sites that offer a variety of sports to watch like football, basketball, baseball, motorsports, nascar and so on. The interface too is pretty simple and another major part is that this site offers sports in various languages including Dutch, French, Spanish, etc.
Laola is another free sports site that is in its budding stage. The site offers a number of games with no obligation to register or log in. You can simply go to the site and watch what you want. The site has it for both viewers as well as readers. It offers news for readers as well as live sports streaming for viewers.
Other great sports streaming free Stream2U. This user-friendly website lets you stream football, basketball, hockey, and lots of other such games.
One peculiar feature is that it offers clock features so you can check clock time and also modify it as per your needs.
Hotstar is not a new name for all the Star network fans out there. Over time, Hotstar has emerged as one of the greatest and best sports streaming apps. Though this site is not as popular worldwide as in Asian countries, it certainly is a great hub for sports lovers.
One can even enjoy live streaming sports without signing. You get the option to give a premium at a very affordable monthly fee. And if you are into Star network channels and shows, this site will be a boon for you.
If you are looking for a free sports streaming site that can offer games like Football, hockey, boxing, MMA, motorsports, basketball, and so on, then SportSurge is what you need.
There most certainly are ads that might interrupt the live streaming but then it is all free of cost, so a little disturbance would not hurt, right?
Another one of the best free sports streaming sites is Stream2Watch. This one has a lot to offer you right from Football, Soccer, Golf, Tennis, to games like Rugby, Boxing, Hockey, Basketball, and so on.
You might come across a large number of ads on this website but then this is the only way of income for the developers of this website. Besides, the quality content offered on Stream2Watch is way better than a few issues.
Alternate site – iptv.stream2watch.sx
[epcl_box type="notice"]Stream2watch site may be not working at present. Use alternate given in this article. We will update when we get update regarding Stream2watch site.[/epcl_box]
Yes, you guessed just right by the name. This free soccer game streaming site is very popular for the soccer game it streams from all over the globe. The ease of use of this website is amazing but a few ads here and there are frequent.
Yet another most popular free sports streaming website is VIPRow Sports. Just say the name of the game and you will find it streaming on this website. You can find streams of games like Racing, Tennis, Golf, Football, Wrestling, Boxing, Basketball, Rugby, and so on.
CrackStreams is yet another free sports streaming sites that offer a wide range of sports streaming like Boxing, Basketball, Baseball, MMA, Football, and so on.
If you are someone who gets bored with sports streaming continuously and looks for breaks, then look no more. US TV GO is one of the best free streaming websites for sports and other entertainment options like news, lifestyle, kids, etc.
CricHD is yet another great option if you are looking for free sports streaming sites 2022. The website is well known for its ease of use and a wide range of live streams. However, as you might have already guessed by its name, this one is more leaning towards the game of cricket. If you are a cricket fan, then congrats! You just hit a jackpot.
Also, check these website URLs – crichd.ac, crichd.se.
123TV is one of the most popular sports streaming sites. The website is pretty user-friendly and has a lot to offer when it comes to sports.
Indeed it is a free sports streaming website and is a great alternative to your cable connection. It also is well known for entertainment and news services. What are you still waiting for? Go ahead and check it for yourself!
Fox Sports live site is most trusted and reliable free sports streaming sites. It's a official site for some sports to stream live. It also offers mobile app. I must say you must checkout this website for free sports streaming.
If you are from North America then this site is for you. Bosscast is a best free sports streaming site to watch live sports without registration. Bosscast is best for streaming sports like basketball, baseball, hockey, WWE and rugby. Checkout this website, I am sure that you will love it.
Fubo Tv is a free sports streaming site for American, Canadian, and Spanish audience. I advice to use this site if you are from the above locations.
If you are a Ronaldo lover and a football game lover then this free sports streaming site is for you. It's dedicated to Portuguese international football club. You can find quality football videos and stream in this site.
Streamhunter is a best site to stream Football, Basketball, Baseball, Handball, Hockey, Moto, Rugby, NFL, Tennis, Volleyball, Box etc. It's a indexing site for free sports. So, you can find thousands of free sports streaming. Checkout this site.
This is the most reliable free sports streaming site. It also provides live chat box to interact with your fellow live watching users. You can watch almost all sports using this site.
From this site you can watch Football, hockey, tennis, basketball, baseball, golf, cycling sports. This site is a simple home page with lots of live streaming links. So, do checkout.
FAQs –
Can I stream live sports for free?
Yes, You can watch sports for free using above sites. We have tried above listed sites for you. Even though while streaming if you have asked to add any payment details then I suggest not to provide any details.
Is it legal to watch sports using free streaming sites?
No, My answer is no because sometimes your IP and personal information can be tracked. So, I would suggest to use VPN to avoid legal issues while streaming these type of sites.
Is it safe to watch sports using free sports streaming sites?
Yes or No, I would say both because if you use any proxy or VPN its safe for you. Sometimes free sports streaming sites can collect your IP and some information. So, better to use VPN.
Free sites can steal my personal information?
No, because this sites don't required signups. Your IP can be tracked. By using VPN you can avoid tracking IP. Also I would suggest you to not provide any information if asked while streaming free sites.
Why I can't access free sports streaming site?
It may be because of location restriction. Its possible that some sites are restricted to some countries or locations. So, use VPN to stream sports for free without any restriction.
Which VPN is best for free sports streaming sites?
Nord VPN. I would definitely suggest Nord VPN because its very useful and allows you to change locations. It supports 59 different locations. So, must try it.
Wrapping Up –
So these were the best Sports Streaming Sites one could rely on to watch Sports online. I assume you have all found the article of use and the above sites are worth your time. In case you have any more names in your mind, feel free to share them with us!
Happy Androiding 🙂
DMCA –

We do not own any of the above listed sites. We have just provided the sites for our readers reference. We have just provided the links. Its our policy to respond any issue related to DMCA. Contact us for any query.