Hey people, If you are looking for Tumblr alternatives after banning of Tumblr, you are at right place. Please have a look at our 10 Best Tumblr Alternatives.
If you are living in a bubble of social media sites like Facebook, Twitter, Instagram, let me burst the bubble for you to look around a series of options you have for social networking besides these limited apps. If you are aware, Tumblr is a great social media app/site that offers a great micro-blogging platform. But do you know that it was banned to show adult content in 2019? This has led to a search of new Tumblr alternatives which have actually proved to be quite a lot better than Tumblr. Want to know which? Scroll down to know more about our best list of Tumblr alternatives –
Best alternatives of Tumblr in 2022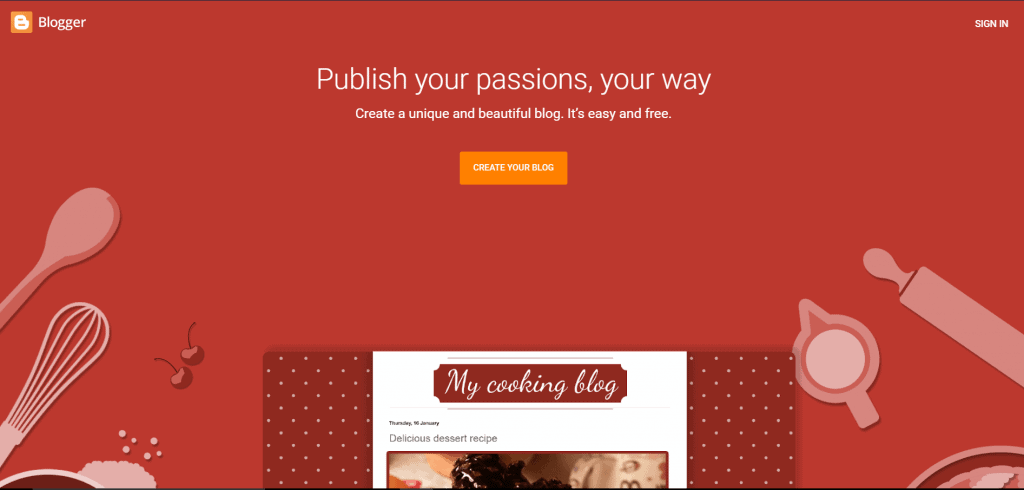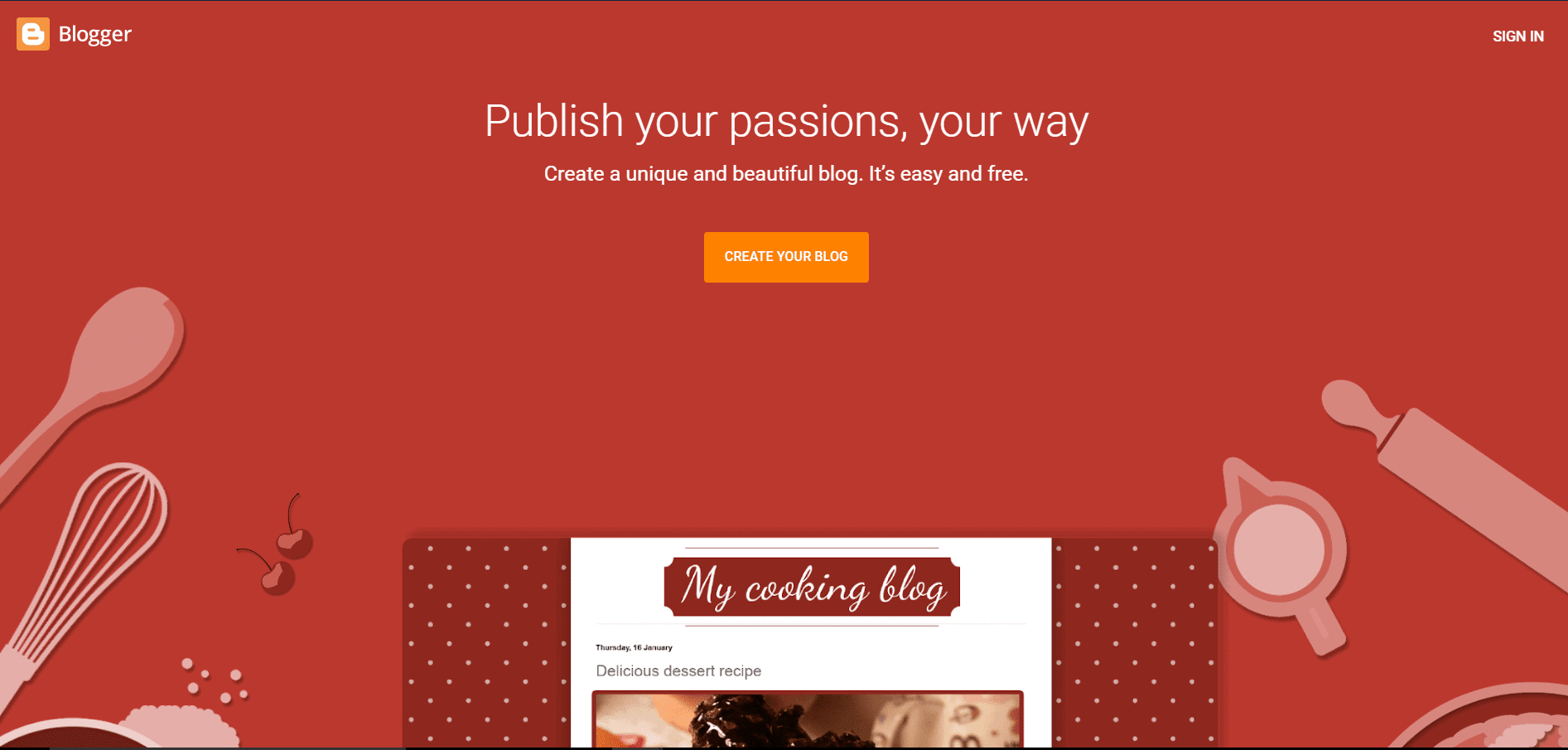 The first Tumblr Alternatives is Blogger. Blogger is Google's blogging website that is very famous for the art, writing, aesthetics and many such other areas of skill. Blogger would be a perfect option if you are looking for a Tumblr alternative. The site is free and easy to use and hence you can easily make use of this platform.
There's no advance knowledge that you will need to use this platform. Thus even newbies can use it without any worries. If you are wondering about the features, it is quite obvious that a blogging site from Google will be very well equipped with features.
You can log in to Google account to use Blogger. A great advantage you get is that the videos that you post on blogger will get featured and hosted on Google Video. So using Blogger is very easy and it's great for newbies as well.
Pros
Stuffed with Google's amazing features.
Easy to use
Adsense support for earning.
Perfect for newbies
Cons
Limited options for customization.
Limited Plug-ins support.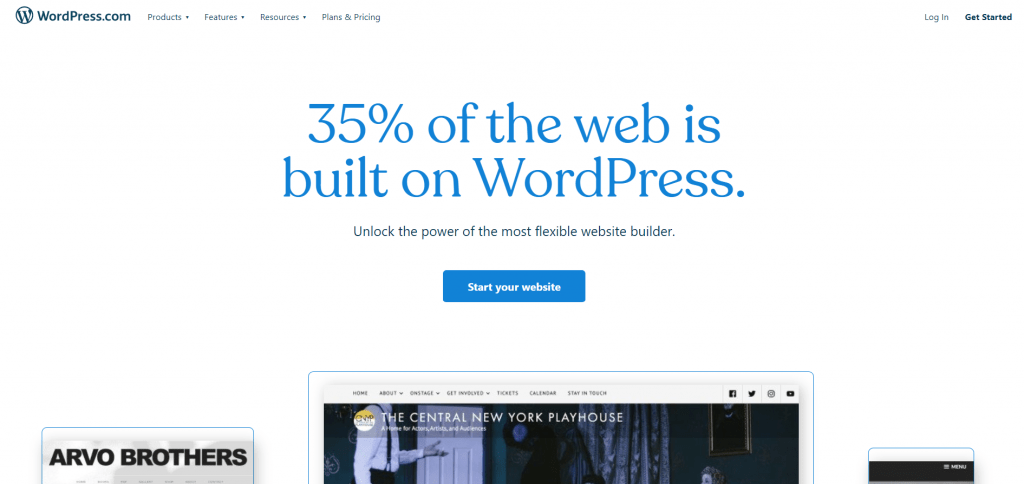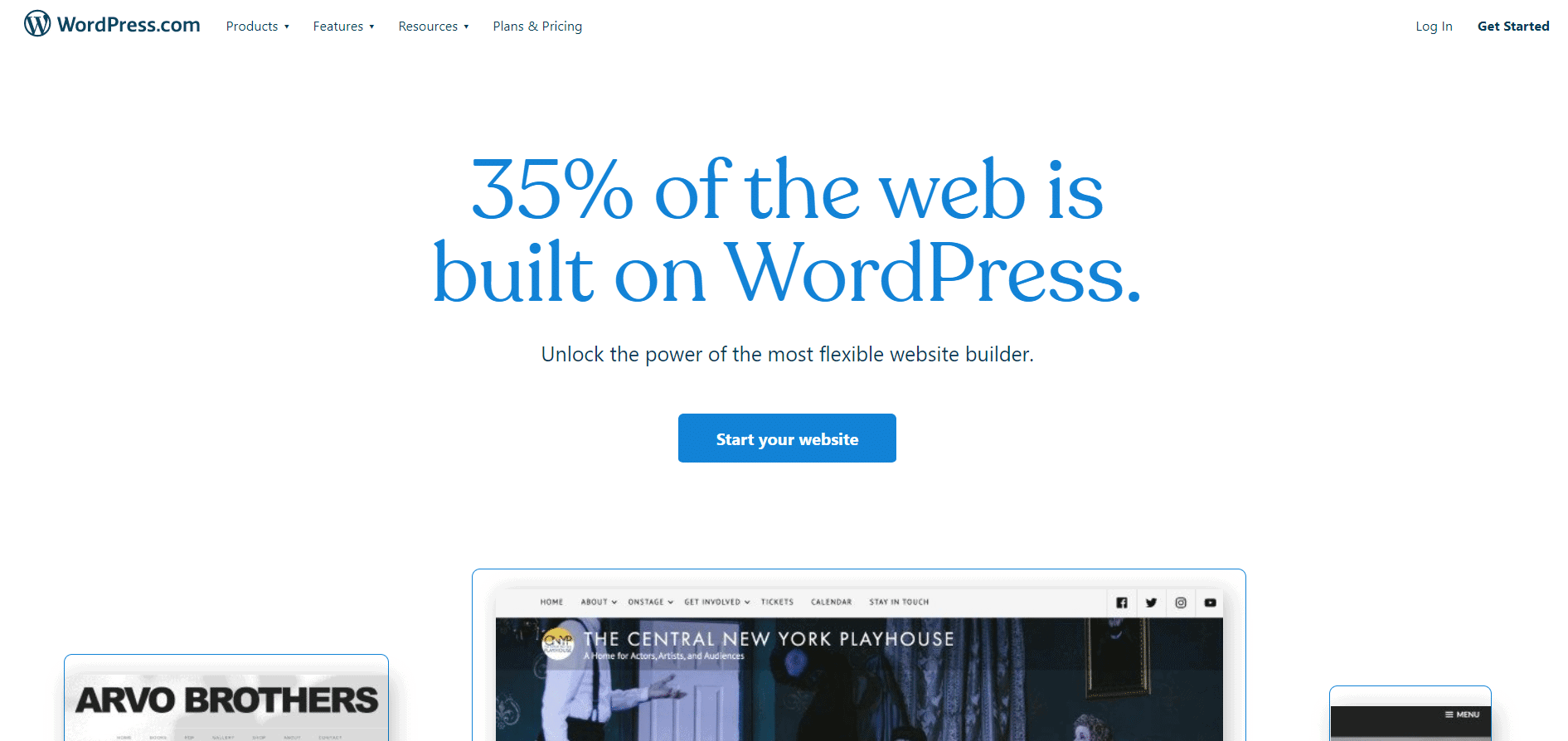 Who doesn't know WordPress? Almost all of us know what a great platform Words press is. It is well known for its free website hosting services. For the fact that it helps young talent nourish and grow, WordPress is preferred by many.
The simple UI and admin controls make it more popular and reliable for a huge mass.  The site is filled with a number of options to personalize it. There are numerous themes and plug-ins that you can use.
Pros
Simple UI
Lots of customization options.
Large community
Cons
Turns quite complicated at times. Like for Plug-ins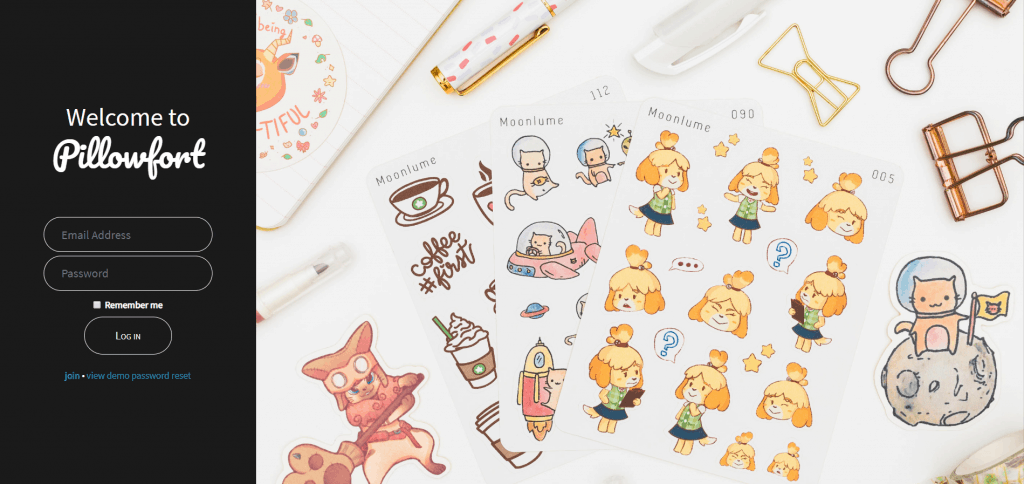 Pillowfort is one of the great Tumblr alternatives. It grew a lot recently, especially after the ban was out on Tumblr regarding adult content. The best part about Pillowfort and which makes it the best alternative for Tumblr in 2022 is the allowance of NSFW content. Probably this has given Pillowfort the Title of 'New Tumblr'.
So even if you cannot watch the adult content on Tumblr, we have Pillowfort for your rescue. Over this site, one can share posts, photos, GIFs, and so on for the people that follow your blog.
The only downside of the site is that it is still under construction. The site, for now, is a closed beta and hence only signing up does not mean you joined Pillowfort. You will need an invite link so as to join this site.
Cons
Closed beta.
Still in progress.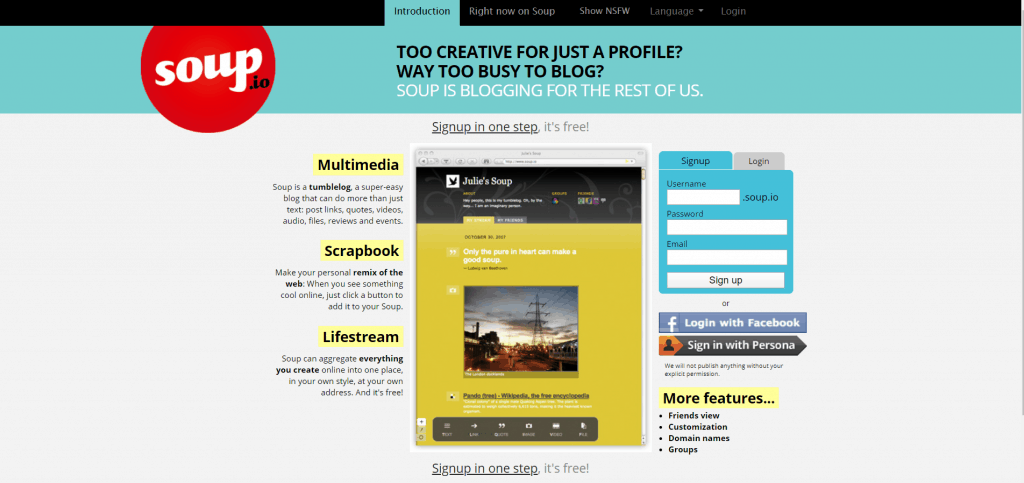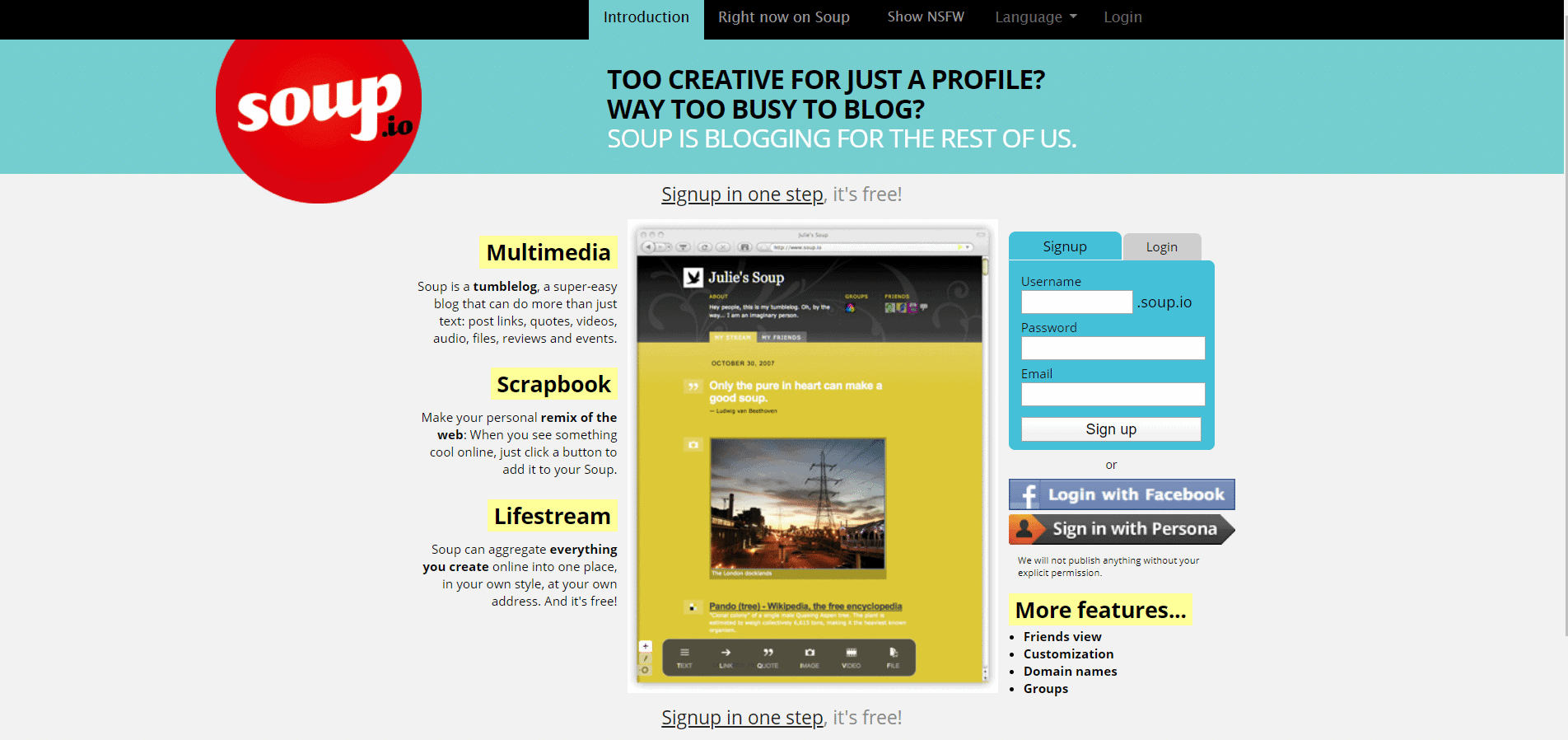 Quite a weird name but hey, can't judge the book by its covers! Soup is actually more like a clone of Tumblr than the alternative. If you open this site, you will realize that it is quite a lot similar to Tumblr with the interface. And if you use the site, you will realize it is similar to Tumblr with the features as well.
Both of these add-in making Soup the best Tumblr alternatives. One can post anything over this platform like images, videos, posts, GIFs, etc. You can also import media and posts from various social networking sites like Reddit, Twitter, etc. the best option it offers is letting users share posts directly to Facebook.
Another great feature it offers is letting you point your domain to Soup micro-blog with ease. You will also come across a number of Soup groups that are based on various topics ranging from animals to TV series, etc.
Pros
Very similar to Tumblr in features and interface.
Option to share posts directly to Facebook.
Great customization options.
Cons
No monetization support.
No custom plug-ins.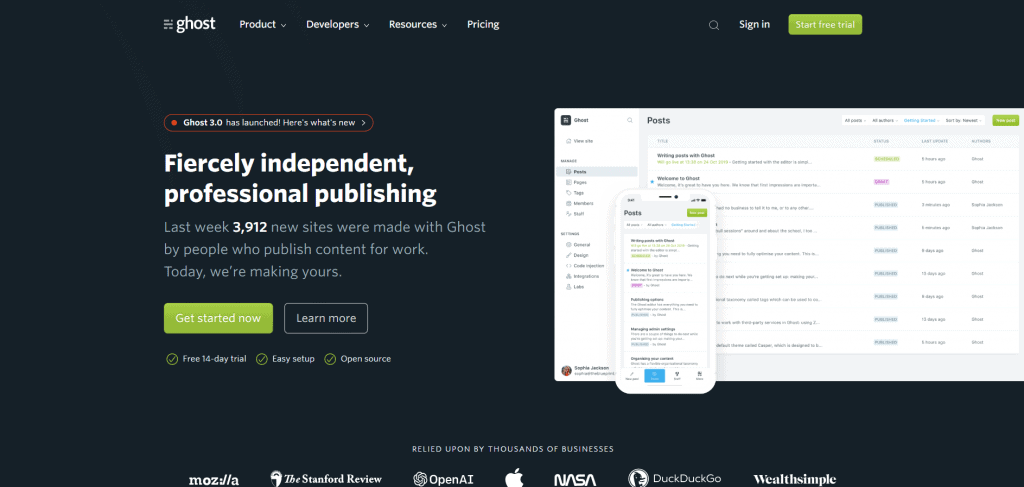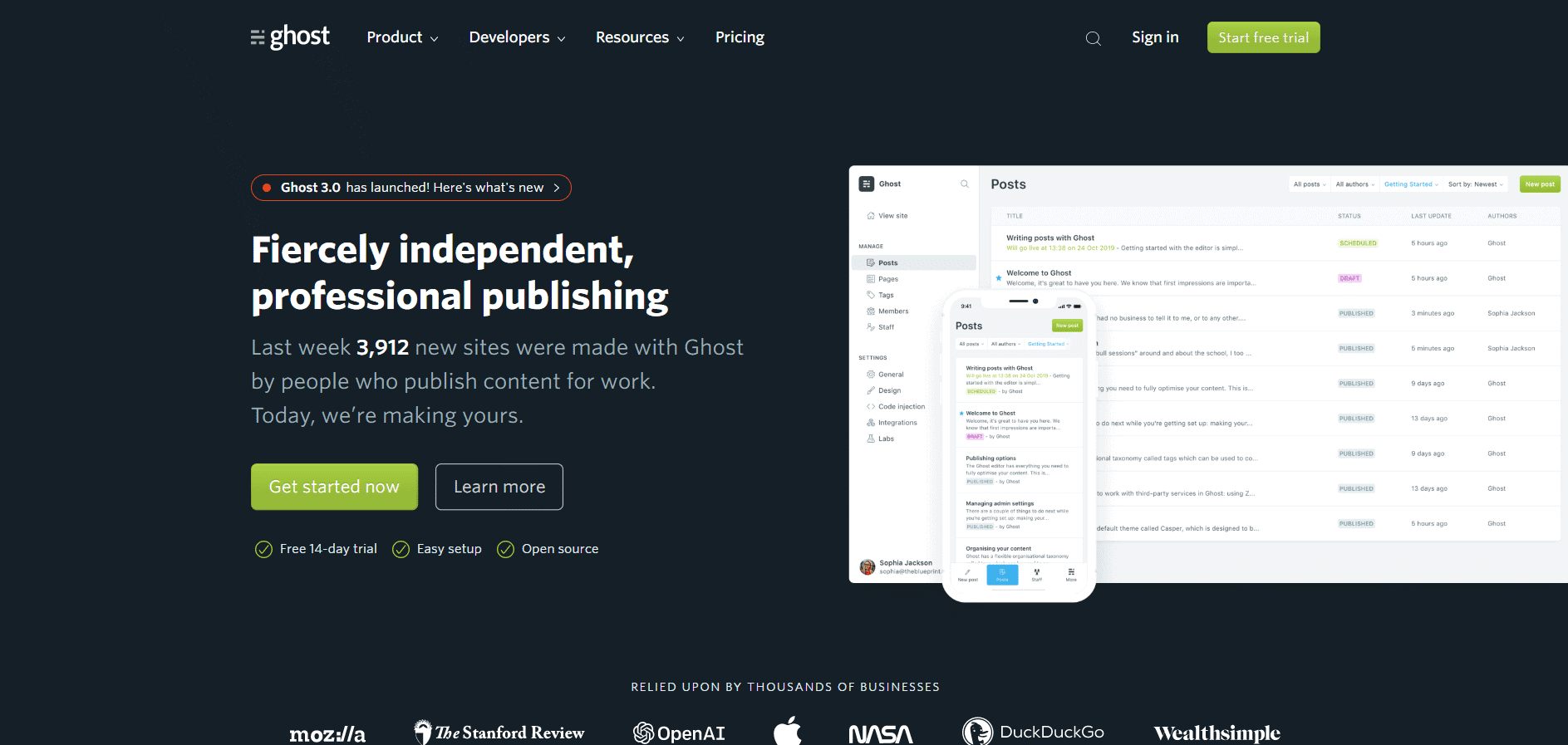 Ghost is another open-source blogging platform that is a great Tumblr alternatives. The ghost has two variants – 1. Self Hosted for $5-10/mo and 2. Web server hosted package for $19/mo. This blogging platform is based on Node.js run time environment as a result of which, it is very fast and responsive.
However, despite being fast and responsive, the site is still in progress like Pillowfort. However, development is active. It has still got a wide area of features like Developer tools in pipeline, post analytics as well as third-party apps.
If you are still not sure about opting for this blogging platform, you get a 14 days free trial period that you can use to see if this site is right for you.
Pros
Real-time automatic formatting and preview
Collaborative posting
Fast and great dashboard
Cons
Quite expensive plans
Still in progress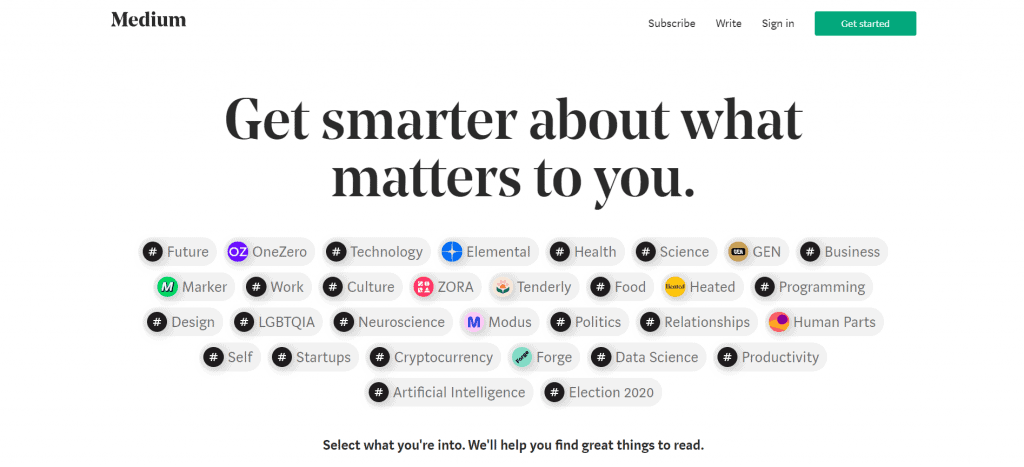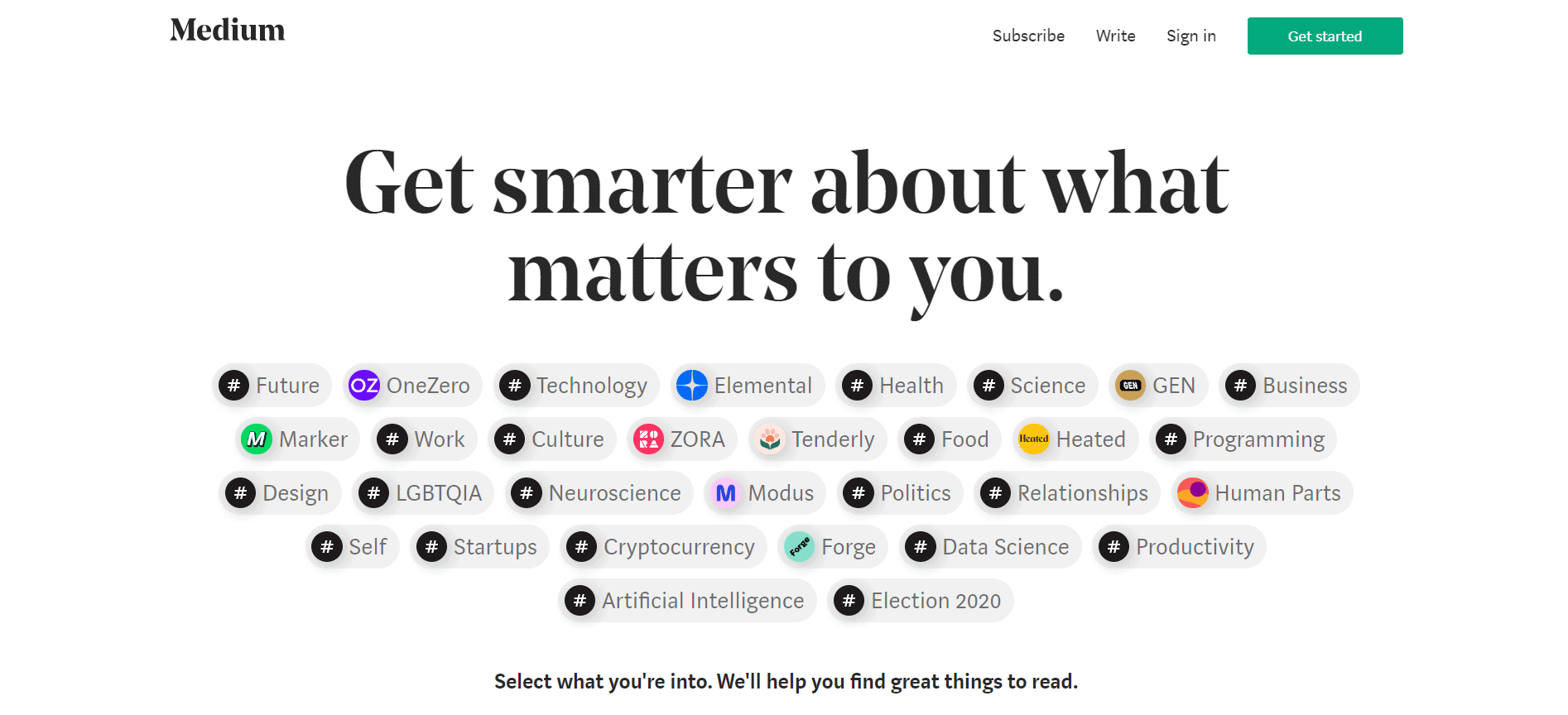 Medium is indeed a medium for gaining text-based information on various topics. Just like WordPress, Medium proves to be a great site for text-based blogging. If you prefer quality, you will realize that in actual Medium is quite better than Tumblr. That is why I feel that I need to include this in our list of Tumblr alternatives.
The most amazing part about Medium is that you can simply import a site to it if you have one using its Import Tool feature. Another great deal that Medium offers is that in the form of the Medium Partner Program. This program lets you earn from what you write.
Pros
Import Tool to import site.
Great quality content.
Medium partner program.
Best platform for Writers, journalists, etc.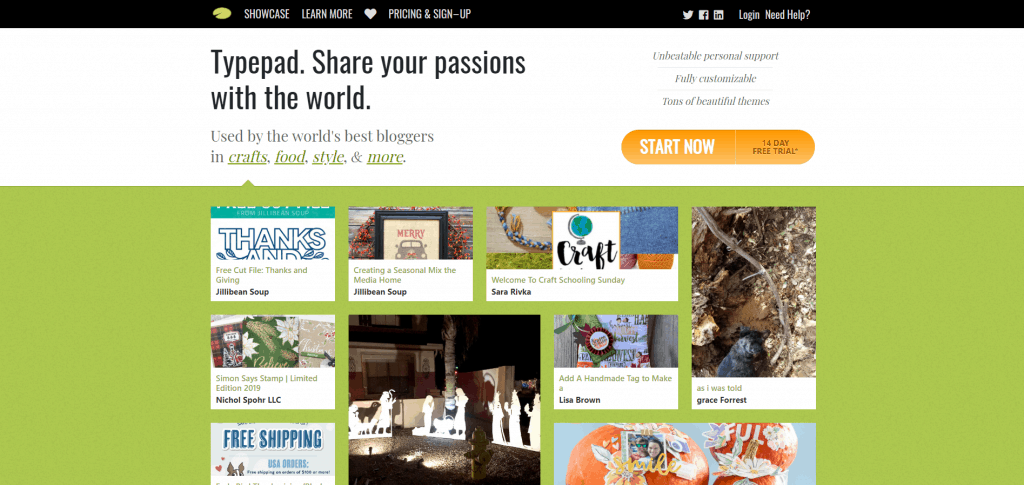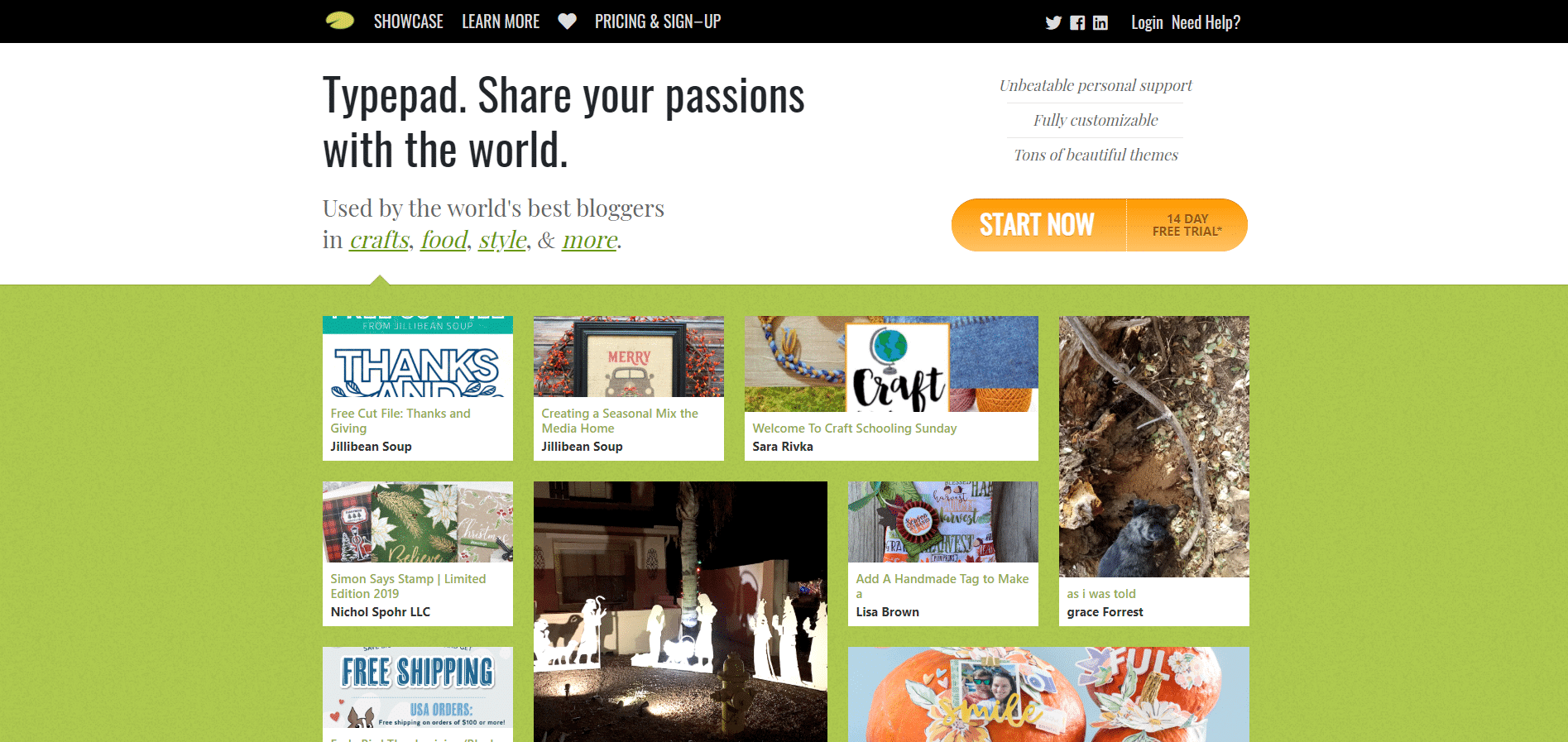 Typepad is an underrated blogging platform that is actually used by a number of big companies like ABC, BBC, MSNBC, etc. for hosting their blogs. There is a huge chance of getting traffic on Typepad as it promotes blogs on its own network.
The site is quite easy to access and navigate and you get a number of inbuilt tools for analysis of the stats of your blog. Common examples of such tools would be Google Analytics, CSS based Theme editing, and so on. You can opt for a free trial period but will need to fill in the payment details. It's also a good tumblr alternatives.
Pros
Used by many huge companies.
Map custom domains
Lets Import posts from WordPress.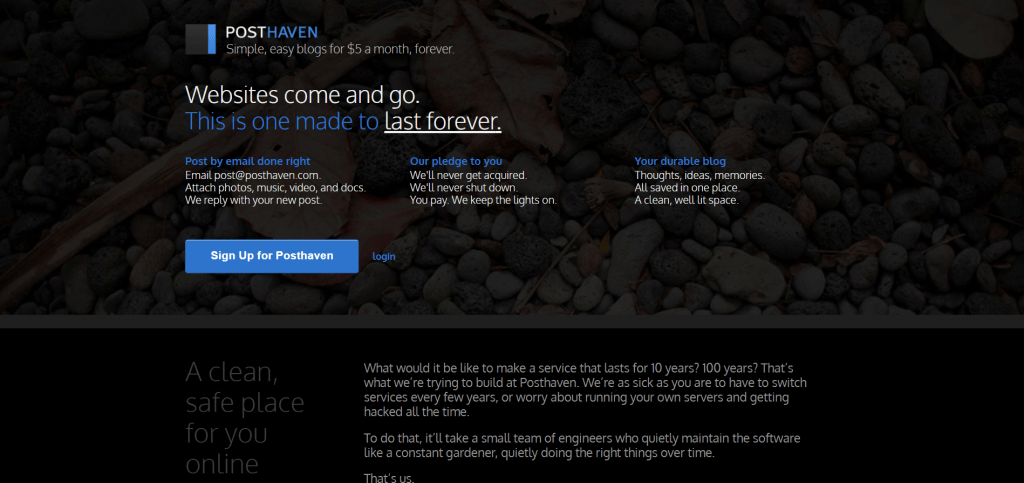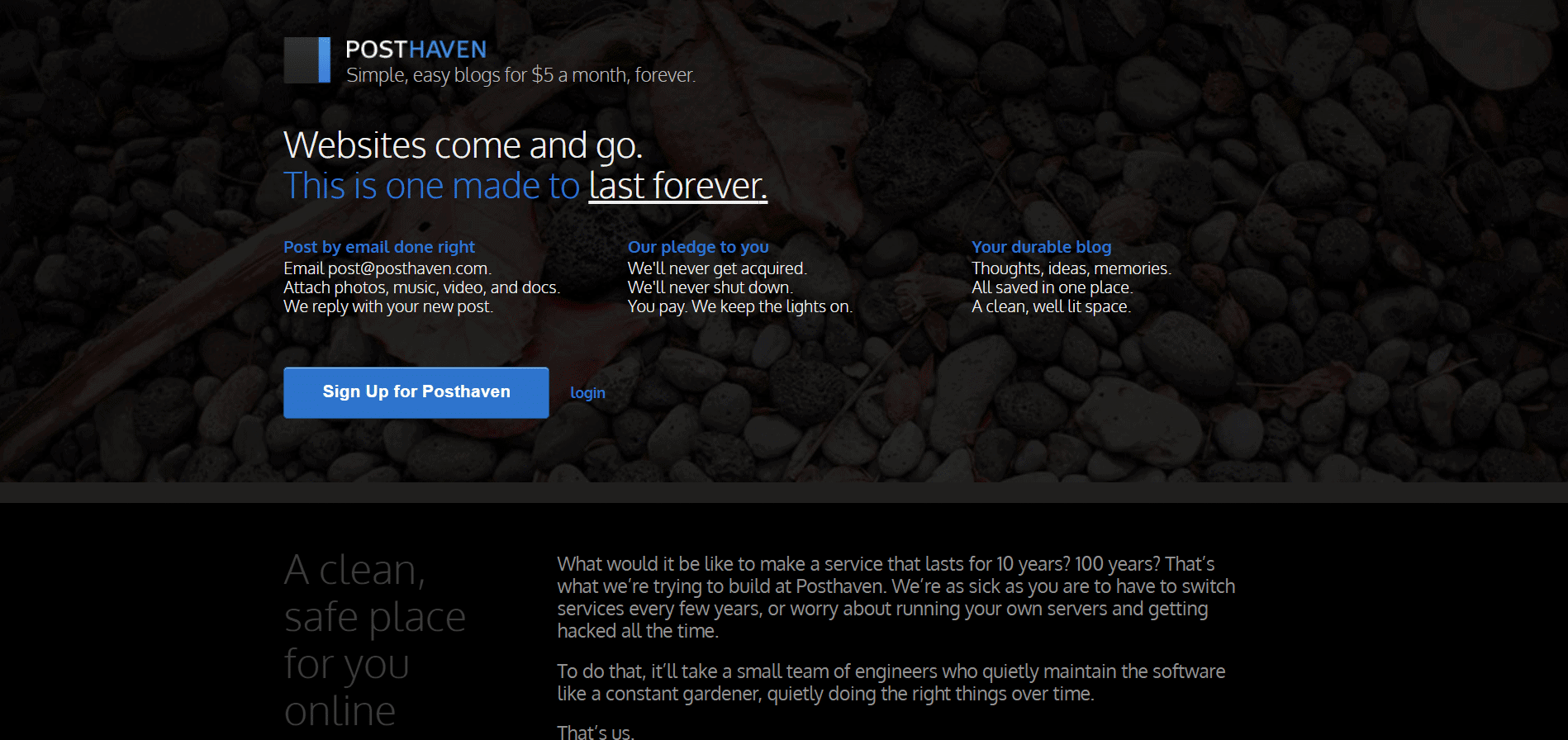 If you are looking for an affordable Tumblr alternatives and a long term service, Posthaven would be just the one platform for you. With as minimum as $5/mo, Posthaven offers great features like email notifications for blog updates, post documents with video/audio content.
The site although offering some really good features is still in its stage of development. Although the site is really great, it does not offer a trial period. You will have to first pay the monthly payment and then use Posthaven.
Pros
Great features
Stable
Lots of great features in the coming future.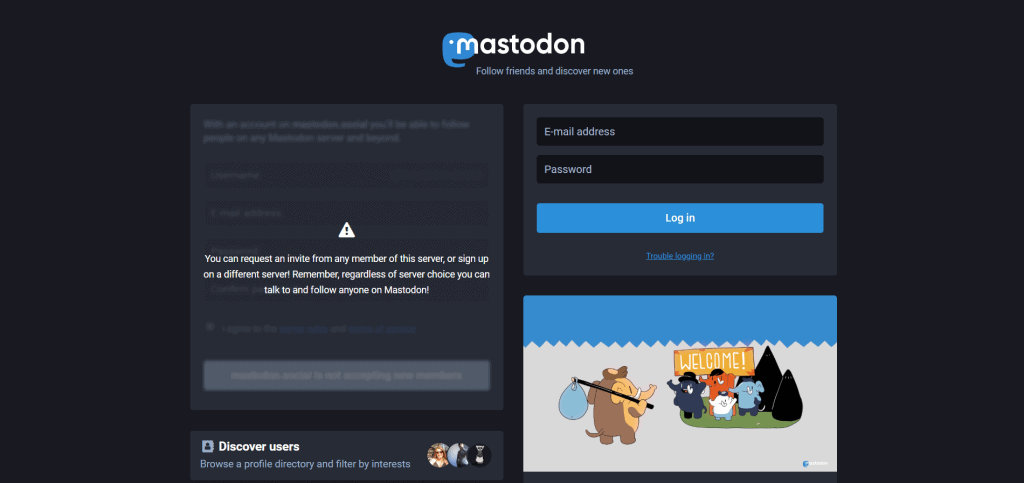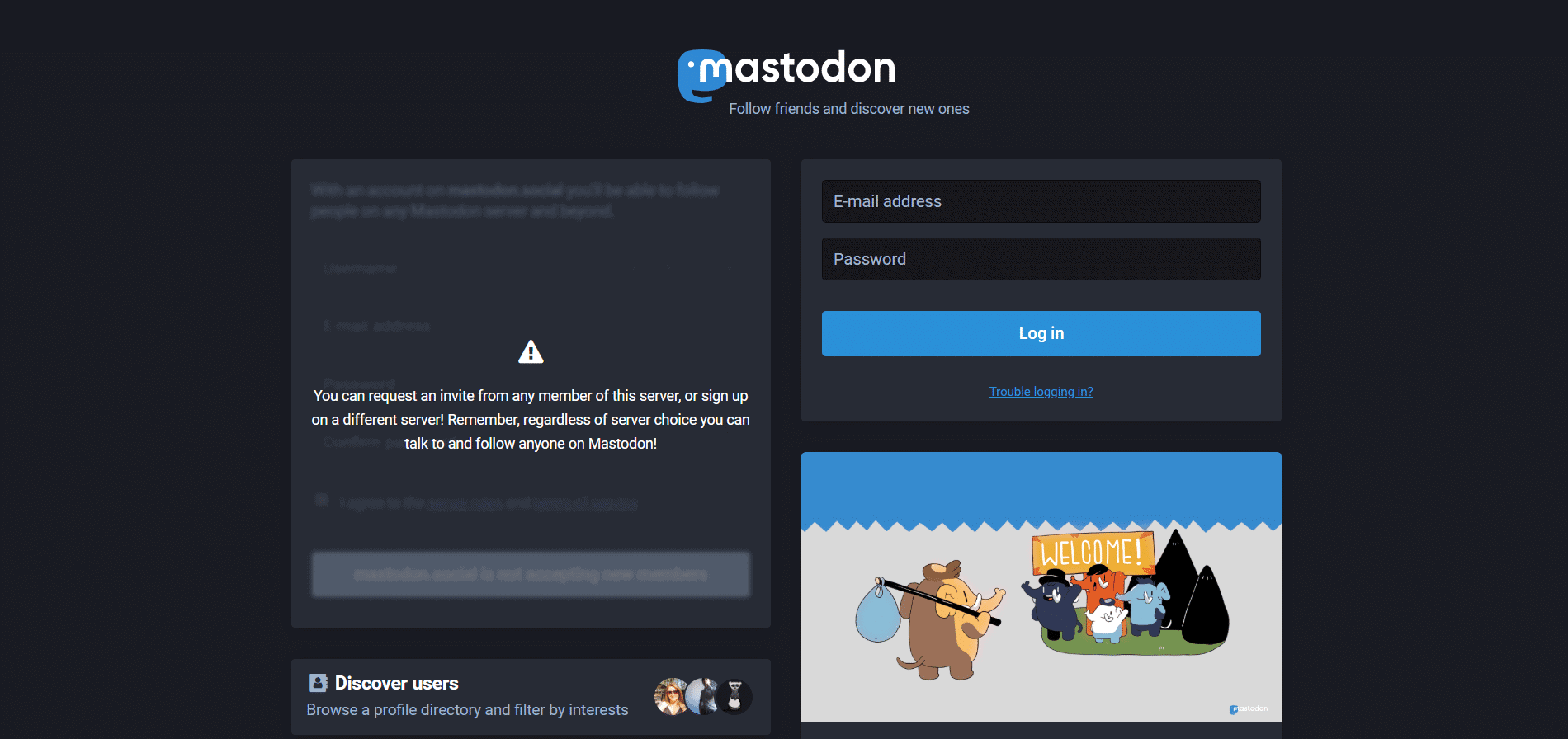 Mastodon is yet another great Tumblr alternatives that is widely used. This open-source blogging site includes individual servers and also filtered timelines. The best part about this site is that it has an interface very similar to Twitter. It's easy to navigate this site.
Although the interface is similar to Twitter, the community platform is similar to Tumblr. If you remember the ban placed on Tumblr regarding adult content, it was this time when Mastodon grew more. And since 2019 has been used as a substitute for Tumblr.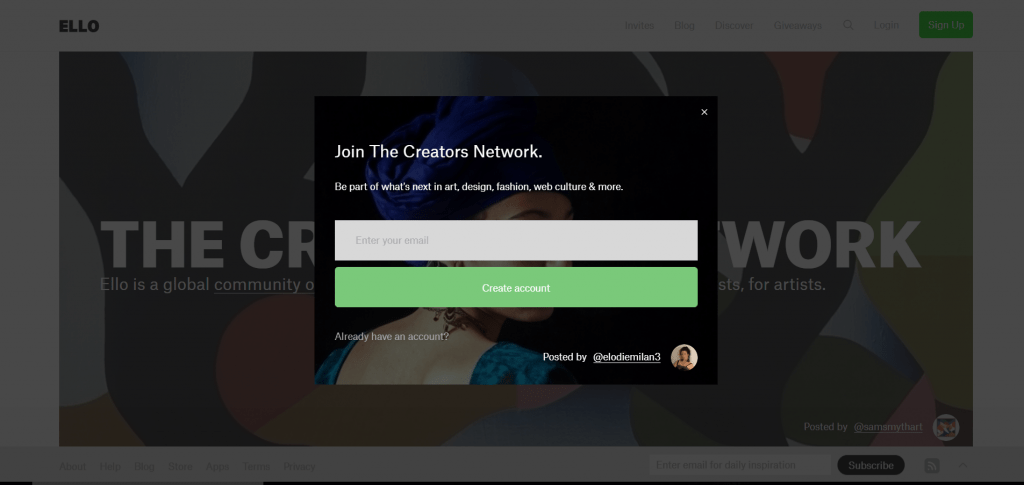 Last but not least is the Tumblr alternatives, Ello. This site is perfect if you are an artist or designer or aesthetic. Ello is just another Tumblr with a community of similarly minded people. The interface itself says about the content of the site.
Signing up is essential in order to use Ello. The site offers an amazing opportunity to connect, collaborate, and follow various artists from all across the globe. Although great for art, Ello does not seem to have more gamut for social networking.
Pros
best for artists and designers.
amazing interface
Cons
Signing up is essential
Limited scope for social networking.
Concluding Words
That was it all. I hope you have picked up the best alternative for Tumblr that works well for you. In case there is any other good alternative in your opinion, do share with us in the comment section below. We will be glad to hear from you.
Happy Androiding:-)