If you are looking for phones that are compatible with SafeLink program, here we show you the 10 Best Phones that are compatible with Safelink.
Communication has become essential these days. With everything being connected to technology, it is crucial that one has the resources to communicate. It no more is a mere luxury.
Only because one cannot afford communication services, shouldn't mean that they cannot afford communication at all. This would be nothing but a parallel cycle of poverty. But here's when SafeLink comes into the picture.
Why Should You Use Safelink Compatible Phones?
SafeLink is a program designed to support people who cannot afford communication and data services for themselves. This program uses the guidelines of the Federal Government for poverty determination. So if you deem eligible, then there is no reason why you should not opt for this free service.
At last, data services aren't that cheap. Moreover, the service and connection offered by SafeLink are reliable and excellent. Now coming to the main question as to why you should use SafeLink compatible phones is that these phones will grant access to SafeLink Network services. And these phones are amazing too. If you want you can also shift to another SIM service.
What is SafeLink?
SafeLink is a service program that ensures communication services to the needy. You might have heard the term – Digital divide.
The digital divide implies the gap that occurs between those who can and those who cannot afford communication services.
And this is what the SafeLink program tries to minimize by offering free communication and internet data services to the needy.
Must check out – Best Gaming Monitor under 15000 INR in India 2021 – Buyer's Guide
10 Best Phones that are compatible with Safelink
Given below is a list of the best 10 phones compatible with SafeLink. You can check them all and their features and pick the best one that suits you and fulfils your needs.
1. TracFone Samsung Galaxy J3 Luna Pro 4G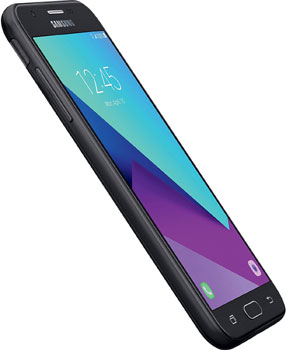 Who does not want a slim and attractive yet affordably priced phone? Well, I sure do. TracFone Samsung Galaxy J3 Luna is one such amazing device that comes with a curved edge glass screen and all the features one would want in their device.
You get a wide dimension of 0.3 x 2.7 x 5.5 inches with an HD TFT LCD Touch screen having a resolution of 720 x 1080 pixels. The phone features a 5 MP rear camera with a flashlight. The front selfie camera includes 2 MP.
You get a removable lithium battery which tends to be far better than the usual Lithium-ion battery. This is much durable and offers longer talk hours as well as standby time. There are slots for a SIM card and a Micro SD Card.
Talking of the communication technology, as the name has already included, TracFone Galaxy J3 Luna is a 4G device that runs on Android 6.0 Marshmallow. You get both Bluetooth 4.2 technology and Wi-Fi connectivity.
The device runs on Qualcomm Snapdragon 1.4GHz quad-core processor combined with 1.5 GB RAM. This makes the device give a seamless experience to the users. In addition, we have a GPU and HD screen that offers amazing video as well as a gaming experience.
If we are to consider the budget and features along with the excellent large memory storage space of 16 GB where the system gulps in only 5 GB then and also extend it to up to 256 GB, then this device would be an amazing buy.
Pros
GPS Enabled
Durable battery with the management program
Multitasking operation with various background apps.
No freezing noticed until now.
Seamless performance.
Stylish look.
Cons
Budget phone. Not designed for durability.
Also read – 10 Best Gaming PC Cabinets under Rs. 3000 in India
2. TracFone ZTE ZFive 2 4G LTE Prepaid Smartphone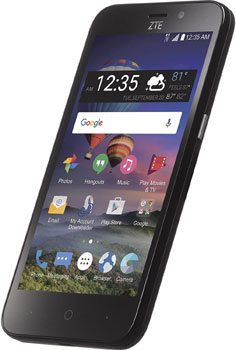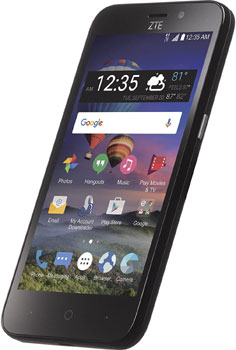 TracFone ZTE ZFive is yet another budget phone compatible with SafeLink in our list today. Talking of the display, we get 2.88 x  5.73 x 0.42 inches phone dimensions with a weight of just 168 g. The video streaming experience is furthermore made amazing with IPS TFT 5 inch display of 720 x 1280 pixel resolution. 
Coming to the camera, we get a rear camera of 5 MP with LED Flash and a 2 MP front selfie camera. You also get a Li-ion battery with a capacity of 2800 mAh which offers 18 hours of talk time and 384 hours of Standby hours.
Apart from this, we have sensors like light, acceleration, and proximity as well as a loudspeaker and microphone outlet. The device has an 8 GB internal storage space which can be extended up to 32 GB with a microSD card.
CPU of the device is ARM Cortex-A53, 1.4 GHz with 1 GB LPDDR3 RAM memory, and has Qualcomm Snapdragon 210 MSM8909 motherboard. And coming to the GPU, we have Qualcomm Adreno 308 500 MHz GPU which will help enhance the gaming experience.
The device runs on the Android 6.0 Marshmallow operating system. You also get the GPS facility for location-based apps and navigation. Considering its features and the price, it would be a great phone compatible with SafeLink.
Pros
Affordable
Dedicated Graphics Processing Unit for Graphics
ZTE ZFive 2 can play audio and video on different codecs
Latest Android Operating System and various apps are compatible with the OS
Triple minutes for life.
Cons
Limited Memory (1 GB RAM)
3. Samsung Galaxy S4 i9500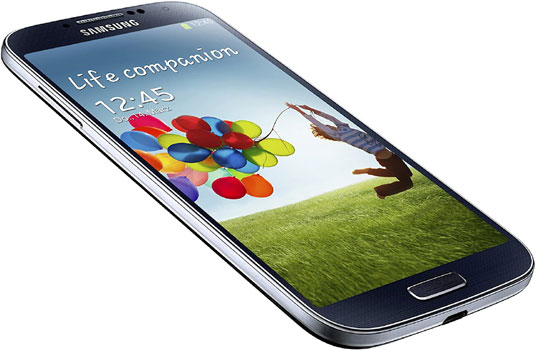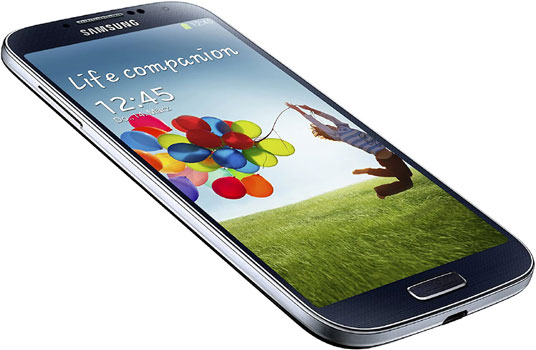 Samsung always lives up to the expectations of its users and fans. The same is what has happened for the Samsung Galaxy S4 device. The device comes with dimensions – 5.38 x 2.75 x 0.31 inches. It includes the Gorilla Glass 3 front panel as well as a 5 inches full HD Super AMOLED display having a resolution of 1080×1920 pixels packing 441 pixels per inch.
Indeed the specifications only point to the fact that this is one of the best affordable phones compatible with SafeLink out there. You are getting features like gesture control options, sensors, a super sharp AMOLED Display, and an octa-core processor. 
The device houses a 13-megapixel rear camera with an LED flashlight and a 2 MP front camera. It has a 30 FPS Frame rate. There are various advanced features in the camera like eraser mode, panorama mode, cinemagram, drama shot, burst shot, HDR mode, etc. The best part of it is that you can take pictures simultaneously using both the front and rear cameras.
Various sensors like proximity, barometer, accelerometer, gyro, temperature, and humidity sensors are included in the device. You also get Wi-Fi, Bluetooth 4.0, and micro USB 2.0 along with A-GPS and GLONASS for navigation and tracking.
Talking of the battery, we have a 2,600 mAh Li-ion battery that supports 65 hours of music playing and 17 talking hours. TracFone Galaxy S4 runs on Android 4.2.2 Jelly Bean which can be upgraded to Android 5.0.1 Lollipop.
The device houses an octa-core CPU that has 4 nos 1.6 GHz Cortex-A15 and 4 nos 1.2 GHz Cortex-A7. It has the chipset that has been utilized is Exynos 5410 Octa (28 nm). Coming to the storage, we have 2 GB RAM and 16 GB internal storage onboard and it supports up to 64 GB microSD card.
Pros
13 MP Rear Camera
Advanced Camera tricks
Cutting Edge hardware support
Excellent Display performance in Daylight.
Gesture Control
User Friendly
Scratch-proof Gorilla Glass 3 Cover
Cons
Cameras do not perform as expected in dark.
No FM radio
4. Alcatel IdealXCITE 5044R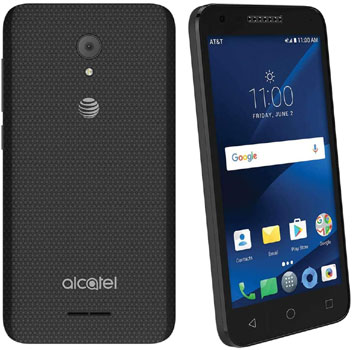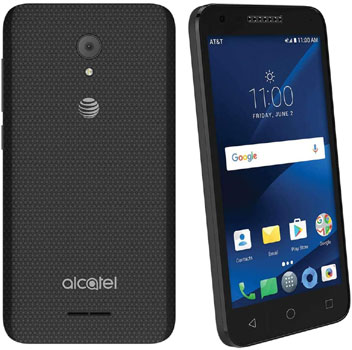 This lightweight and stylish device compatible with the SafeLink program is a great option to go for as it has a number of in-built apps and is affordable. The device has a 5-inch capacitive touchscreen with a TFT LCD type display having a resolution of 480 x 854 pixels.
The device runs on the operating system – Android Nougat v7.0. You get an 8 GB internal Storage space which can be further expanded to 128 GB using a MicroSD Card. The brain comprises of Quad-Core 1.1GHz ARM Cortex-A7 CPU and Qualcomm Snapdragon 210 MSM8909 Chipset.
The device houses a 5 MP rear camera with LED Flash and a 2 MP selfie camera. The battery is power is 2050 mAh with 5V Charging voltage. Other features involved are Wi-Fi, Bluetooth 4.1 and USB 2.0 connectivity, and GPS. Sensors like proximity, light, and accelerometer sensor, etc. are also present.
One also gets the Qualcomm Adreno 304 with a 400 MHz clock speed. Alcatel IdealXCITE is compatible with network technologies like – UMTS, EDGE, GPRS, LTE cat 4.
Pros
Affordable
Wi-Fi Connectivity
Bluetooth Connectivity
Graphics Processing Unit
Multiple Sensors for improved functionality
Slim and attractive.
Cons
Unlocked Alcatel IdealXCITE won't work with CDMA Carrier.
Compatible only with GSM Carrier.
5. Tracfone Carrier-Locked LG Rebel 4 4G LTE Prepaid Smartphone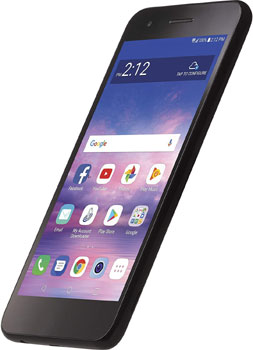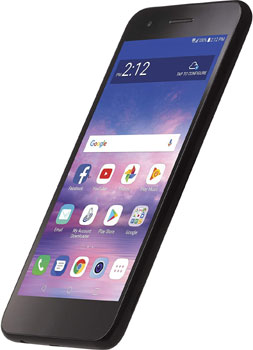 TracFone LG Rebel 4 comes with a 5-inch 2.5D glass and IPS type TFT LCD screen having HD resolution of 1280 x 720 pixels. The device runs on the Android 8.1 Oreo operating system.
The device is compatible with CDMA, GSM, UMTS, and LTE networks. For tracking and navigation, there is enabled GPS and GLONASS in this device. The device supports a Nano SIM Card. Other features offered are Wi-Fi, Bluetooth 4.2, and Micro USB 2.0.
The brain of the device includes – 1.4 GHz ARM Cortex-A53 CPU in the Qualcomm Snapdragon 425 MSM8917 SoC. The storage space offered is 1 GB RAM with 16 GB internal storage. The device has a Li-ion battery of 2500 mAh and can offer 15 hours of talking.
Pros
HD Display
Affordable
Updated OS
Both GSM and CDMA Compatibility
Improved Camera features
High CPU Clock Speed along with multi-core for multitasking
6. Motorola Moto G4 Play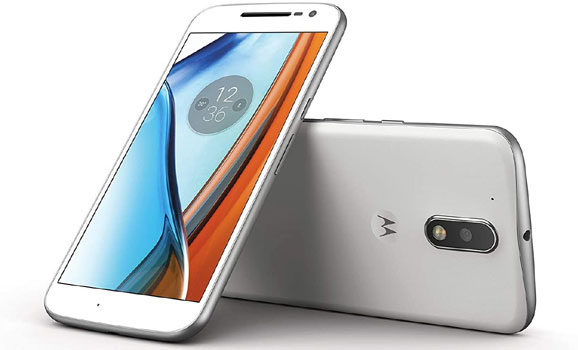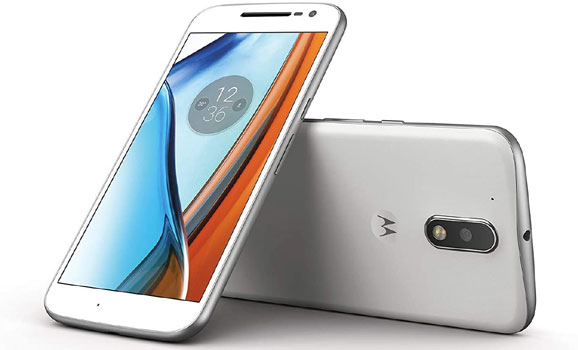 Motorola Moto G4 Play is yet another amazing device that is compatible with SafeLink. The device comes with the dimensions – 5.69 x 2.83 x 0.39 inch and weighs 137 grams. The screen is a 5 inch IPS LCD capacitive touchscreen having  720 x 1280 pixels screen resolution.
Talking of the camera, we have an 8 MP rear camera and a 5 MP front camera with HDR and panorama mode along with LED Flashlight. With this, we also get connectivity technologies like – Wi-Fi, Bluetooth 4.1, and MicroUSB 2.0 and navigation and tracking technologies such as – A-GPS, GLONASS, BDS.
It runs on the Android 6.0.1 Marshmallow operating system and is upgradable to Android 7.1.1 Nougat. If we are to talk of the memory, we get a 2 GB RAM memory and built-in 16 GB internal storage space which is further expandable up to 256 GB using microSD cards.
The CPU involves a Quad-core 1.2 GHz Cortex-A53 CPU and Qualcomm MSM8916 Snapdragon 410 (28 nm) SoC system. Moto G4 Play comes with a removable Li-Po 2800 mAh battery.
Pros
High-resolution Selfie Camera (5 MP)
Slim
Huge Memory
Dual-SIM support
Lightweight
Advanced-Data Communication
Water repellent coating
Cons
No CDMA Compatible Carrier
7. LG Phoenix 3 M150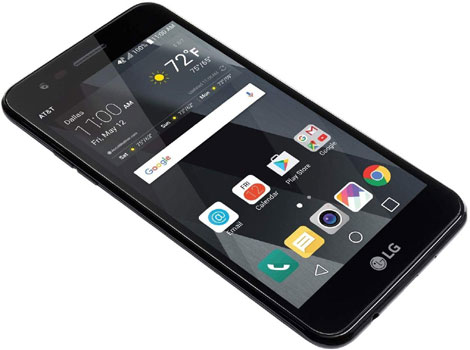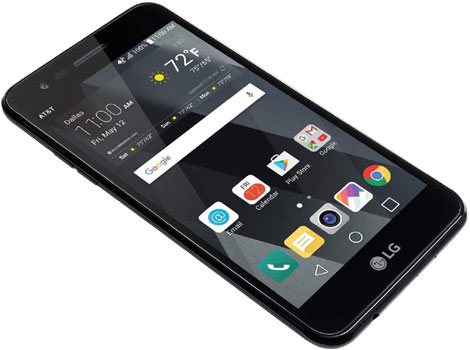 If the camera is what you are looking for to buy a SafeLink compatible smartphone, then LG Phoenix 3 M150 would be the best option for you. The device comes with a 5-inch FWVGA screen and a resolution of  854 x 480 pixels. 
Talking of the network connectivity, we get VoLTE capability for HD voice communication and GSM, UMTS, and LTE network technology utilization along with Wi-Fi, Bluetooth 4.1, and USB tethering connectivity.
The device houses a 5 MP rear camera that has numerous features imbibed in like – Gesture shot, Auto Shot, Digital 4x zoom, 3 to 10 seconds timer, live shot, and so on. The front camera too is a 5 MP camera with features like burst shot, video screenshot, geotagging, and so on.
LG Phoenix 3 runs on Quad-core 1100 MHz ARM Cortex-A7 28 nm CPU with a Qualcomm® MSM8909 SoC. It is based on the Android 6.0.1 Marshmallow operating system.
One gets a removable battery power of 2500 mAh. This offers over 14 talking hours and 16 days of standby hours. Apart from all these features, the user interface of the device is also very easy to navigate.
Pros
HD Voice communication
Advanced Camera Features
High-Resolution Selfie Camera
Free LG TONE ULTRA Bluetooth Stereo Headset
5 GB RAM
Easy Operation
Cons
No GPU
OS is a little bit backdated
Some customers outside the USA have issues with unlocking the phone
8. Alcatel CameoX 4G LTE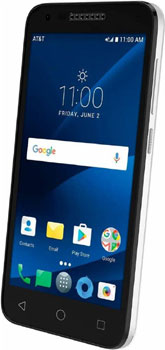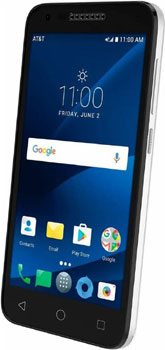 If you want a stylish phone that looks slim but is also compatible with the SafeLink program then Alcatel CameoX 4G LTE should be your go-to option. The device comes with  5.70 x 0.38 x 2.18 inches and weighs only 157 g. The screen comes as a 5-inch FWVGA IPS capacitive touchscreen along with protection from scratch with a Dragontrail glass cover.
You get a 5 MP rear camera along with a LED Flashlight and 2592 x 1944 pixels resolution and 720 p video at a 30 fps rate. The image stabilization technology of this device will help you get the best of the pictures.
Talking of the battery, we get a battery of 2050 mAh along with a power saver mode. It offers over 15 hours of talking time. A 16 GB Storage space is offered to the users. The device runs on the Android 7.0 Nougat operating system.
One can use the features like – Wi-Fi and mobile hotspot connectivity. You also get nano-SIM and GSM, UMTS, and LTE carrier technologies to communicate. The device has the brain of Quad-Core 1.1GHz ARM Cortex-A7 with Qualcomm MSM8909 chipset. The GPU present is Qualcomm Adreno 304, 400MHz.
Pros
2 GB RAM
Image Stabilization
Dedicated GPU
Up-to-date Operating System
Cons
No Headphone jack
No near field communication
Not SIM less CDMA Carrier compatible
9. Cricket Wireless Samsung Galaxy Sol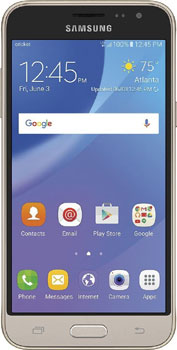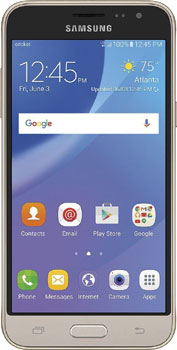 South Korean tech giant never fails to impress us. Starting with the display, we have a 5 inch super AMOLED IPS capacitive multi-touchscreen having a resolution of 720 x 1280 pixels. The display of the device comes with the protection of a 2.5D scratch-proof curved glass screen.
The device constitutes a  5 MP rear camera with LED flash that features autofocus and digital 4x zoom. In the front, we have a 2 MP camera that comes with different types of picture modes like Auto, Beauty Face, Continuous Shot, Panorama, Pro, Selfie, Sports, Sound & Shot.
Speaking of the network connectivity, you will get a 2G GSM, 3G WCDMA, and 4G LTE FDD cellular network along with Bluetooth 4.1 connectivity and WiFi radio for data networks.
Coming to the hardware specs, we get a quad-core ARM Cortex-A7 CPU with a clock speed of 1300 MHz with 1.5 GB Ram memory. This guarantees multitasking as well as a seamless experience. The internal storage is 8 GB that can be expanded to 128 GB. 
Pros
Scratch-proof screen
CDMA Support
Touch-Free Selfie option
Bright and Sharp AMOLED Display
Expandable Storage Space
Cons
Few issues with unlocking the phone
Internal Storage includes default apps
10. AT&T Prepaid ZTE Maven 3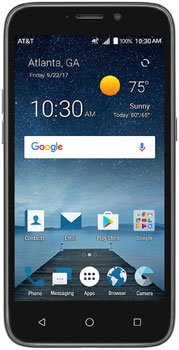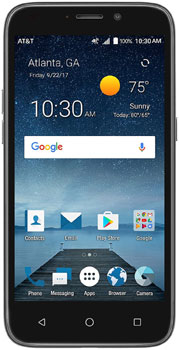 ZTE Maven is the last but not the least device compatible with the SafeLink program. This one is a stylish, slim, and lightweight device having the dimensions of  5.7 x 2.83 x 0.39 inches and a weight of 160 grams. It comes with a 5-inch FWVGA touch screen having a  resolution of 480 x 854 pixels. You will also get a scratch-proof Dragontrail glass.
Talking of various features, you have GPS and A-GPS enable tracking services and location-based apps. The device is compatible with Network technologies like – GSM, UMTS, and 4G LTE. Connectivity features like Wi-Fi, Bluetooth 4.2, and USB 2.0 are present too. You also get various sensors like Accelerometer and compass.
The battery is 2070 mAh and offers 18 talking hours and over 56 hours of playback music. Coming to the storage, one gets 8 GB storage space with expandable 32 GB using a micro SD Card.
The device runs on the Android (7.1 Nougat) operating system and has the brain of Quad-core, 1100 MHz, ARM Cortex-A7, 32-bit, 28 nm, and Qualcomm Snapdragon 210 8909 chipset. You get an Adreno 304 GPU.
Pros
Affordable
Fast & Multi-core CPU
Scratch-proof glass screen
Dedicated graphics processor
Cons
Low Screen resolution
Only 1 GB Memory
Most of the Internal Storage space is not available for the user.
Frequently Ask Questions on Safelink Wireless
Can I use any phone with SafeLink?
No. Bitter but true. You cannot use any phone with SafeLink. SafeLink is a cell phone service of TracFone that provides prepaid cell phone service. Hence, those mobile phones that have SIM Cards are compatible with the carrier Safelink.
How to qualify for the Safelink Wireless Program?
SafeLink Wireless program is mostly dependent on the area. It has various prerequisites for various states. But talking of the general qualifying criteria, the subscriber has to have an income of or less than 135% of the Federal Poverty Guidelines.
Or they can be a member of any programs like – Medicaid, Veterans and Survivors Pension Benefit, SNAP, Federal Public Housing Assistance, or Supplemental security income. 
How to activate SafeLink Wireless phone?
Once you have received your SafeLink cell phone, look for an activation card in the box and then simply follow the instructions given so as to activate your device. In case you do not find any activation card in the device box, then it is possible that your device must already be activated.
In case it is not already activated, What you can do here is contact the SafeLink Customer Service. You can also contact them to seek help with any other related issues.
How long does it take to get a safelink phone?
After your application for the LifeLine Program has been approved, you will get your cell phone in 5 to 10 business days via US registered mail service.
How to upgrade my Safelink phone?
If you deem eligible for an upgrade, you will automatically receive a smartphone from SafeLink service. The eligibility depends entirely on the guidelines for Poverty by Federal Government.
How to check my Safelink balance?
One can check the SafeLink balance online by visiting the official SafeLink website.
Can I transfer our SafeLink service to another phone?
Yes, you can. There could arise some problems as the TracFone keeps a record of the previous ESN Number.
What can I do if my SafeLink service was disabled?
You can contact the LifeLine Administrator of your state to ensure your approval. Once your active approval has been confirmed, you will have to talk to the SafeLink representative.
You will have to provide some information and then follow the instructions they give you. In the end, you will have to restart your device so as to activate the network.
What should I know about Safelink Wireless?
SafeLink Wireless is a service for the needy and this is what you should know. This program follows the guidelines of the Federal Government to determine the eligibility of the participant. Thus, if you can afford a smartphone then you should not apply for this program.
How to use a TracFone SIM card in an unlocked phone?
You can try switching the SIM. This could work temporarily even if there are a few issues since TracFone will still be associated with the Old ESN number. You can remove the SafeLink SIM from the old device and insert it into the new one.
How do I get a replacement phone from SafeLink?
In case your phone gets lost or is stolen, you will have to follow the Terms and Conditions mentioned in the SafeLink Wireless Replacement Policy. You will be required to report the mishap within 48 hours to the Customer Care representative.
Note that, the replacement limit is One phone per user. Hence, you will not get another replacement for the second phone you lose. The lost phone will be deactivated permanently.
After you get your new phone, you will have to ask the support team to activate the new phone with the SIM Card code on the backside of the SIM and the serial number given on the Activation card.
Does SafeLink give free smartphones?
Yes. SafeLink service is a program for the needy. It offers a LifeLine plan which gives free smartphones to the eligible household. Through this program, an entire family is given a single phone which includes free talk time and also internet data services.
Does Walmart sell safelink phones?
Yes. Walmart does sell SafeLink Phones with other TracFone cell phones.
Concluding Words
I hope the above article has helped you clear all your doubts you had about SafeLink and also provided the best 10 phones compatible with SafeLink. Communication is the key and no one should face the digital divide only because they cannot afford it.
SafeLink is a program that realizes this and offers free phone and internet services for the needy. If you fit eligible, do check their program out and apply to avail yourself of the benefits you deserve.
In case you have any doubts, feel free to let us know in the comment section below. We will get back to you as soon as possible.
Happy Androiding:-)