Fix Netflix Code UI-800-2: In recent years, Smartphones have become essentiality. Similarly, people are shifting from the traditional TV sets to Smart TVs. This innovation in the entertainment area has certainly made a vast number of choices to choose from for the people. These Smart TVs like the Smartphones allow you to download apps of your wish and let you explore more. One such app that provides a wide range of entertaining stuff is Netflix. Who does not know Netflix these days? In not much time, Netflix has made a position in the App priority list for uncountables. And this is what is out topic today.
Netflix App is a platform where you get a wide range of Movies and TV Series to watch. And these aren't just any random series. I am sure most of us are aware of this. At times, while you are binging on Netflix or about to start it, you may experience an error at times. This does not happen very frequently and even when it does, there is nothing you should be worrying about. Since we have got this Netflix Error UI-800-2 covered in this article. Keep reading to know how you can fix it.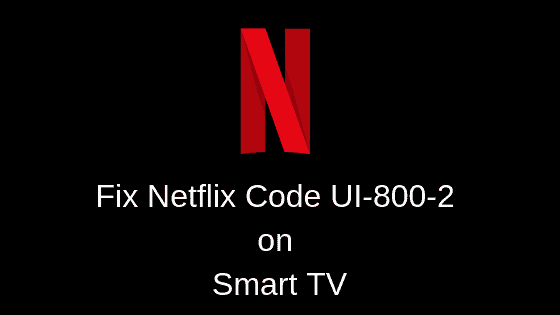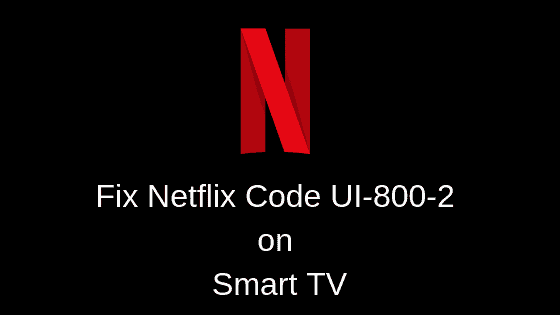 What is Netflix Code UI-800-2?
According to Netflix, the Error Code UI-800-2 typically points to the information stored on your device which needs to be refreshed. This issue can occur on Samsung Smart TV, Other Smart TVs, Set-top box, Streaming Media Player, Blu-Ray Player, Roku, and similarly other such devices.
Other reasons that we are aware of could be- Poor Internet Connectivity, Device connectivity issues, Netflix connection error, hardware problem, and many more things. However, mostly it occurs due to the reason that Netflix hs mentioned- the need to refresh the information stored on your device.
How to fix Netflix Code UI-800-2?
Below we have mentioned 3 various methods that are compatible with devices like Samsung Smart TV, Other Smart TVs, Set-top box, Streaming Media Player, Blu-Ray Player, Roku, and similarly other such devices. If the three methods mentioned fail to help you, try contacting the manufacturer.
Method 1: Toggle Wi-Fi Switch
Un-Plug or Switch off Wi-Fi Switch.
Wait for 10-15 seconds.
Plug-in or on the Switch of your Wi-Fi. Wait for 30-40 seconds.
Open Netflix app to check if the issue still presides.
Read More: How To Fix PFN_LIST_CORRUPT
Method 2: Sign-in and Sign-Out Netflix account
Go to the Settings or Gear Box. Choose the option to Sign out or Reset or Deactivate. Since the issue mainly occurs due to the need to refresh the stored information, signing out should turn to be useful.
If your device does not have the Settings menu or the gearbox, try using the arrow key somewhat like this- UP, UP, DOWN, DOWN, LEFT, RIGHT, LEFT, RIGHT, UP, UP, UP, UP by pulling up deactivation screen.
Now the Option to Sign Out or deactivate or reset will be shown on your screen.
When you sign out of Netflix, after a few seconds again Sign In.
Must Visit: How to Fix Snapchat Could not Refresh Error
Method 3: Reset the Smart Hub
Navigate to Menu. Then select Smart Hub. Over there, choose Smart Hub Reset> Enter the Pin 0000 and then go back to Smart Hub.
If the device you are using does not have a dial pad, then Go to the Settings. Then look for the option of Support. Select Self Diagnosis. And finally, Reset Smart Hub.
This should definitely solve your problem. But note that all the apps on your device will be uninstalled if you perform Smart Hub Reset.
Any of the above 3 should help you to solve you Netflix Error UI-800-2 Issue. If not, you are left with the choice to contact the manufacturer.
Must Visit:How to Fix ERR Connection Closed Error
Contact the manufacturer:
If all the three methods mentioned above fail to help you out to fix Netflix Code UI-800-3, Contacting the manufacturer of your device will be your last call. They will help you out mostly by hard reset or by the installation of updated firmware.
Rounding Up:
That was all about fixing the Netflix Code UI-800-2. Hope Y'all found the aforementioned article useful in the same. Do let us know if you have any queries or suggestions for us. Continue visiting our Page for more so articles. Or you can further Subscribe to our Newsletter for the timely notifications of our posts.
Happy Androiding😊