10 Best WiFi Hacking Apps for Android:- Now that you are here, I assume you surely are a tech freak and obviously you know what good internet connectivity means for streaming the internet.
Nowadays, every person using the internet knows it's value. Similar things apply to money as well. Now when we are talking of money and the internet, the net thing that comes to mind is a WiFi connection.
Wi-Fi connections today have become a necessity and can be seen everywhere, from private to public places. But is it necessary to spend a huge amount of money to pay WiFi bills? You would say it is.
But let me tell you, you can also access WiFi without paying a single penny for it!
That is what change Hacking makes in your lives. You can access the internet from WiFi connections for free with the use of WiFi hacking apps like WiFiKill, NetCut, dSploit, etc.
Want to know how? Given below is the list of 10 best WiFi hacking apps for Android that will help you hack WiFi connections. Keep reading this article further for more.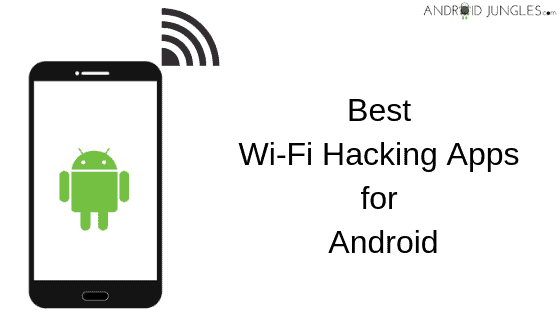 List of 10 Best WiFi Hacking Apps for Android
In this article, I have mentioned for you a list of 10 best WiFi hacker Apps for Android. They are in no particular order but points where I felt the need, I have mentioned why that app is placed at the location. You can try any of the apps below as per your needs and convenience. Here we go with wifi hacking apps one by one-
1. WiFi WPS WPA Tester
WiFi WPS WPA Tester is an app that you will see at the top on the Google Play Store and is thus the first on our 10 Best WiFi Hacking Apps for Android as well. This app, developed by the Saniorgl SRL, is one of the most famous apps for Wifi Hacking.
Note that, devices NOT having Root Permissions and having Android OS above 5.0 Lollipop can connect to this app, however, they can't view WEP-WPA-WPA2.
And those devices Without Root Permissions and below Android OS 5.0 Lollipop, can neither connect to the app nor view WEP-WPA-WPA2.
Thus, this app works perfectly on Rooted devices with those having the Android OS above 5.0 Lollipop.
The motive with which the app was developed was to know the vulnerabilities in the WiFi networks. These vulnerabilities are estimated with the help of different algorithms as- Dlink, Dlink +1, EasyBox Arcadyan, Arris, Asus, Belkin, FTE-xxx, Trendsnet, Zhao. How to Root Android Phone.
2. Aircrack-ng
If you are looking for an wifi hacking apps that is trustworthy and dependable, then Aircrack-ng is your perfect option. You can find this app on Ubuntu since it is extensively used there. This app was developed by Android Developers and XDA Developers.
To use Aircrack-ng, you will need to have an Android device with Root. A PC having Ubuntu 14/15/16 or other Linux Distribution, USB OTG Adaptor– micro USB to female USB Cable, Patience, and most importantly Wireless USB Adaptor is what you will need to use Aircrack-ng.
3. Kali Linux Nethunter
Another one on our list of 10 best Wi-Fi Hacking Apps for Android is the Kali Linux Nethunter which is the first Open Source Android Penetration testing Platform. To use this app, you will first of all need to launch Kali's Wi-Fi tool.
This famous and one amongst the commonly used Wi-Fi hacking apps was formed by Mati Aharoni and is now managed by Offensive Security Pvt. Ltd. This app requires a custom kernel that supports 802.11 wireless injections. Which is a backlog of this app as many of the Android devices have kernels that do not support 802.11 wireless injections?
Hence you can use this tool only when some Android developer develops a custom kernel for your device that meets the above requirements. This is the reason we have put such a useful tool in the third position.
Kali Linux Nethunter Official Website
4. NetCut
NetCut by Arcai.com is an app having similar functions as WiFi Kill. This app has recently gained huge popularity after its launch for Android. This app was earlier available for only Windows Operating System but now they have an Android version too.
As Arcai.com launched this app for Android, they made sure it is compatible even with the lowest versions of Android from 2.3.3 Gingerbread! However, as much as I can assume, you wouldn't be using that older version as you might be a tech person if you have made it till here!
A great feature that I have to mention about this app is that you get a defender with this app. You can actually defend yourself if someone else is trying to spoof you. You can also track the user that is using your WiFi network.
In case of any inappropriate action, you can easily block that particular person. You get complete control over your WiFi network and usage. A compared to WiFi kill, this app has got a better User Interface. But ads here will annoy you for sure. However, there is a premium version of NetCut for Android as well.
Download NetCut by Arcai.com for Android
5. Wi-Fi Kill
WiFi Kill, another open source WiFi Hacking app for Android is much similar to NetCut in Windows OS, which is used for ethical hacking purposes. With this app, you can directly cut out anybody's WiFi on your network.
Although this app has taken its position on the 10th position in this article, it doesn't mean it is not worth the first position. This app is the best choice and is most popular especially for newbies due to its simple user interface.
If you are having an Open Wi-Fi then this is what you must have. With this app, you can have an eye over what the users of your network are browsing and downloading through your WiFi. You are also able to watch the quantity of data used by the specific user on your network.
6. Nmap
Another option for WiFi Hacking apps download is the Nmap network security scanner. With compatibility for many Operating Systems including Android, this app works on rooted as well as non-rooted devices.
Due to its features of finding vulnerabilities and exploitation of networks, this app is even preferred by professional hackers. Similar to WiFi WPA WPS Tester, you get more features on a rooted device than non-rooted one. This app is somewhat a combo of WPA WPS Tester and dSploit.
With this app, you can scan networks to find ports and system details as well. It is powerful, comes friendly and as it is an Open source app that you will get for free with its latest updates too. This app is compatible with nearly all devices out there and you are given many options too.
7. dSploit
dSploit, another WiFi hacking apps on our list is somewhat a clone of WiFi WPA WPS Tester. Not exactly a clone but it is a WiFi penetration testing set. This app is not only limited to hacking other people's WiFi but also helps keep an eye and control on your network along with analyzing information of all sorts.
It does not mean that this app is lesser than any of the above-mentioned apps. Although occupying the fifth position, this app has got features that hardly any other app here provides.
You can crack WiFi, trace, scan ports, crack the Login, change data packets, deice the data packets that you wish to send, control the victim's device, kill connections, inspect, and find vulnerabilities.
Apart from all of these, you can also use the Custom filter, run random page scripts, replace videos and images, redirect to any specific URL to of the attacker's choice, and a lot more!
Despite being stuffed with so many features, the only issue with this app and its position on the 5th rank is that this app is no more updated. Complaints regarding difficulty in usage have also been noticed for this app.
Read More: Best 10 Game Hacker Apps for Android
8. Arpspoof
Originally written as a part of the dsniff package, this app later became available for all as it was made an open source app by the author Dug Song who developed it further. The main usage of this app is the network auditing.
Although the mechanism of working of this app is very much simple, it is not the case with its User Interface and hence we have placed this app at the sixth position. The mechanism is quite simple- redirection of packets on the local network by broadcasting spoofed ARP texts.
In simpler words, Arpspoof displays packets that have been sent by the victim to the device but it does not save them. It basically tries to redirect the traffic found on a local network by using- 'Faking ARP Replies'. In reaction, it sends these replies to that particular victim or all the hosts that were found.
9. WiFi Inspect
We cannot really call WiFi Inspect as WiFi Hacking app since it is a Wi-Fi Security audit tool and a multi-tool app used by professional hackers, advanced users, and Computer Security professionals. They make use of this app for controlling and monitoring networks of their own or those whose permissions they have.
To use this app, you will need a rooted device. You will find that this app is quite similar to NetCut and Wi-Fi Kill with regards to the user interface. This app comes with a simple interface and is compatible with multiple languages.
You can detect all types of devices including smartphone, TV, XBOX, Laptop, PS, etc to your network. You can also check the IP addresses of those devices and what device they are using. From this app, you can also directly block the network usage of any of the connected devices.
You can know the Mac Address and manufacturers of devices that are connected to your network. Within seconds, you will get the list of all connected devices on your screen. You can block anyone on your connected lists without giving any prior warning.
10. Network Spoofer
Network Spoofer is quite alike to dSploit. This app allows you to alter the websites on others' phones or PCs or any other device that is accessing the internet from Android phone. So basically, it is not a WiFi Hacking tool or not even a changing tool but it is a spoof tool.
When you download this app, you will have to first of all Log onto WiFi Network and then choose the type of spoof and lastly hit the start button. This tool helps you in knowing how easy or difficult a particular network to hack is.
Final Verdict:-
That as it about the 10 best WiFi hacker Apps for Android. I hope you have by now downloaded the kind of WiFi hacking app you wanted and this article helped you in choosing one.
Personally speaking, I generally do not use any WiFi hacking apps but in my opinion, NetCut by Arcai.com is the best app you could use. This doesn't mean others aren't worth trying or using. As I aforementioned this is my opinion.
If you are looking for more options and features, then Nmap which is more of a combo of WPA WPS Tester and dSploit is the best option to go for.
Well, you can choose better for yourselves depending on what exactly your expectations and needs from a WiFi hacking apps are.
In case of any questions or, do let us know in the comment box below. If you are aware of any more WiFi hacking apps, not mentioned here, then your suggestions are welcome.
Keep visiting our page-Android Jungles for more such tech-oriented information or you can also subscribe to our newsletter and receive up-to-date notifications of our posts.
Happy Androiding:-)