Download SN Write Tool: Being one of the best tools available over the internet to Write IMEI number, Bluetooth address, Wi-Fi address, Ethernet Mac Address, MEID, and a lot more, SN Write tool is one amazing tool with a number of such un-ending reasons to download it.
In this article today on SN Write Tool, you will know how to download this tool along with the steps to use it and some of the highlighted features at the end of the article. Keep reading for more.
What is SN Write Tool?
SN Write Tool is an IMEI Write tool that helps you in fixing the corrupt or null IMEI, Bluetooth address, Wi-Fi Address, etc. stuff on Android or other devices. The tool flashes the IMEI on your Android or other devices with the help of the Windows computer.
This tool basically helps to fix the lost IMEI and hence gets its name as IMEI Write Tool. In case the Bluetooth or Wi-Fi Address on your device is corrupted then your device will not be able to connect to the Bluetooth device or Wi-Fi network, respectively. This tool as is a multi-purpose tool, helps you fix the issues related to Bluetooth and Wi-Fi address and bring them back into work.
Also Check: How to Change Android IMEI Number
Disclaimer:
Flashing IMEI other than the original is illegal and may get out into some serious troubles. Hence see what you are doing once throughout.
We at www.androidjungles.com do not force you to accept this method of IMEI Writing we have only provided you the means on how it is done. We are not responsible for any unfortunate action caused to you.
Note: Check that you flash only the original IMEI on your device since flashing IMEI other than the original one is considered to be a criminal offense.
Download SN Write Tool:
How to Use SN Write Tool?
Here are the steps letting you know how to change or write IMEI Using SN Write Tool:
Step 1: To begin with the process of changing or writing IMEI using SN Write tool, Download and Extract SN Write Tool on your Windows PC. Once you extract this tool, you will come across files as shown below: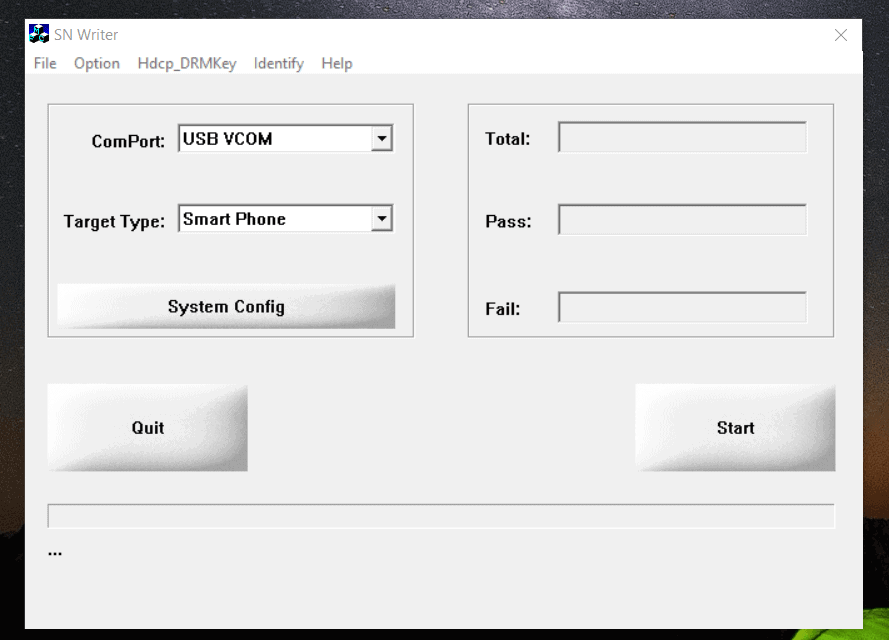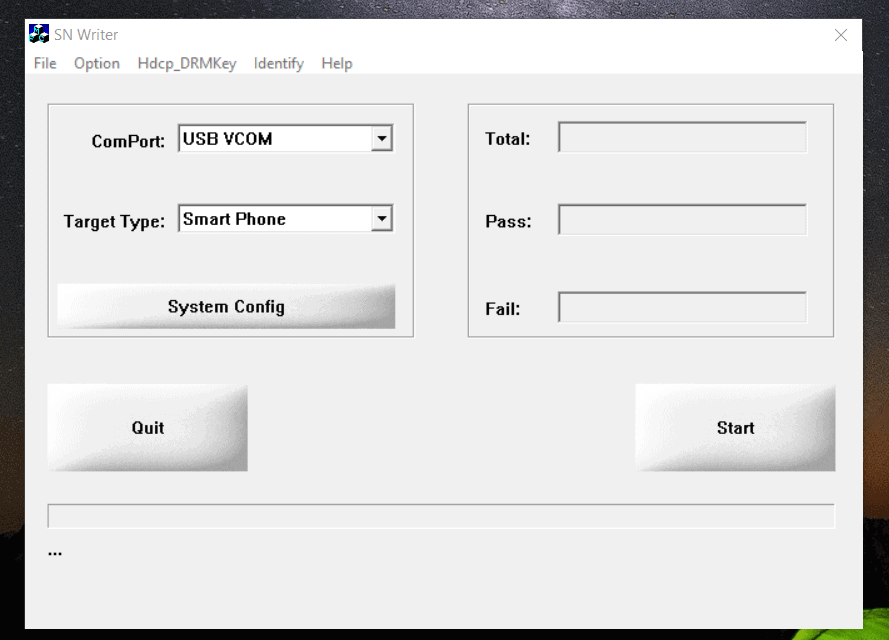 Step 2:  Now open the SN Writer.exe.
Step 3: When the tool is launched, you will see a screen as follows:
Step 4: Then click on the ComPort and select USB VCOM.
Step 5: Now click on the Target type and select Smartphone in case you want to write IMEI on Smartphone. You have to select Feature Phone if you want to write IMEI on a Feature phone.
Step 6: Then you will have to click on System Config Button.
Step 7: When the System config is once launched, in the Write Option, select IMEI, BT Address and Wi-Fi Address.
Step 8: If you own a Dual SIM Device, then select the Dual IMEI Option. There is no need to select any option if you have a single SIM Device.
Step 9: In the Database File Option, add MD1_DB and then AP_DB. These two files come with the firmware of your device or download the AP BP Base.
Step 10: Lastly, click on the save button.
Step 11: Not yet done with!, Click on the Start Button and then under the Scan data write the IMEI_1 and IMEI_2, Bluetooth Address, Wi-Fi address and click on OK Button.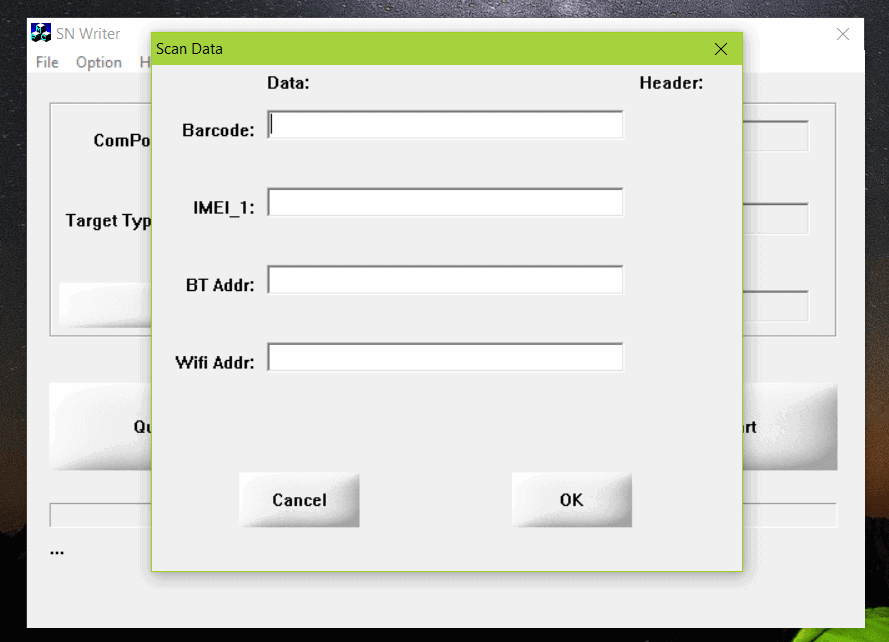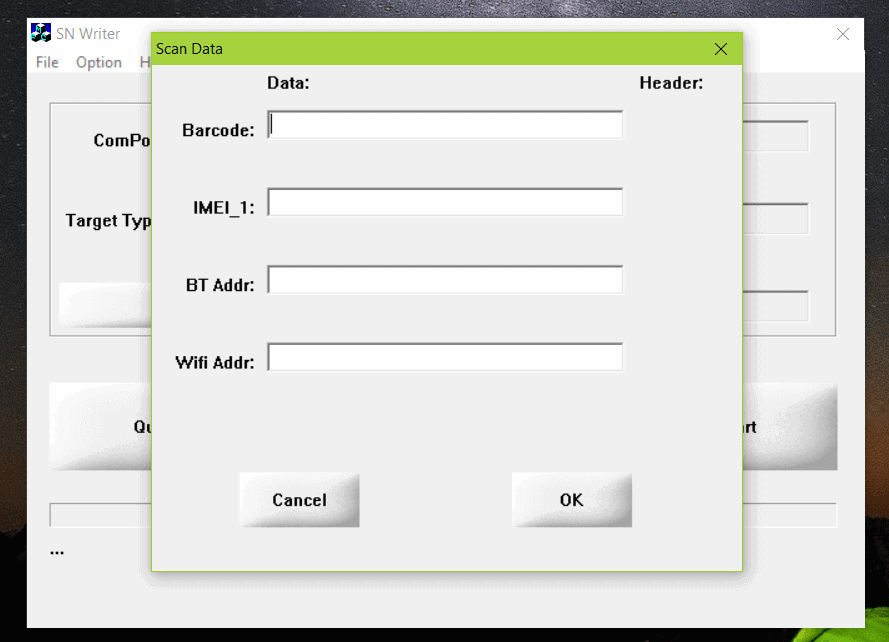 Step 12: You can now connect the phone with the help of USB Cable after switching it off and removing the battery out.
Step 13: When IMEI writing is done with you will come across a Green Pass Message.
And you are done here!
Also See: GBWhatsApp APK And Lucky Patcher Original Apk
SN Write Tool Features:
1. Removes IMEI Lock: In case you wish to remove the IMEI Lock on your device, SN Write tool helps you ou with that by removing the IMEI lock option from your device.
2. Writes Single or Multiple IMEI:  With the help of SN Write Tool, you can write single or multiple IMEI on your Android device.
3. Compatible with All MediaTek Devices: This tool as created by the MTK supports all MediaTek devices. Hence you can use it to write IMEI on all devices using MediaTek Chipset.
4. Supporting Different Write Options: Along with writing IMEI on your device, the SN Write Tool also allows you to write Wi-Fi Address, Wi-Fi Eppcopy, Bluetooth Address, Barcode, Mac Address, and DRM key MCID.
5. Database Files Essential: You will require the database files on your device in order to use this tool on your device. You will have to download Stock Firmware for your device and get the database file in case you do not have it.
6. Multiple Device Support: This incredible tool is compatible with writing IMEI on all sorts of MediaTek Devices i.e. Smartphones, tablets, feature phones, SP Dual Modem, Rndis Dongle, etc.
7. Others: SN Write Tool helps you to Fix corrupted or Null IMEI, Bluetooth Address, Wi-Fi Address and ethernet Mac Address, MEID, DRM Key MCID.
Read More: Download SP Flash Tool and Download SPD Flash Tool
Rounding Up:
I hope you found the article of use. As we have cleared the fact that this process is illegal and you may find yourself in sorts of trouble, it is still a choice of your own if you want to execute it or not. However, If you are stuck on any step or have some queries, feel free to ask us in the comment box below.
Keep visiting our page- Android Jungles for more such tech related articles. Or you can also subscribe to our newsletter if you wish to receive timely notifications of our articles.
Happy Androiding 🙂