Change Android IMEI Number: The IMEI number of your Android which tens to be specific for every device is important for any activities since it is formed of those crucial digits which verify your account when you call your service provider in case of emergencies or vital necessities. Due to its importance as well, there come a number of reasons on the list to change the IMEI Number of your device.
As you can use the IMEI Number to locate your device in case it is lost or stolen, you can also use it to make your device untraceable. We have enlisted all the possible reasons for which you should change the IMEI Number of your device at the end of the article. Keep reading further for more.
Disclaimer
This article consists only the way through which you can change your IMEI Number. We at androidjungles.com do not take any responsibility for any sort of loss or damage caused to your device while performing the steps given here. Do it at your own risk.
What is an IMEI Number?
IMEI is the abbreviation for International Mobile Equipment Identity which you can have access by *06# from the Dial Pad. This number, unlike serial number, is a standard format. It proves to be useful when you wish to connect your device to any mobile network.
IMEI provides you with manufacturer details like date of manufacturing the country of origin. The GSM Network Providers use your IMEI number. You can use this number if you wish to block your device when it is stolen or lost.
IMEI is obligatory for Mobile phone network without which your device is equal to invalid. Some users also use IMEI as their serial number since IMEI is the only unique number which no other phone than yours can have exactly one.
How to find IMEI Number of your Phone?
Firstly, switch your Phone off. Although you can simply take away the battery and save your time in switching the Phone off, this sudden action may cause data loss or even the apps may corrupt when the power source is removed all of a sudden.
Now take away the back cover of your Phone along with the battery.
You will come across a sticker sort of white label attached to it on the back side of the battery. There is where you will find the IMEI number of your device.
Or you can do as follows in case you could not find IMEI number through the above steps:
Go to the Settings of your Phone.
Now search for About Device and tap on it. In the About Device tab, you will see the option of Status.
In the status tab, scroll down until you see the IMEI Number.
On some devices, at times, you will have to click on the More Option before going to About Device,  which contains the serial number of your device.
How to Change Android IMEI Number Without Root?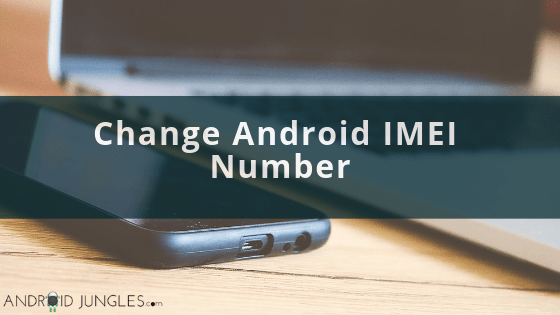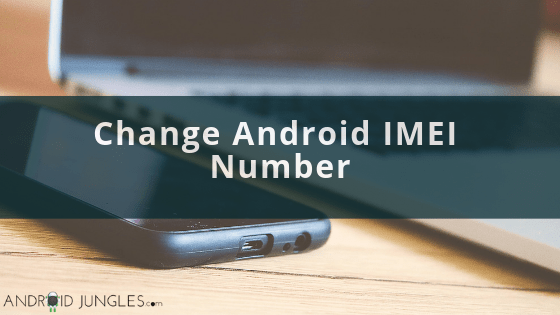 On the dial pad of your device, dial- *#7465625# or you can also dial- *#*#3646633#*#*.
Now tap on Connectivity Option or Call pad.
Search for the option of CDS and tap on it.
Go to Radio-Info.
For Dual SIM Phone, you will come across two options- IMEI_1 [SIM1] and IMEI_2 [SIM2]. Choose the one whose IMEI you wish to change.
Change the IMEI as per below-
AT +EGMR=1,7,"IMEI_1″ and AT +EGMR=1,10,"IMEI_2″
You have to now change the IMEI1 or IMEI2, with the number of your choice. After that, press on SEND.
And you are all done here. You have successfully changed the IMEI number of your device, This way, You can also change your Android IMEI to BlackBerry IMEI.
How to Change Device ID of any device?
You can change the Device ID of your device which is rooted or non-rooted. Here are the steps for both of them:-
Change Device ID of a Rooted device:
On your Rooted device, Download plus Install Device ID Changer.
In the app, follow the help feature instructions and your job will be completed automatically.
By following the easy instructions when you change the ID of your device, just reboot once and you will be done.
Change Device ID of a non-rooted device:
Perform a Backup of the non-rooted device. Do not forget to follow this step first. Since you will be losing all sort of data on your device when you perform the factory reset.
In the Settings of your device, tap on the option of Backup and Reset.
Tap on the option of Factory Data Reset.
When you do so, you will be resetting your device and hence the device ID for your device will be changed.
Why Should you change IMEI Number?
To fix any invalid IMEI Number problems, if any.
In case you want to have an Individual device ID.
To reset your device.
If you are willing to use GLO BIS Plan that requires a Blackberry IMEI by converting Android IMEI to it.
If you want to repair or have an update on your phone.
Rounding Up
Hope you guys found the article useful in Changing the IMEI Serial Number for your Android device. In my opinion, dialing the universal code or checking out the battery label of the barcode will be the best and most time-saving option in case you want to find out the IMEI number.
If you have any queries or suggestions for us, you can let us know in the comment section below. For more such article, keep visiting Android Jungles or you can also subscribe to our newsletter for timely notifications of our posts.
Happy Androiding 😊