Voice Changer for Discord Apps: Are you looking for a way to prank someone close to you while gaming? Are you willing to sound something unusual while playing with your opponents? Well then here is an article that can make you sound like a kid or Satan or Lucifer or a Robot or anything different.
With the help of Voice changer for Discord in 2022, one can sound absolutely different in games like LOL, PUBG, Minecraft, Fortnite, etc. With the real-time voice changer apps mentioned below, one can sound different with the help of various voice mods of the app. So here we go.
For those who do not know, Discord is an app designed for PCs to use when gaming. Discord basically is an application that lets users use the feature of the free voice chat server. So users can voice chat while playing games on the PC.
What is Voice Changer Apps 2022?
Voice Changer Apps basically transform the voice of users into something different like a robot or kid, helium patch, Satan, cop, etc. These voice changer apps work in real-time. Thus they can be used while having voice chat
Best Real Time Voice Changer for Discord Apps 2022
So given below are the best Voice Changer Apps for Discord. Give them a try yourself to pick the best one for you!
1. Voxal Voice Changer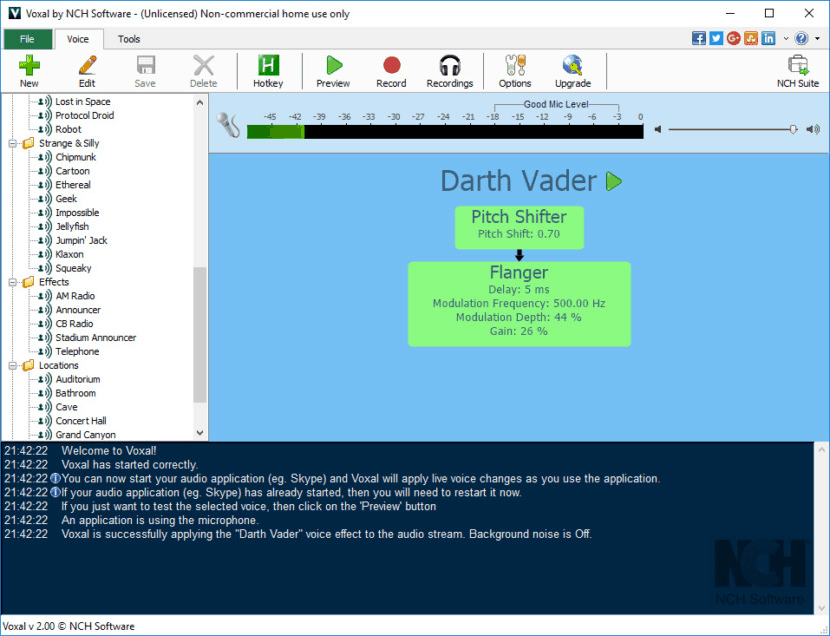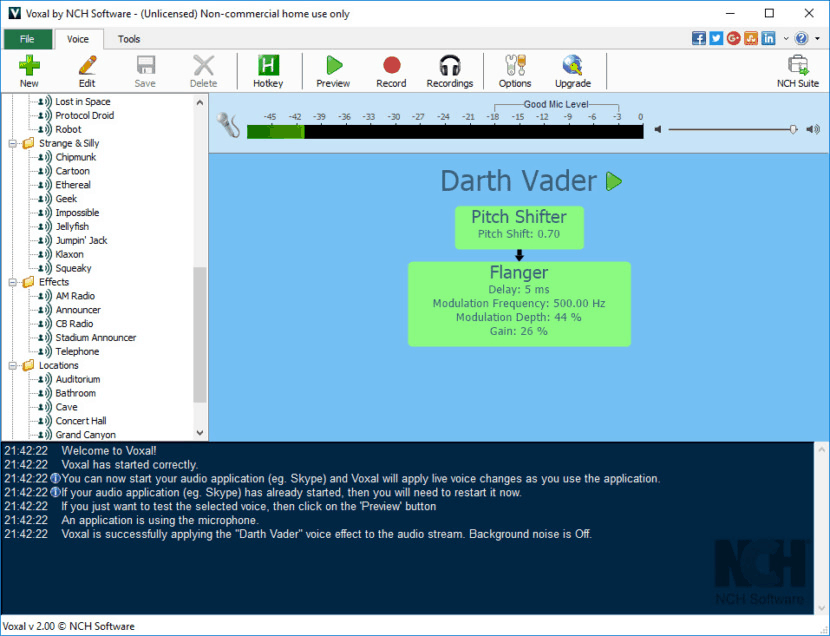 The first Voice Changer for Discord apps is Voxal Voice Changer. This one has got a great number of effects for changing voice and sound. It does the job of not only a real-time voice changer but also lets you change the sound effects of a recorded voice. The app is mostly famous because of the way it blends in with the timing and syncs as per the real-time voice while chatting on Discord.
Various sound effects like Robot, Kid, Girl, Man, Female, Boy, Alien, Echo, etc, are available in here. Another major thing about this app is that one can use it not only on Discord but for various other chatting apps like Hangouts, Skype, etc. This app supports both Windows as well as Web.
Pros –
Compatible with Discord, Hangouts, Skype.
Many voice effects like Alien, Girl, Child, Robot, etc. available.
Free Trial.
Compatibility with Web and Windows.
Cons –
2. AV Voice Changer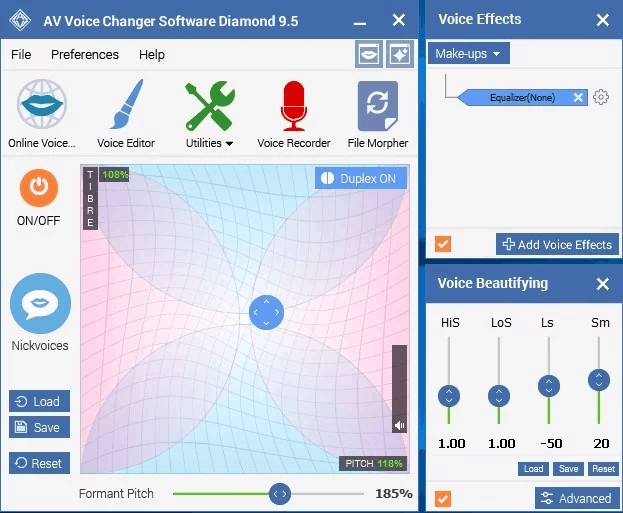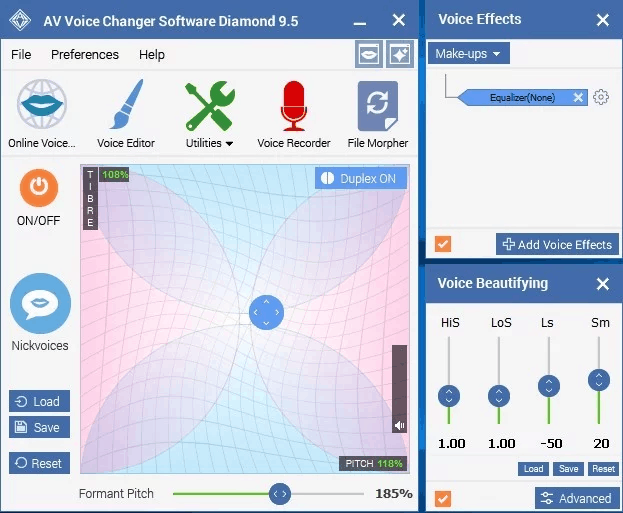 The next Voice Changer for Discord apps is the AV Voice Changer. This voice changer can be used for real-time voice changing for apps like Discord or Twitch and also for the recorded voice. You can make your voice slower, faster, higher, lower, masculine, more feminine, or also robotic, etc. using this software on Windows.
The software uses the Advanced Virtual Driver technology which makes it supportive to many programs like VoIP, games, web chatting apps like Skype, etc. The software offers three versions of itself for the users of which Basic, Gold, and Diamond are the ones to be named. They vary in pricing and features.
Pros –
Real-time voice changer.
Advanced Virtual Driver technology.
Adds sound effects on Recorded voices as well.
Compatible with most VoIP Programs.
Free trial.
Cons –
Premium versions – Free trial, $29.95/Basic, $39.95/Gold, and $99.95/Diamond.
3. Voice Mod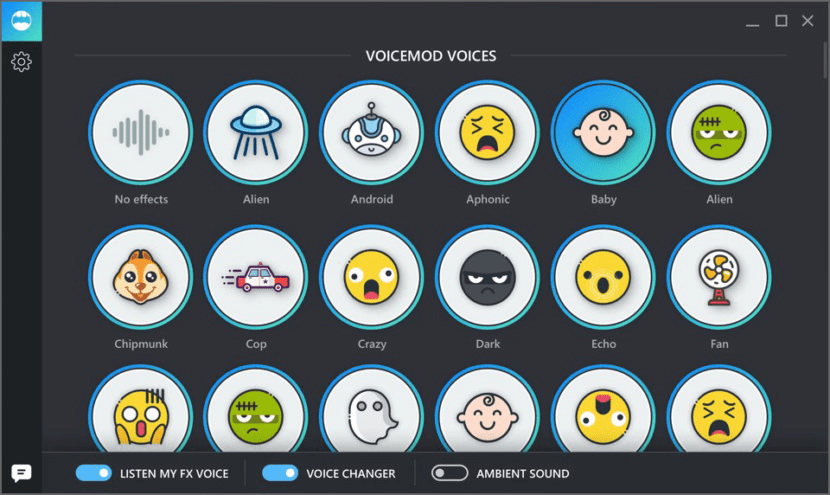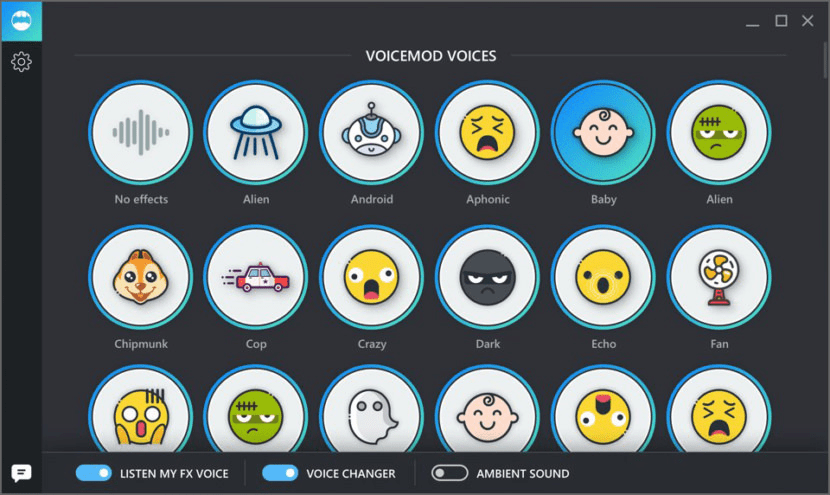 Another very famous voice changer for Discord apps is the Voicemod. This app offers the users a number of various voice mods like Cop, Dark, Fan, Chipmunk, Crazy, Baby, Helium, etc.  And you can use these all mods for games and chatting services like Fortnite, PUBG, Skype, Mumble, etc.
Pros –
Tons of Voice modules.
Free trial.
Suitable for PUBG, Fortnite, Skype, Hangouts, etc.
Cons –
4. Clownfish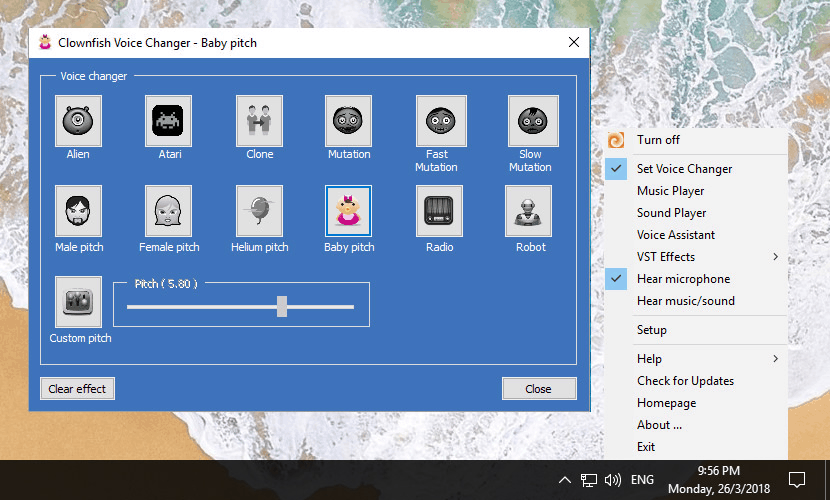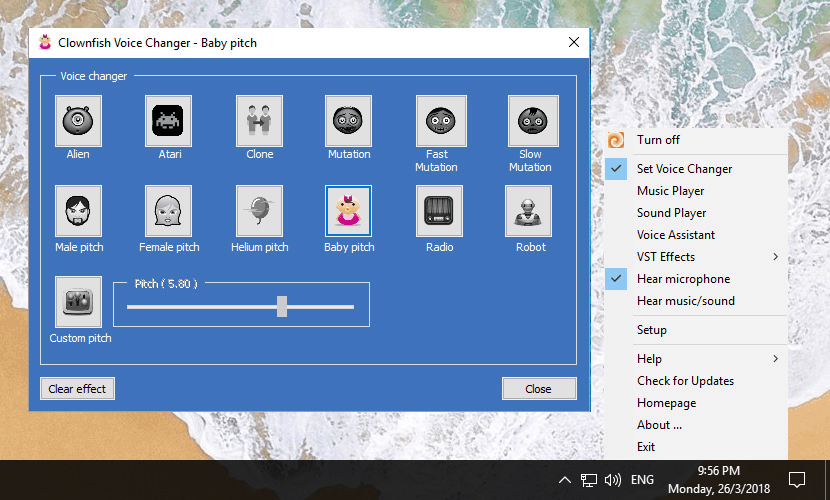 The next one on the list is ClownFish. One can use this voice changer for Discord apps. But hey, not just Discord, you can also use ClownFish on Skype, Hangouts, Steam, Team Speak, Mumble, etc. It is compatible with the Windows system.
This voice changer can be installed on a system level and therefore, any app that makes use of the microphone can be used for modifying your voice. The app, unlike MorphVox, is easier to set up. It is also free to use for changing voice on Discord. Voice effects like Alien, Male, Female, Baby, Radio, Atari, Fast Mutation, Slow Mutation, Clone, etc. can be used.
Pros –
Easy to configure.
Free to use.
Cons –
Not any that I can recall.
5. Team Speak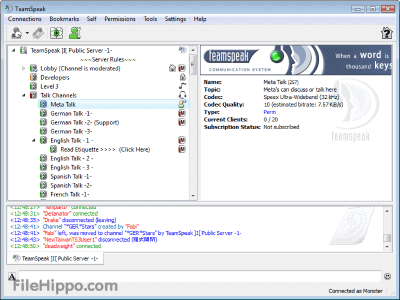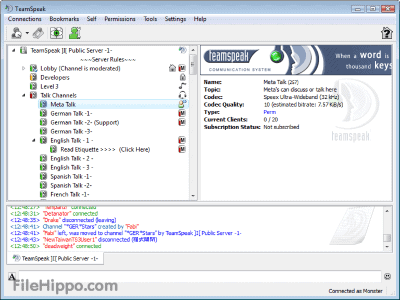 Another voice changer for Discord apps that can support Windows, Linux as well as Mac is the Team Speak. This app comes with an easy to use interface and offers high audio quality similar to MorhpVox. It can hold up to 32 users at one time. You can further increase this limit by 512 by acquiring a nonprofit non-commercial license.
The app has an effective and flexible Permissions system. This allows various users to control the different areas of the server as per their power level.
6. Mumble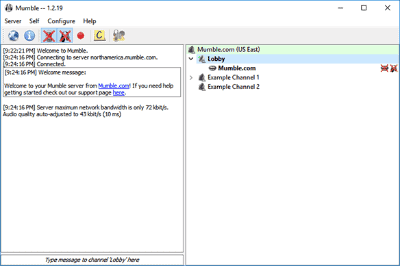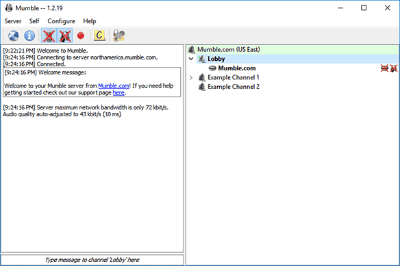 Mumble is indeed one of the best voice changer for Discord apps since it is compatible with not just Windows but also Linux and Mac. It is quite similar to Team Speak and is specially designed for high octane games that have a fast action and also include multiple players. This is because it uses Low latency communication. However, the support is limited to very few games like Guild Wars 2, Source Engine games, etc.
A peculiar thing about Mumble is that if you want to host a server, you can download the server version of Mumble and then operate it on your PC. Later everyone else can download the client version of Mumble and thus connect to your IP Address. There is an option to create channels as well.
Pros –
Compatible with Windows, Linux, and Mac.
Supports high octane multiplayer games.
Create Channels for keeping everything organized.
Cons –
Supports few High-octane multiplayer games for positional audio.
7. MorphVox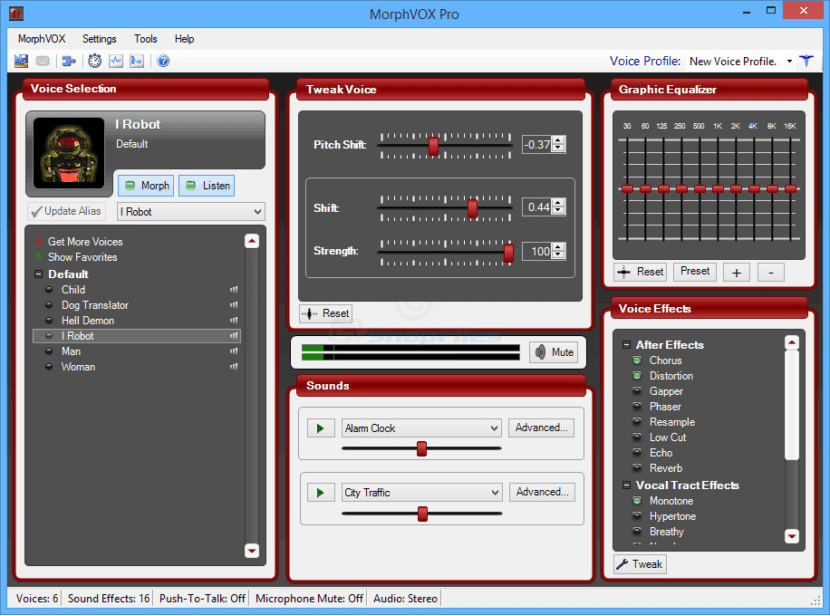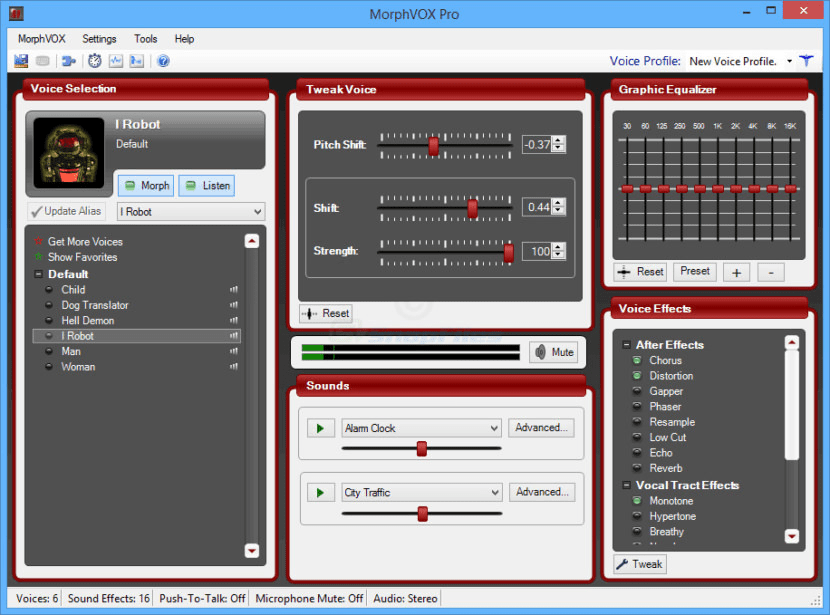 The next Voice Changer for Discord is MorphVox. This free Audio effect tool helps you alter your voice. You can make use of a large number of in-built sound and voice effects. Sounds like Male, Female, Child, Robot, Alien, etc. can be all added to your original voice.
Since the app is free to use, certainly there will be ads popping up at times. Well, this is how the developers need to make an earning! Also, you may find it a bit difficult to set up this app with Discord at first. However, once it is set, the sound quality of MorphVox cannot be matched by any other voice changer app.
So if you are looking for more professional and accurate voice effects then MorphVox is what you should go for. It supports Windows. The mechanism on how these software works is by analyzing the voice and then perform the optimal voice change effects.
Pros –
Great Voice Quality.
Optimal Voice change effects.
Free to use.
Cons –
Ads will pop up.
Intricate to configure.
8. Robovox


Robovox is another voice changer especially designed for Discord. The app provides a modification of apps through nearly 32 various voice and sound effects. The robot, Vader, Chipmunk, Singing, etc. are various modules here.
9. SuperVoiceChanger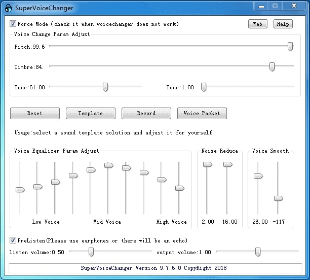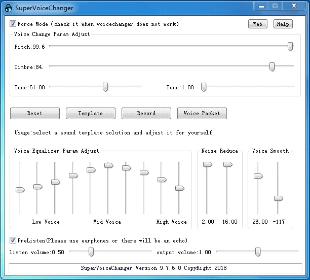 Coming to the next one, SuperVoiceChanger is another great voice changing the software that works on Windows. It is a real-time voice changer. It can make your voice sound like a kid or boy or girl. For this, you do not have to make any alterations in the settings. It is more of a basic voice changing the software.
10. Voice Changer Plus


Last but not least is the Voice Changer Plus. This app has got a huge number of Voice and Sound effects that you can have fun with. All you have to do is record your voice or sing and then tap again on the record button. you can then choose from the sound effects to add to your voice.
Final Verdict –
So these were the 10 best Voice Changer for Discord apps. I assume you have found the best voice changer for yourself. Many of these are real-time voice changers that you can use for voice chatting while playing games on PC.
Happy Androiding 🙂