Unlock Bootloader on Xiaomi Devices: If you wish to install any modified software on your Xiaomi Device, it is no new requirement that you will have to make is unlocking the bootloader of your Xiaomi device. The MiUi operating system is one real famous OS and also used as a custom ROM by developers. Unlocking the bootloader is the very first step in flashing custom recovery and installing ROM.
Bootloader is the code that executes when your device is booting. It powers the operating system for the initial run. Hence, if you wish to modify your device beyond the default customization provided by the manufacturer, you can do so by unlocking the bootloader on the Xiaomi Smartphone.
In this article, I have mentioned the official way by which you can perform the steps to unlock Xiaomi bootloader. Keep reading further for more.
What is meant by Unlocking Bootloader of Xiaomi Phone?
Unlocking Bootloader in simple words means getting access to root. Now for those who are not familiar with what "root" is, it is a state of your device gained by unlocking the bootloader along with other steps performed, which will give you full access to your device. That is you get the rights of the administrator and hence give you the complete authority of your device.
By unlocking the bootloaders, you can make changes to your Android Device. Unlocking Bootloader is a process by which you can Flash Custom ROMs, Install Custom Recoveries, or Grant root access.
So now that you know what Unlocking Bootloader is, let us see how unlocking bootloader works. But before actually getting into the procedure, let me first take you through the Disclaimer cum a word of advice, and also the requirements and if you are still determined to continue what you are here for, follow the prerequisite.
Disclaimer
The process to Unlock Xiaomi Bootloader is applicable for Xiaomi phones only. The same is quite a risky method to follow and for any sort of loss or damage to your device caused due to the method, www.androidjungles.com will not be responsible. Also, not that this procedure may lose the warranty of your device.
How to Unlock Bootloader on Xiaomi Devices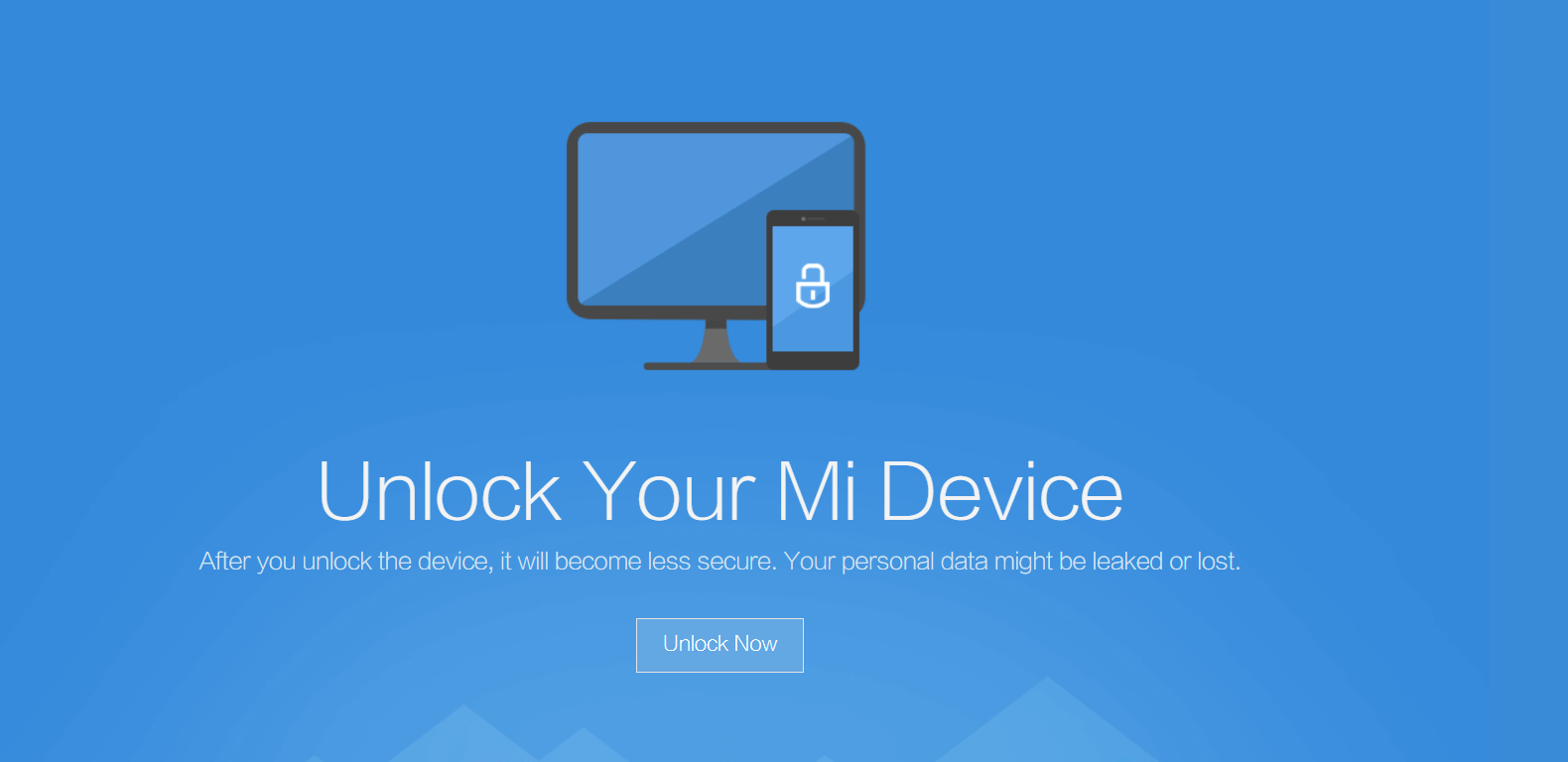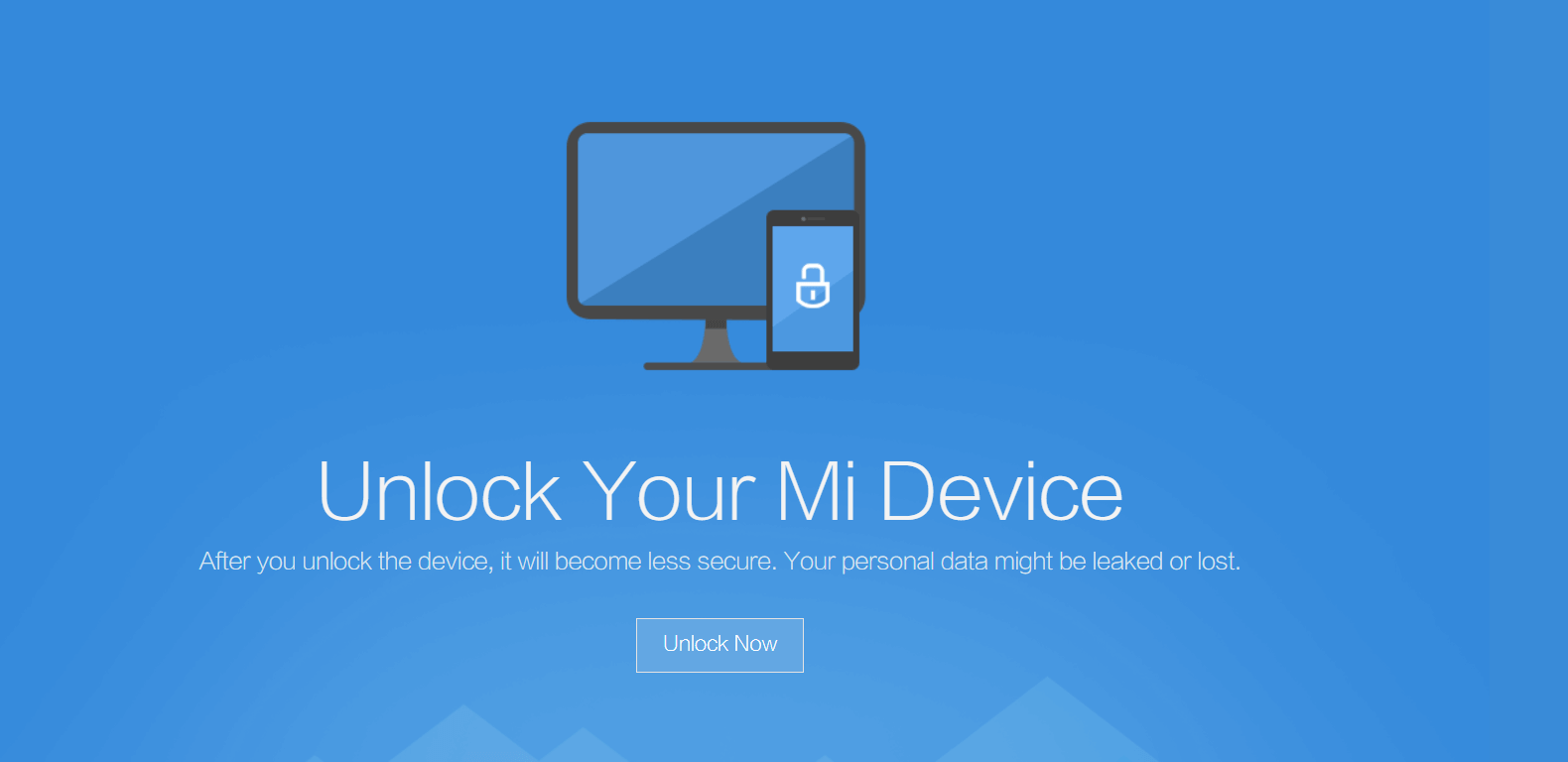 For unlocking the bootloaders in your Xiaomi device, you will have to perform the steps given below carefully. Since this method is an official one, it may take you some time but it will be worth what you will experience later on.
Pre-Requirements:
Backup your device to ensure the safety of your data.
Enable USB debugging on your Xiaomi phone.
Make sure that you are on the Official MIUI ROM for the unlocking process.
Do remember to Install Xiaomi USB drivers on your computer.
This process of unlocking bootloaders is in actual a 2-step process.
Download
1. Request For Unlocking Permissions
In this very first step of the two-step process to unlock bootloaders,
Step 1. To start with, go to the URL to apply for Unlocking Permission. You can go to the Unlock Request Page. There you will have to click on the Unlock Now option.
Step 2. Further, you will have to Log in to your Mi Account. If you do not have one, you will need to create it now to get towards the next step.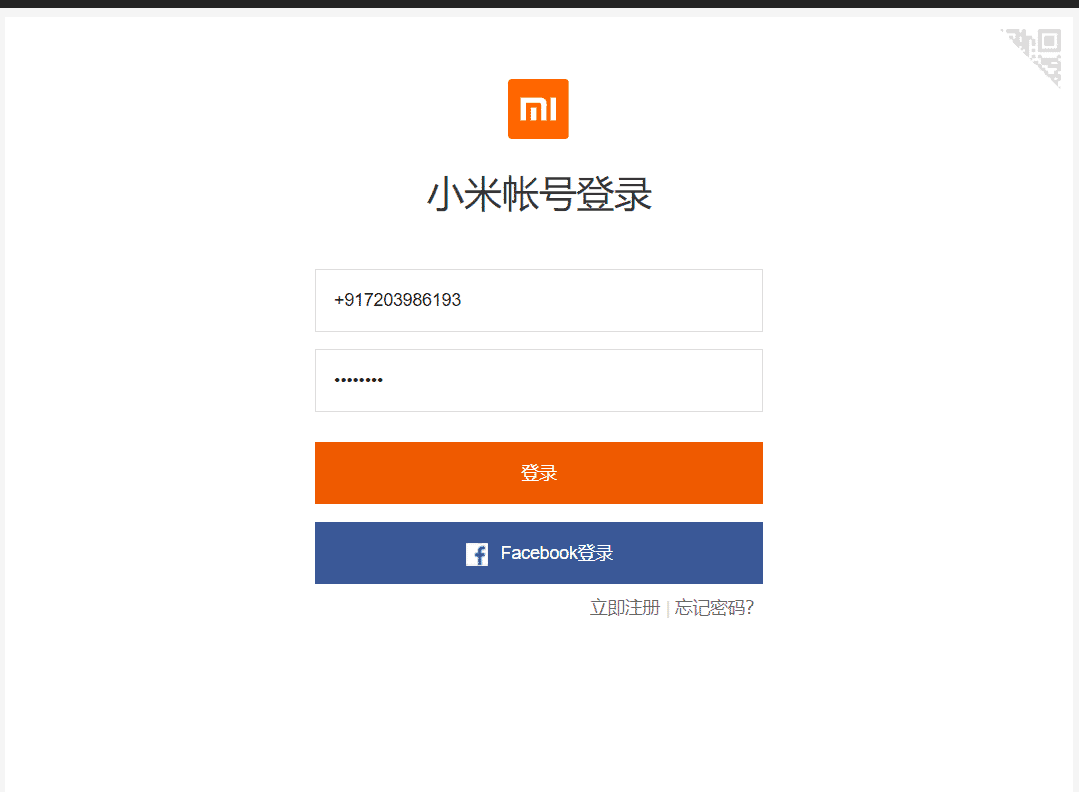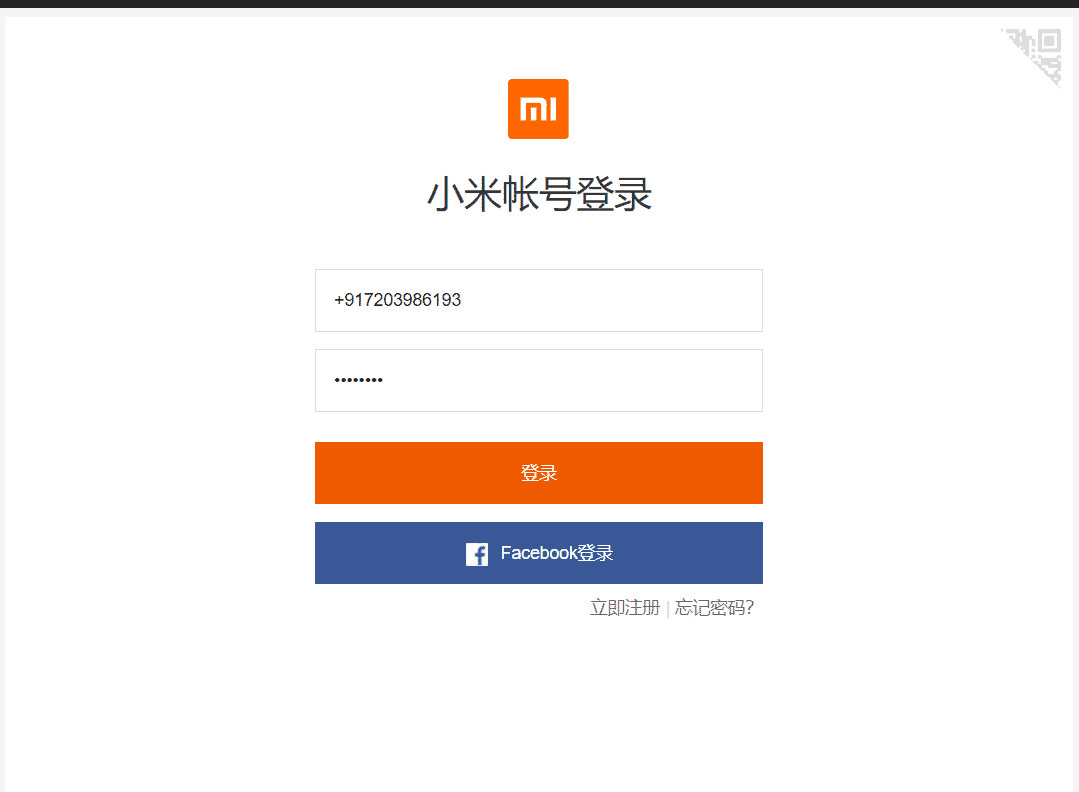 Step 3. After you have Signed in, fill the form with appropriate reasons to Unlock your device. Here are some of the assured reasons you can make use of:
My Xiaomi Phone is rebooting continuously.
My device is Stuck at Logo.
Any other reason as per your convenience.
In the form they provided,
Enter your Name.
Choose your Country.
Enter your mobile number.
Write the reason you want to give for unlocking the bootloader. Make sure you do not copy-paste it from somewhere else.
Fill the capita code.
Accept the disclaimer.
In the end, press Apply Now button.
Step 4. Now you will have to get done the mobile verification. For that purpose, all you have to do is enter the confirmation code you received on your mobile number and tap on next. In case you did not receive any confirmation code yet, you can press the available Resend button.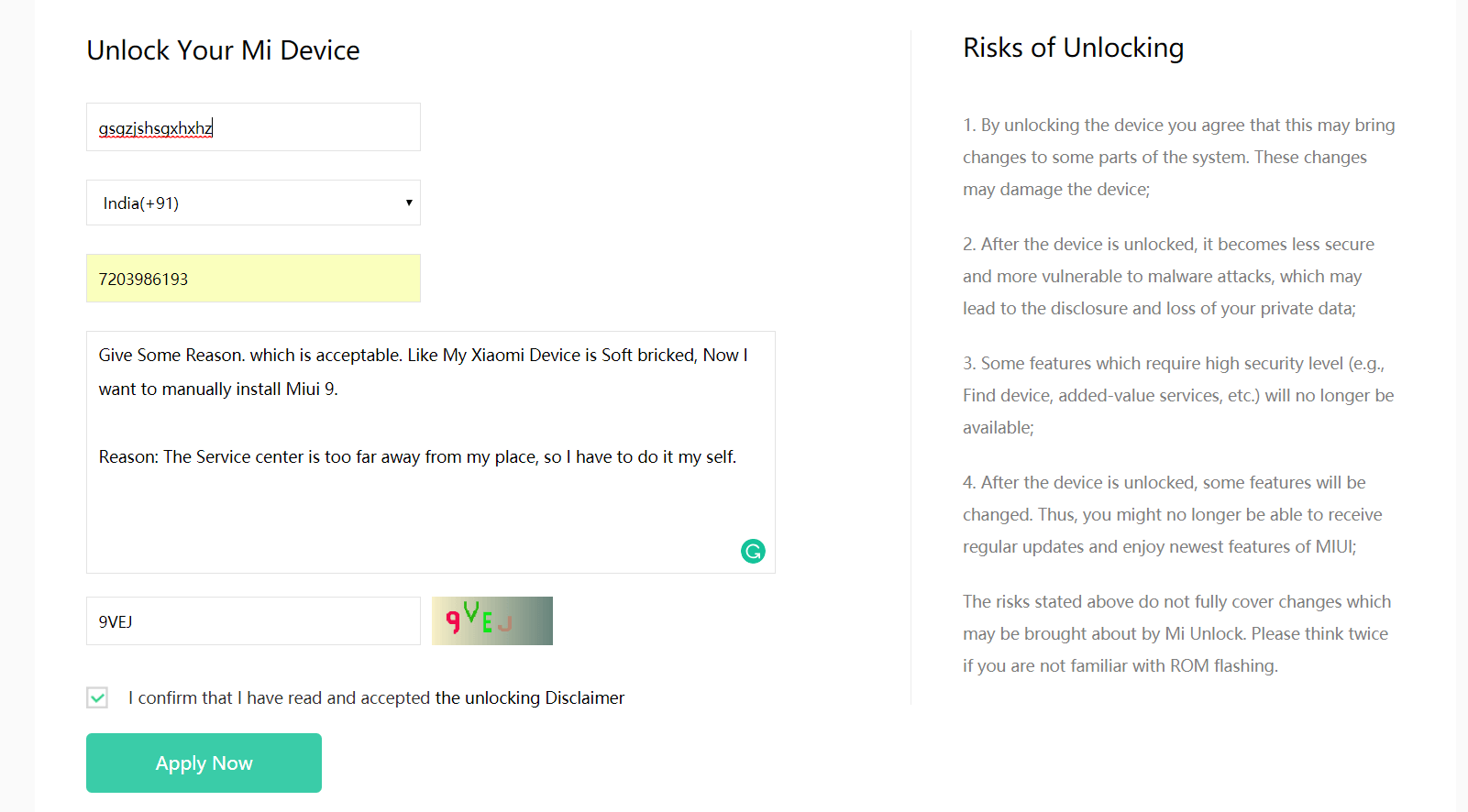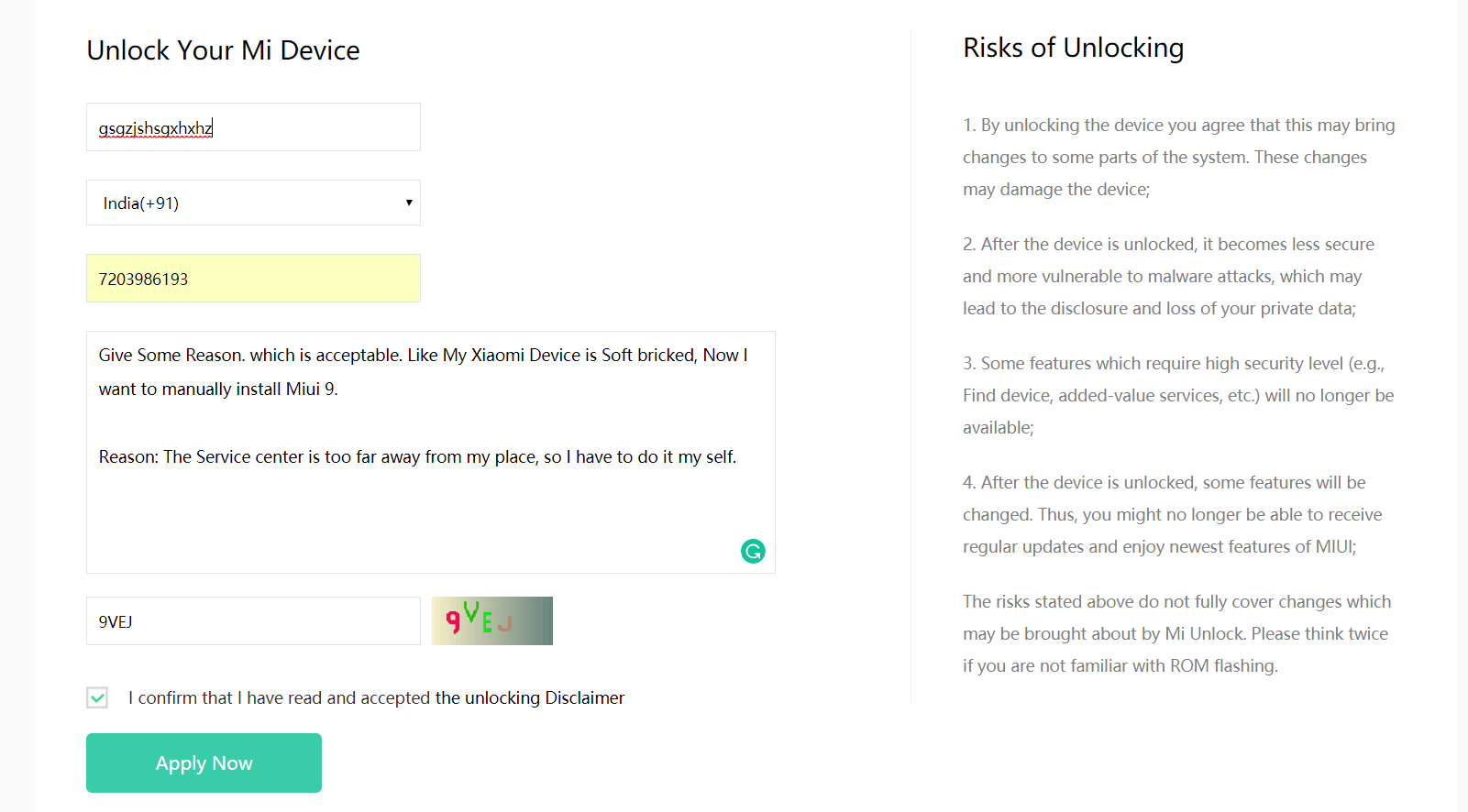 Step 5. After having done with mobile verification, you will see a page showing Application has been successfully submitted. All you have to do now is wait.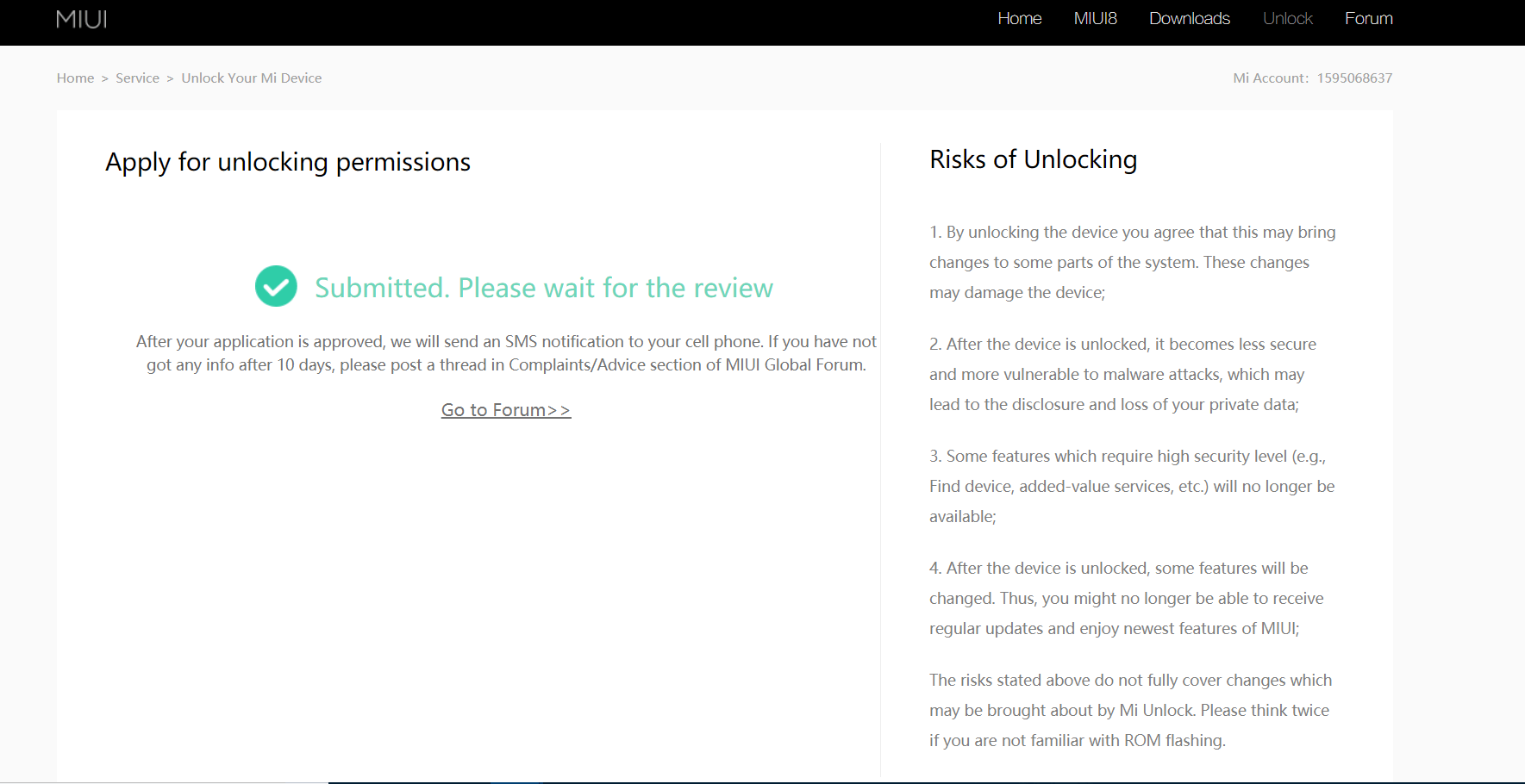 Getting done with this, you will have to wait for some days after which you will get an approval notification on your mobile through a text message. Now, this may even take ten or eleven days in some cases, but all you can do is have patience till then. Once you receive the text message, you can begin the second step towards unlocking the Bootloader given below-
2. Bootloader Unlock Process with Mi Flash Unlock Tool
Before beginning the process, here as well you will have to perform some pre-requirements:
Download Mi Flash Unlock Tool.
Backup your data to avoid any loss.
Install proper USB Drivers of your Xiaomi Phone.
Enable USB Debugging.
Login to your Mi account.
Now after having accomplished these pre-requirements, let us see the steps to follow in the second phase.
Step1. Download  Mi Flash Unlock Tool on your computer.
Step 2. Enable USB debugging if you have not yet. For that purpose, you can-
Go to settings> About Phone, tap on MIUI Version for 7-8 times.
Go to the settings> More settings> Developer options> Enable USB Debugging from there. Also, enable OEM Unlock from these settings.
Step 3. Then Extract the Mi Flash Unlock Tool that you downloaded in the first step on the PC and after extracting, run this file.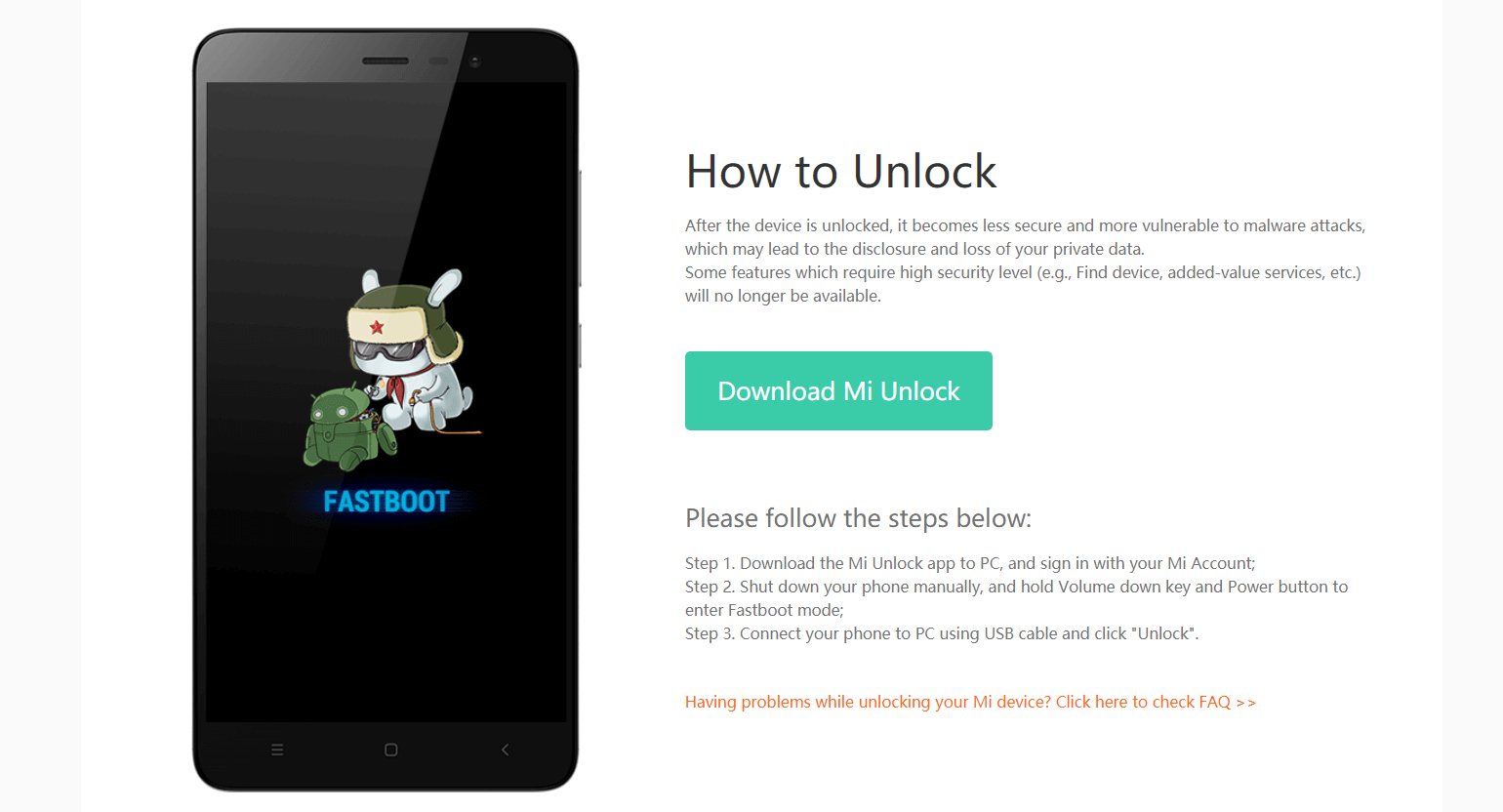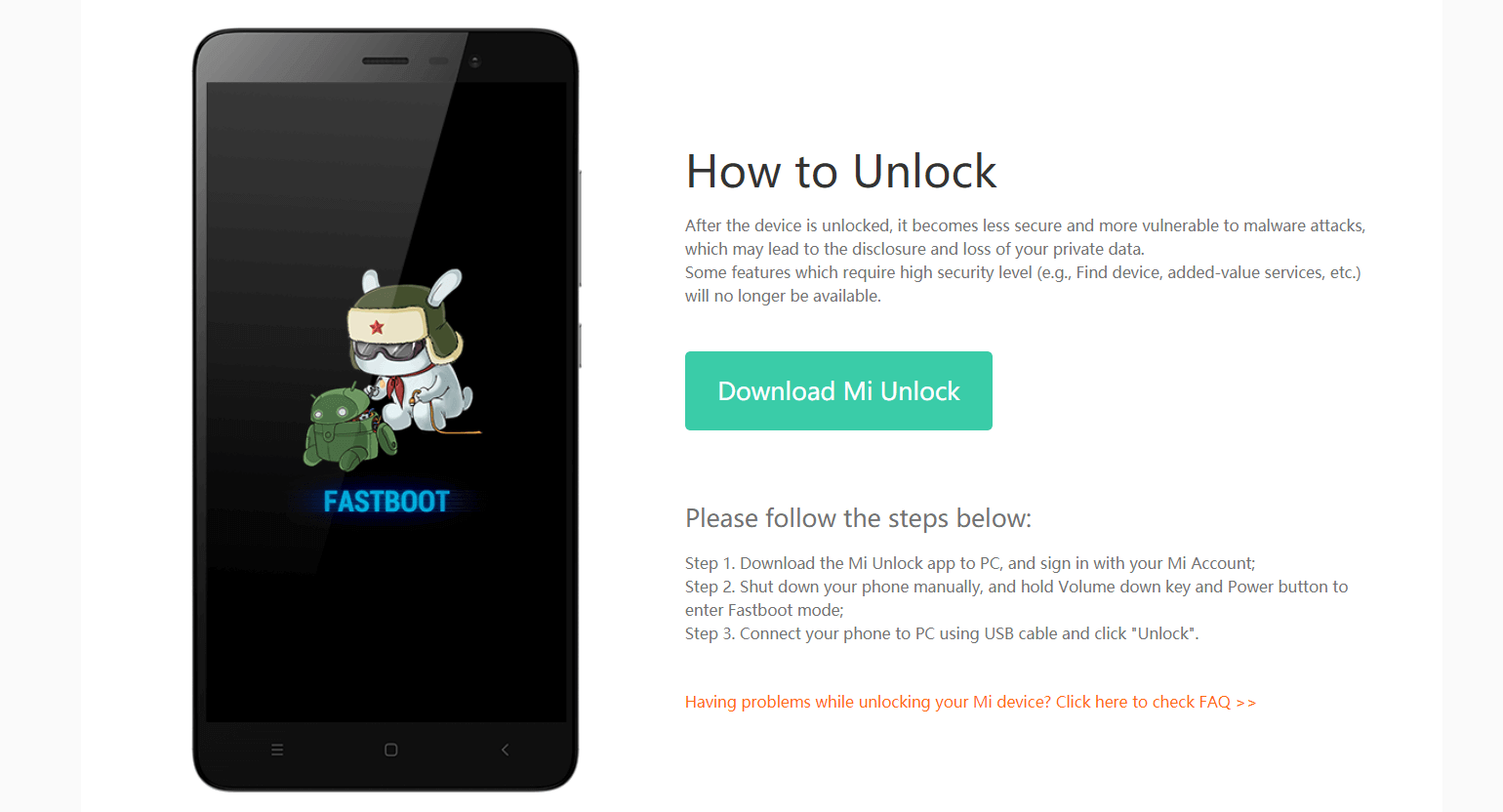 Step 4. After opening a message will appear on the screen asking to Accept the disclaimer. Click on the Agree option for further procedures.
Step 5. Next, you will be asked to sign in to your Mi Account with this tool. Sign in with the same account that you had a use for Unlocking request and logged in to your current device which you wish to unlock.
Step 4. After successful login, it will show that your device is not connected. Then you will need to connect your Xiaomi device to follow further steps.
Step 5. Connect your device with USB to PC in Fastboot mode. To boot your device into fastboot mode, you will have to switch off your device and use the Power on + Volume Down Button to boot into the fastboot mode.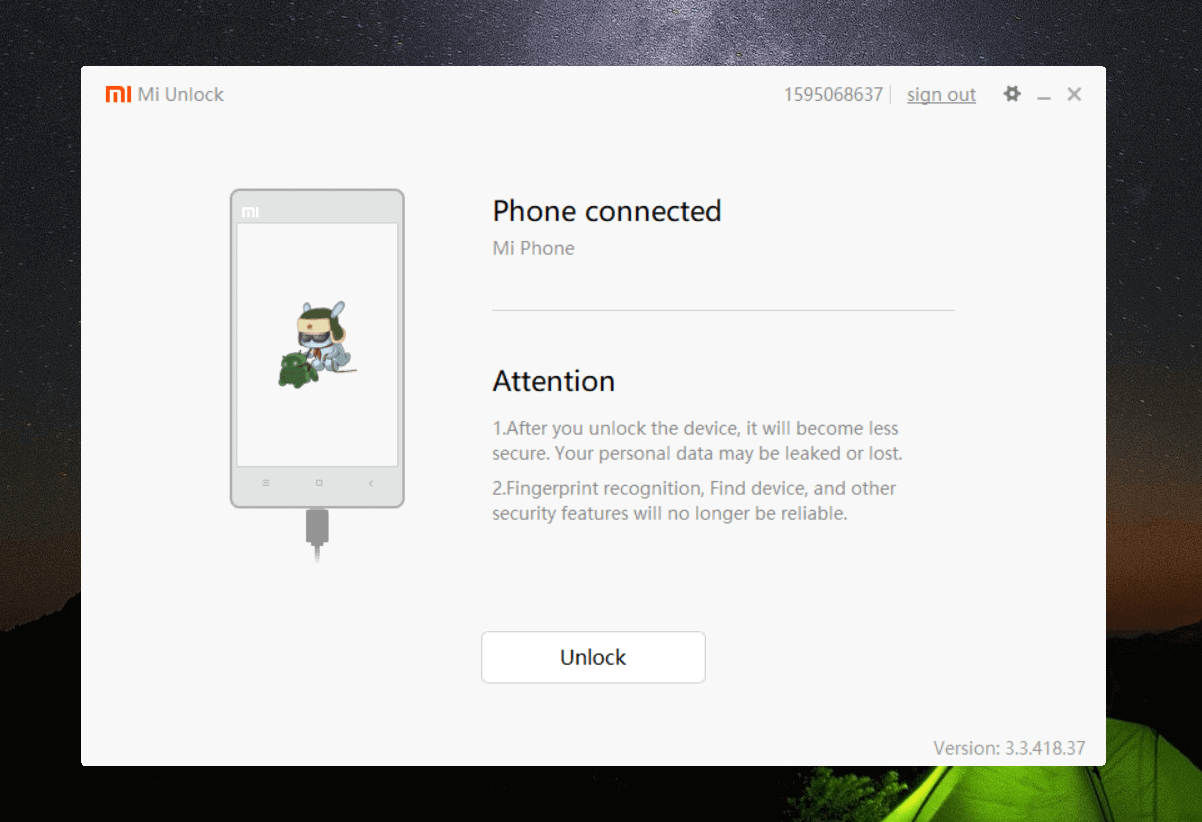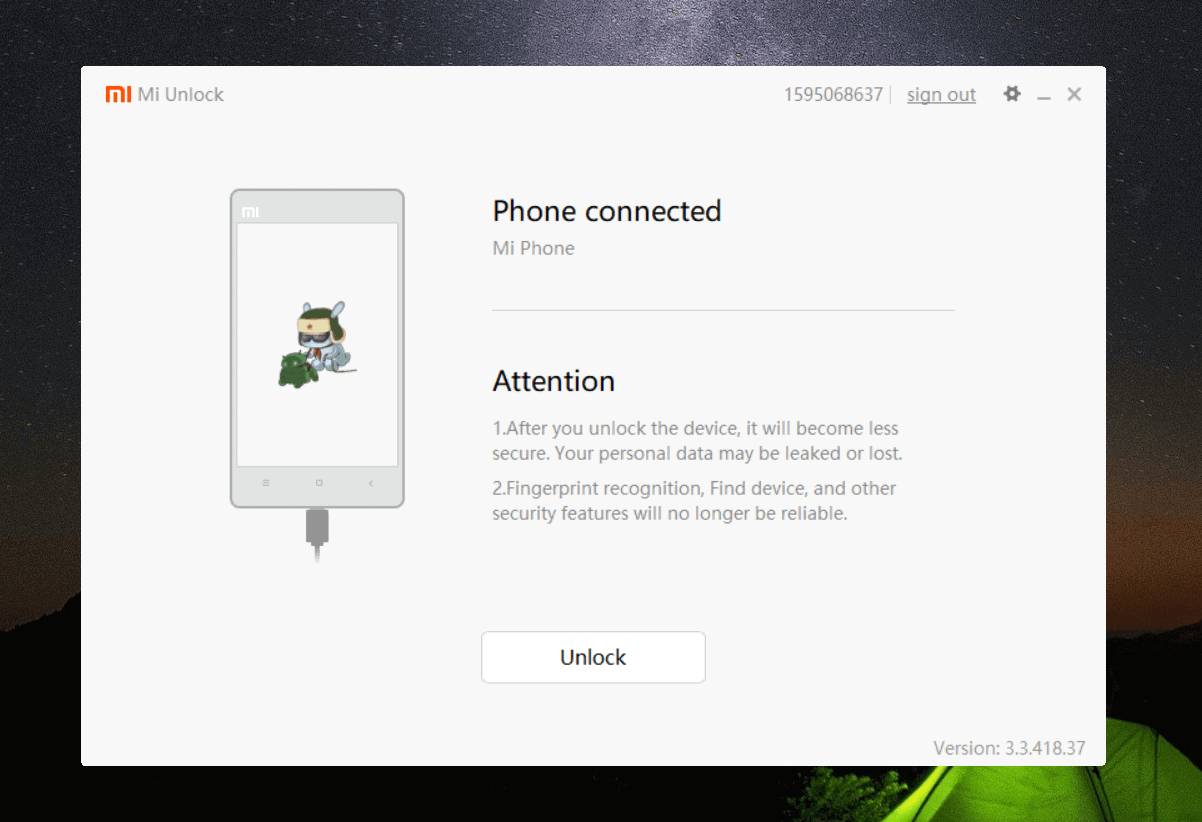 Step 6. Now, press the Unlock Button in Mi Flash Unlock Tool. Soon, the bootloader unlocking process will be started. This will take not more than two to three minutes to complete the Unlocking process of your device. In no time, you will see a success message pop up on the app after you have unlocked your device.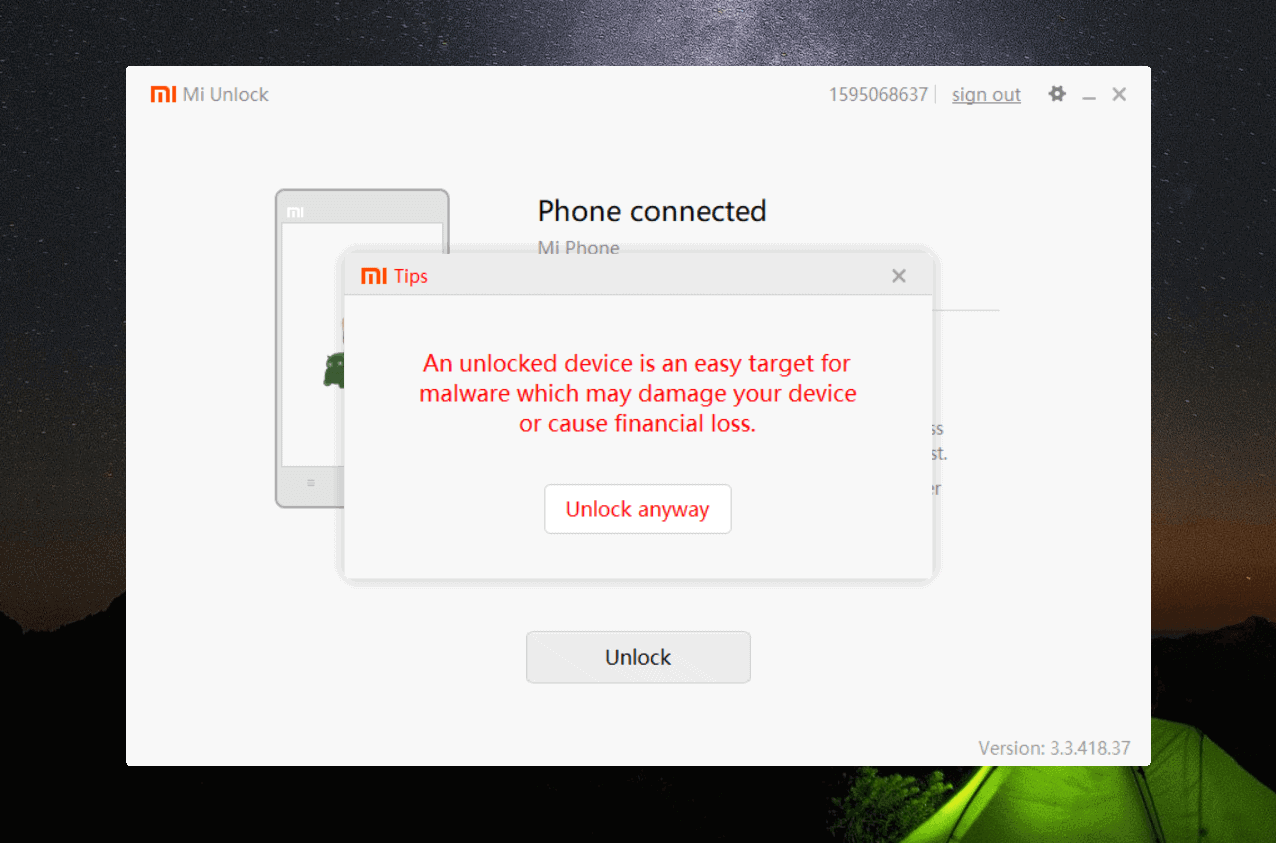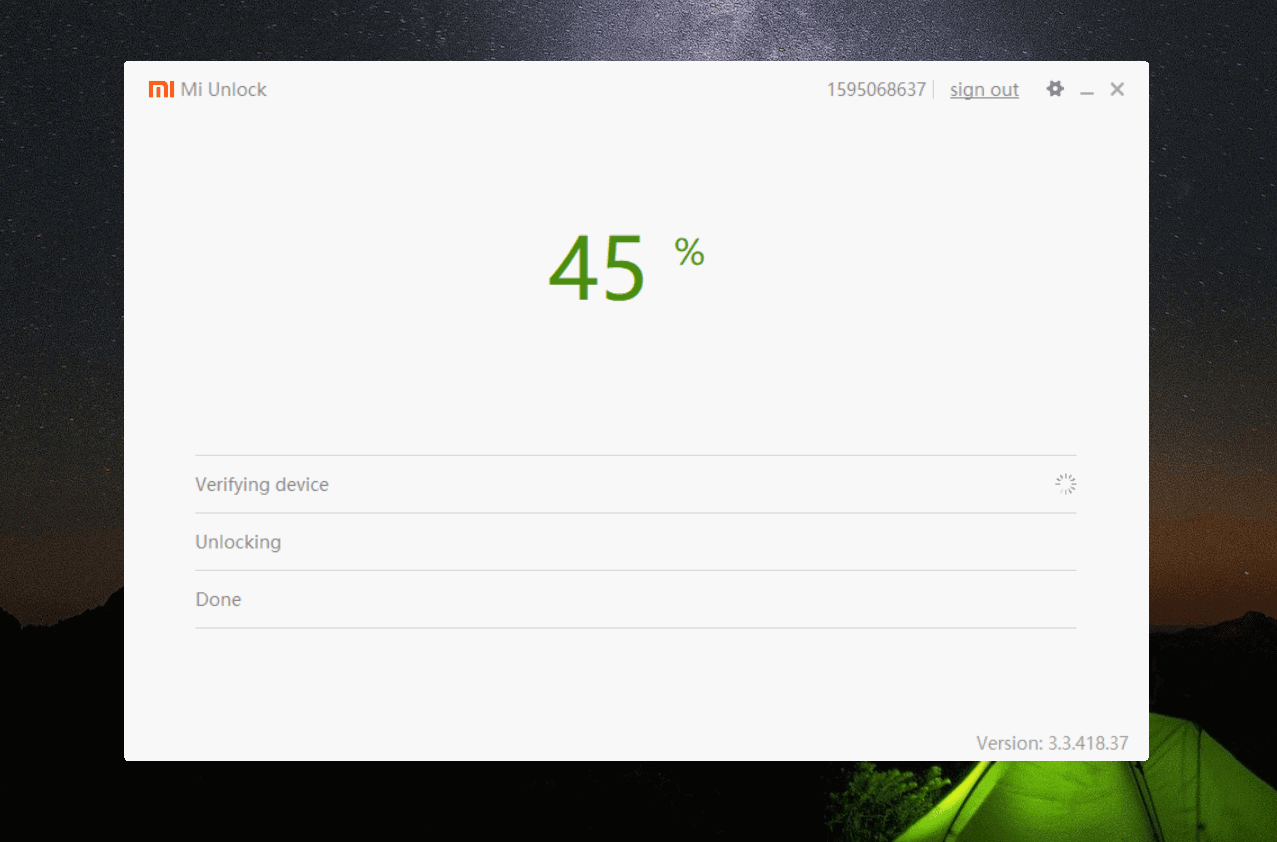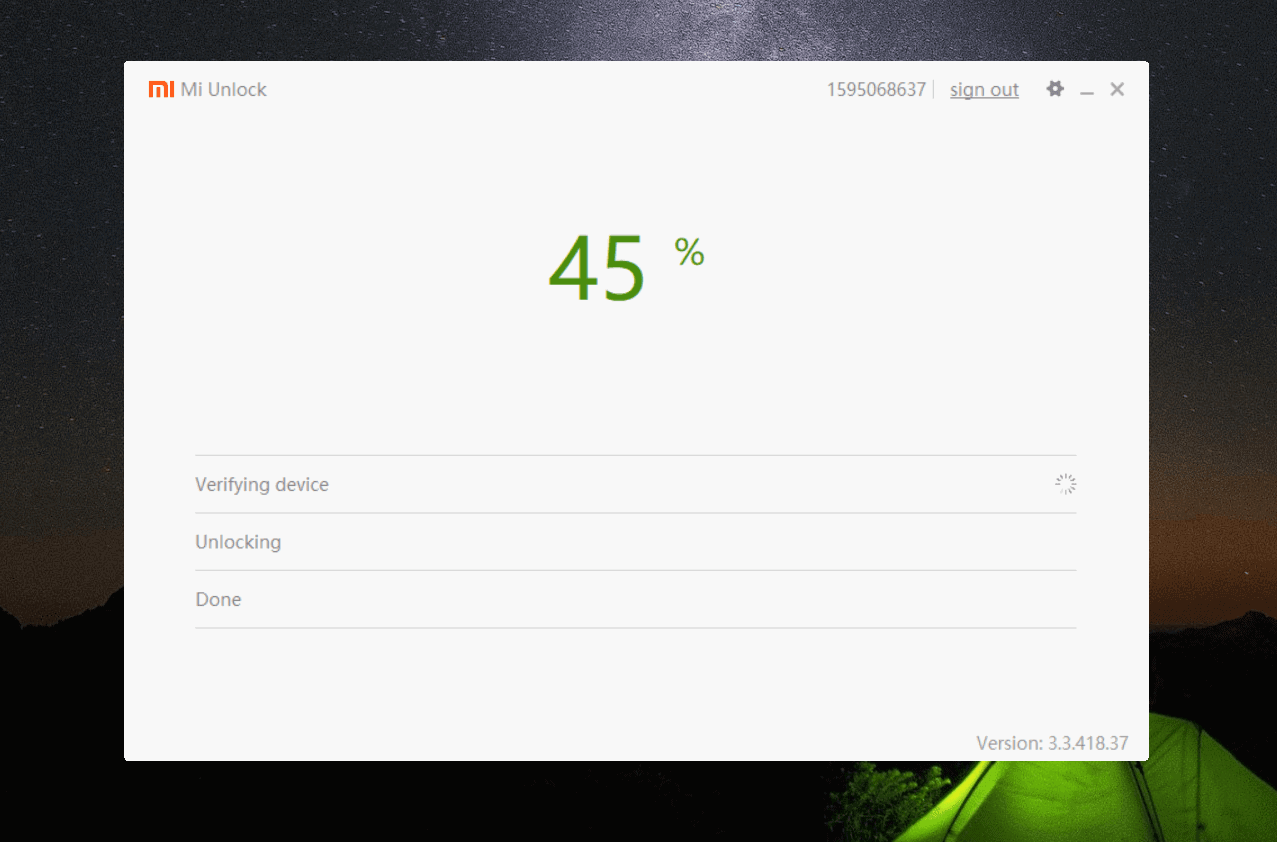 Once the unlocking bootloader process has been completed successfully, press the Reboot button to restart your Xiaomi device. Now having the bootloader unlocked, you can now easily Root your device, Install custom Recovery, Flash Custom or Fastboot ROMs, and a lot more!
Advantages of Unlocking Bootloader on Xiaomi Device
You will be allowed to flash custom ROMs for your Xiaomi device along with performing Custom recoveries, and also granting root access.
The normal OTA Updates will not be affected.
Even after unlocking Bootloader, you can flash custom recoveries like TWRP or CWM Recovery and access them.
Disadvantages of Unlocking Bootloaders on Xiaomi Devices
When you unlock the bootloader on a Xiaomi Device, you will lose access to stock Mi Recovery.
The recovery mode will change updating via recovery will need Mi PC Suite.
As mentioned earlier in the disclaimer itself, unlocking the bootloader may void the warranty of your device.
If you have no idea of what Custom ROMs, Recoveries, and Root are, it would be quite risky to unlock the bootloader and you may end up in bricking your Xiaomi device.
Like said in the features of Unlocking Bootloaders, not all features would work well.
You may face a sort of loss in data after having unlocked the bootloader on Xiaomi.
How to Relock Bootloader after Unlocking?
After Unlocking, if you wish to, you can also relock your Mi phone by only flashing official MIUI ROMs. It would be better if you use Official MIUI ROMs. A lot of custom ROMs having Bugs in their system.
If you see a 'Couldn't Verify Device Error', Then wait for three to four days after receiving unlock request approval message.
How to fix "Couldn't Verify Device Error"?  Or

How to fix "Stuck at 50%"?
This one stands out to be the most common problem faced while unlocking the bootloader. To unlock the bootloader you need to have to fully activate your Mi Account on your phone.
Here are a few steps through which you can easily get out of this error.
Step 1. To actuate with, Open the Mi App or go to the Mi account through settings. Sign in with the same account you have used for granting the unlock permission.
Step 2. On your PC, open any browser and Browse the site- Official Xiaomi Website.  Over here, Sign in using the same Mi account.
Step 3. After logging in, you will see the Connected devices to your account. Now, click on the 'Find My Device' to locate your device. After this, your Mi account will get activated but you will have to wait for one to two days.
Step 4. Open Mi Flash Unlock Tool, Log in with the same account, and then click on the Unlock Button.
Why Xiaomi Locks Bootloader?
Ans: A major reason why Xiaomi has its bootloader locked is just the same as for which other manufacturers have it locked. Security is why Xiaomi has been locking its bootloaders. This locking helps at the time your phone gets stolen or is lost. You can in no time ensure its security at such phases.
With a locked bootloader, nobody can use flash custom ROMs for the purpose of making use of or even misusing your device in case it's stolen or lost. There remains no chance of even booting your device to stock recovery for factory data reset.
Wrapping Up:

This was all about the process of Unlocking the Xiaomi Phone Bootloader. The basics of what exactly Unlocking bootloaders are and some of its major advantages and disadvantages as well. In this article, we tried mentioning for you a generalized set of steps that would make it easier for you to unlock the bootloader on Xiaomi.
Unlocking bootloader is not really a tough task but it would be better if you unlock them when you know about android basics or you are a techie or you have a general knowledge of Custom ROMs, Recoveries, Roots, etc.
If you guys come across any difficulties in any of the steps or have problems regarding this or other tech-related topics, you can let us know in the comment section below. We will be glad to help you all. Also, keep visiting our page for more such articles. Otherwise, you can Subscribe to our newsletter for receiving timely notifications of our posts.
Happy Androiding!