Are you in the mood of pranking someone? What about creating a fake WhatsApp account and spamming your friends or family to make them wonder who has been reaching out to them through WhatsApp? Or do you want your WhatsApp account to be Saf, secure and private? Are you looking for a way to use 2 WhatsApp accounts in one phone?  Then here is how you can make all of it possible-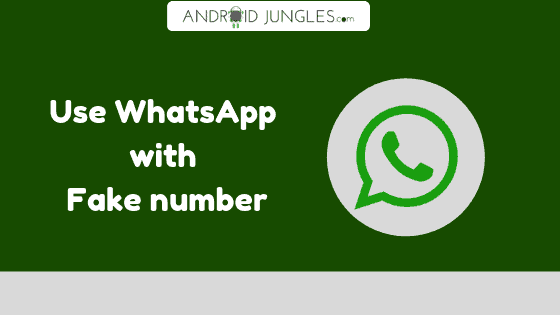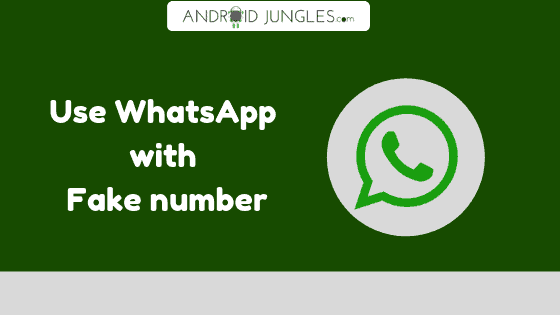 Disclaimer:-
I have personally used this trick to play a prank with my close ones but we at www.androidjungles.com do not encourage any sort of illegal or inappropriate behavior towards anyone. This post is for adding to your knowledge and giving you an idea if you are getting fooled or pranked or harassed by someone his way. Kindly do not use this trick mentioned to purposely annoy or harass someone.
How to create a Fake WhatsApp account using a Fake Number?
Step 1:- Download the latest version of WhatsApp on your device. If you already have the app just make sure no other WhatsApp account is open on it.
Step 2:- Put your phone on Flight Mode when the app asks for verification.
Step 3:- Since your device is on flight mode with no connection, the verification will be illegitimate. Choose the option of SMS Verification. Enter your Email ID and Submit and quickly hit the Cancel button.
Step 4:- Now download a Fake message app from Google Play Store. For iOS, I recommend you to use- Fake A Message app.
Step 5:- When you download the fake messaging app, go to your Outbox, copy the message and send it to a fake number. This step finalizes your WhatsApp verification procedure.
Your WhatsApp will then be verified.
Read More: Download Android Emulator For PC
How to use 2 WhatsApp Accounts in one Android phone?
You can now use 2 WhatsApp accounts simultaneously in one Android phone by following the methods given below-
Method 1:- By using Multiple User Profiles on Android
Step 1:- Go to Settings of your Android device.
Step 2:- Look for the option of 'Users' and then tap on 'Add users'/ 'Add a Guest Account'.
Step 3:- When you create a new user profile, add up the required details for the new account.
Step 4:- From the Google Play Store, install WhatsApp Messenger app in the Guest or New user mode.
Step 5:- When you open WhatsApp enter the credentials required to start a new account and add a phone number which is not attached to any other WhatsApp account.
This way you can shift between the Modes and operate 2 WhatsApp account in one phone.
Must Read: Download GB Whatsapp, Download Lucky Patcher, and Download Spotify Cracked Apk
Method 2:- By using Android Clone Apps
Through the use of various Clone Apps available on Google Play Store, you can use two different WhatsApp accounts in one Android phone. Most importantly all of these apps do not require root access to your device. So you can easily carry out this process and it won't be anywhere near illegitimate.
Apps like- Parallel Space, Multiple Accounts, Super Clone Pro, Dual Space, Multi, App Cloner, GBwhatsapp you can use 2 WhatsApp accounts in one phone.
How to Verify your WhatsApp account with Fake number 2018?
Go to Text Now.
Now, click on the 'Sign Up Free' button.
You can Sign up with either Facebook or Email Account.
A small window box will now pop-up.
You will see 'Enter your area code' text and a box below.
Enter '539' as your Area code in that box.
You will now get your US(+1) number from Text Now.
Now verify that number on Whatsapp by a call.
You will get a voice mail as WhatsApp verification code.
You can now have as much fun as you want until you get blocked by your friends or family!
How to use WhatsApp with the US, UK numbers?
You can also use WhatsApp with a number from the UK, US or Philippines by following the methods given below-
Open the app.
Register for a new account. Enter your Email ID and password.
You will see 'Get a phone number in your area code'. Choose the option of 'Don't Use my Location'.
Then enter area codes of the US or whatever country you want like- 620, 501, 320.
Click on Continue.
You will then see a list of numbers on your screen. Choose whichever number you want.
Tap on the number you want and then copy it.
Open WhatsApp and Create a new account. Enter the number that you copied earlier.
You will get an OTP for verification in the app.
Enter that OTP on WhatsApp and you are good to go.
Must Read: Download Hotstar Videos on Android and PC
Why Use WhatsApp with a fake number?
Using a fake WhatsApp number could benefit you in a number of ways. Some of which include keeping your number safe from unknown people in WhatsApp group. Other benefits include-
Privacy safeguarded.
Free to use.
Fake international number accessible.
Helpful in Pranking friends and family.
Your Private number could be more secure.
Final Words:-
I hope you have got the right way to trick your friends and fam. And I assume you have got to your work by now. For more such interesting articles keep visiting our page. You can also subscribe to our newsletter to get notified on such posts.
If you want us to write on something, feel free to let us know in the comment section below.
Happy Androiding:-)