Hey People, In this article, I will share some methods on how to factory reset Samsung TV. You will find all possible details and methods on how to factory reset Samsung TV.
Problem! Let's solve it out –
Is your Samsung TV stuck or frozen at a point and you are unable to watch your favorite shows on it? To get rid of this issue, the best solution is to reset your Samsung TV to its factory setting. So, I have shared here the solution about how to factory reset Samsung TV.
By resetting the Samsung TV, you will get your TV working again just like before. This will ensure that all the default settings of the TV are restored and it will start working like it is new.
You may also do the same if you wish to get rid of a problem that is hard to solve.
Also, Read – How To Strikethrough In Google Docs. Guide With Easy Steps.
When you factory reset your smart tv it will get back to default settings. When you have any issue with your smart tv then you might need to reset your smart tv. May be you have multiple reasons like, you are facing some issues with your tv or you want to sell your tv so that you want to reset all the settings and data. But please note that when you reset Samsung smart tv all the applications, data, personal settings, passwords will be wiped out.
Now, let me give you the steps on how to factory reset Samsung TV.
How to factory reset Samsung TV?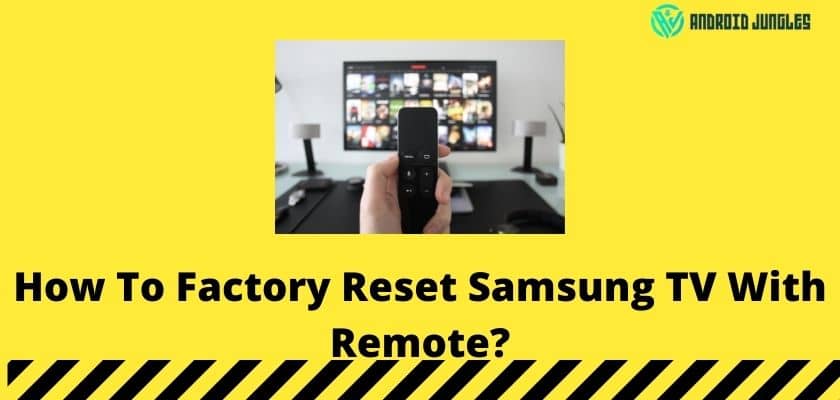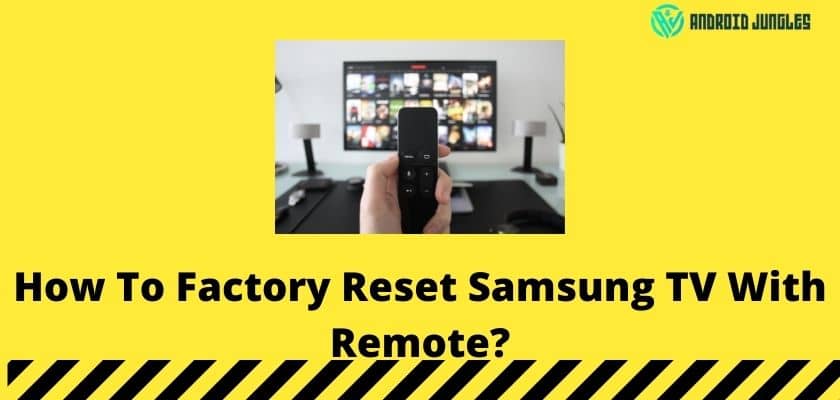 Here are the steps.
Press the menu button on the remote. ( You can find the button with a home or house icon. )
Select and enter support option. ( You will find enter button at the center of four arrow buttons )
Open Self Diagnosis. Choose the Self Diagnosis and click on enter.
Press enter on Reset option.
If needed, enter your PIN code. ( If you have set the PIN for your television then you will be asked to enter the PIN. )
Confirm the reset.
The TV will ask you to confirm the reset. If you are sure to reset the smart tv then select Confirm.
Note:

Default pin code for Samsung smart tv is 0000.
This way the television will repair itself and shut down when it's done. Now you need to turn on your tv and do necessary settings.
You're done. So, this is the solution to your question about how to factory reset Samsung TV.
Now, let me share with you some other methods on how to factory reset Samsung TV.
How To Factory Reset Samsung TV without PIN –
In the case where you can't remember your Samsung TV reset PIN, you can reset the TV without a security PIN.
Turn off the smart TV.
Click on Mute -> 8 -> 2 -> 4 -> Power.
Select factory reset.
Tap "yes".
So, you have two methods to reset Samsung tv. Now let me share one more method.
How to Factory Reset Samsung TV without Remote –
There is a need for your Samsung TV remote to reset the TV. But in case you can't find the remote or the remote isn't working perfectly, here is how to factory reset Samsung TV with the remote.
Turn off the smart TV.
Press and hold the power button for around 15 seconds and wait the tv will be turn on without the remote.
So, this way you can see that the tv is reset to the default settings without using remote.
How To Factory Reset Samsung TV with Black Screen –
Samsung TV black screen is common after a firmware update and this can make it hard to reset the smart TV because of the black screen. However, follow the procedures below to learn how to factory reset Samsung TV with a black screen.
At first you need to turn on your Samsung Tv with black screen.
Now press and hold the Exit button for 12 seconds. Till this time the Tv standby light will blink.
After the light blink you will have the factory reset option on your Tv screen.
Click on OK to factory reset the Samsung TV.
So, these are the methods to factory reset Samsung tv.
Conclusion –
If you have a lot of personal data and have done some configuration on your Samsung TV to reset it might be the hardest decision. But when you don't have any option without resetting your smart tv then the above steps will definitely help you.
Therefore, here in this article, you have learned how factory to reset Samsung TV with different methods. We hope that it is useful for you.
Happy Androiding…..