The easiest way to Download MI Account Unlock Tool to Bypass MI account: If you are looking for a way to download MI Account Unlock tool, here is a guide to help you with all of it. MI account tool is going to help you remove MI account from your Xiaomi devices.
Among all the popular names we consider for Smartphones, indeed Xiaomi MI has proved to be one. MI phones run on MiUi OS, which is based on Android.
It provides a clean look and fluent performance with many other interesting features. If you have a MI smartphone, you must know about the MI account.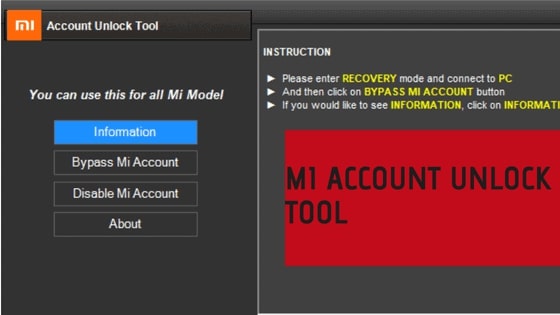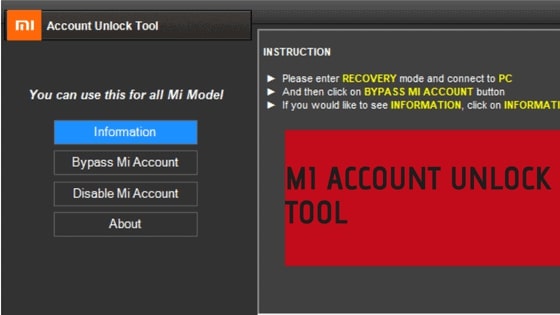 With more technology, we have got more features and one such feature in security as well. There comes the name of your MI Cloud Account.
How much ever-useful this Cloud account may be, at times for reasons like a Stolen phone or if you lost your phone or made a factory reset by mistake, you lose a command on your MI Account. And there arises our master of today's article, MI Account unlock tool or Mi Bypass Tool. For MI Phones, We have shared Few tools which you can use for Flashing Custom ROMs or connect Xiaomi devices to pc or Macs. For Flash stock os, you can use the MI flash tool, and for Connect to Pc or Mac, you can use MI Pc Suite.
MI Account Unlock Tool Download RAR File (2022)
| Name | Mi Account Unlock Tool |
| --- | --- |
| Size | 26 MB |
| Version | 2.2.406.5 |
| File Type | exe |
| Developer | Mobile Software Advance |
| Format | Mi Account Unlock Tool Rar |
| Compatible with | Windows 10/8/7, Vista, and XP |
In this section, we have provided you a direct link to download MI account unlock tool for Windows PC. If the link is not working, you can let us know in the comment section down below.
Download Mi Account Unlock Tool
How to Install MI Account Unlock Tool [2022]
Step 1. You need to download MI Account Remove Tool from the link given on our web page above.
Step 2. Now extract the zip file to your PC.


Step 3. Then, open the file and click on the .exe to install this software.
Step 4. Follow the instruction and click on the next option. At once, finish all the setup options.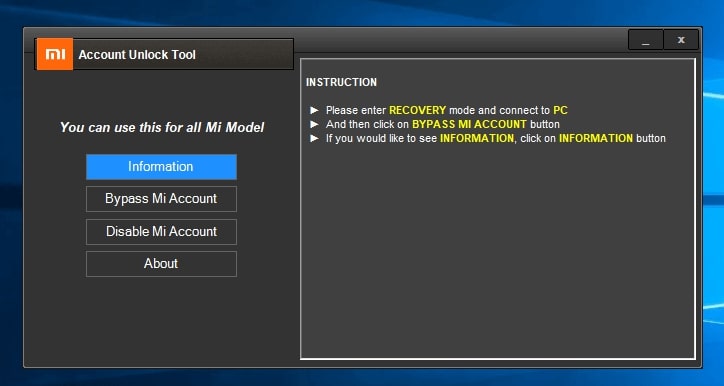 And now, you can enjoy the MI account reset tool on your device.
How to bypass MI Account Using MI Account Unlock Tool
The best use of this tool is you can remove MI account easily from your MI smartphones. By now, you might have got an overview of what the MI Hard Reset Tool is. So here comes the procedure of How to Use MI Account Unlock Tool to remove MI account.
Step 1. To begin with, I assume you might by now have downloaded and installed MI Account Remover Tool with the help of the steps and links given above.
Step 2. A zip file will be downloaded, which you will have to extract the software from. Before that, you got to disable the anti-virus.
Step 3. After extracting the downloaded zip folder, run "Miaccountunock tool.exe" as administrator.
Step 4. Now Switch the MI device off.
Step 5. Then boot it into Recovery mode. For this purpose, you will have to press and hold the Volume Up and Power Key button until you come across the option to on the recovery mode on your phone. When you see the MI logo, release the power key.
Step 6. Now run the MI account Unlock Tool on your PC and Connect the Phone and PC through a USB cable.
Step 7. Click on the Information tab in the MI Unlock Tool, and you will see the information about your phone over there.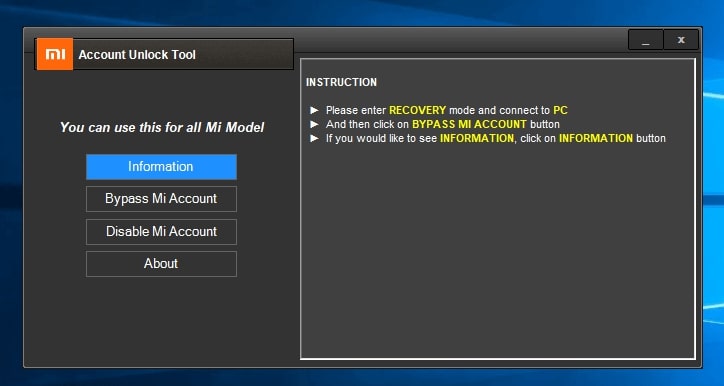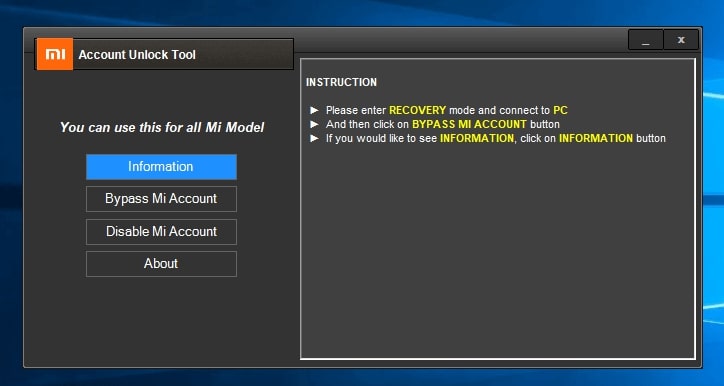 Step 8. Press on the Bypass MI Account option.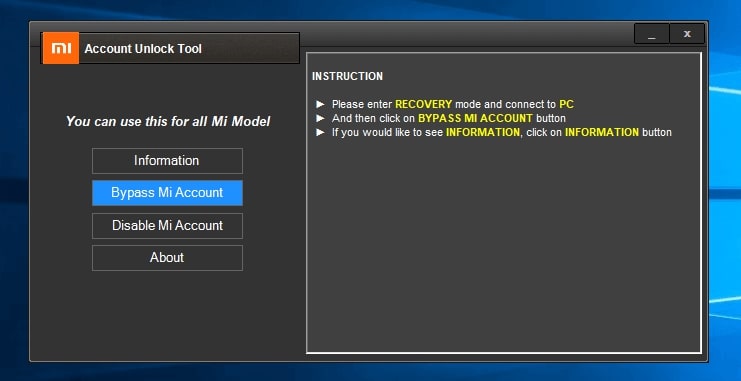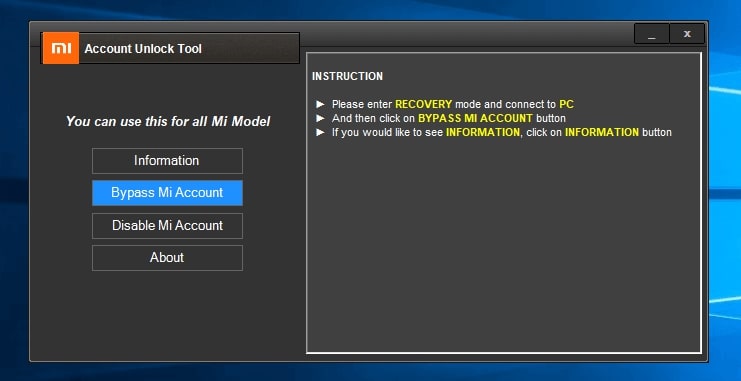 Step 9. After that, your phone will restart automatically.
And you are done! This way, you have completed the process to bypass your MI Account successfully. Your phone will restart by itself. Then complete the setup accordingly.
FAQs
What is MI Account Unlock Tool?
MI Account Unlock tool or MI Account Removal Tool or MI Bypass Tool the tool to remove or Bypass MI Cloud verification whenever you forget Mi Account Login & Password.
With the use of this tool, you can Bypass MI Account or Disable Account. These are the only two services are available in this application.
Whenever you Reset your device, On the first boot, we have to enter the Login of Previous MI Account ID. Without entering the details, you can not use the device.
Now, to Bypass this, we have two options. The first is to choose to forget the password there and recover the logins, or if you didn't remember the exact ID, you could use this tool to Disable MI Account options.
With the cloud storage account, you can find your lost phone, wipe out entire mobile data remotely, and set the phone on a continuous alarm.
If you are buying a new MI phone, then log in with your existing MI account. All your data from the old MI phone will get synced into the new MI phone.
Many people are searching for the MI account remover tool to bypass the MI Cloud account. With your MI associated with your Xiaomi phone, you can access their cloud services where you can sync all your mobile phone data like contacts, audio, video, messages, notes, etc.
What do I do if I forgot my MI Account Password?
There come times when you lose hold of your password or if, in any relative circumstances, you have made a factory reset on your Mi phone.
If you wish to use the Mi cloud services again, fill in the login credentials and get account access.
In that case, you need to bypass MI cloud verification to enable the device access again. It can be done by removing the Mi account altogether.
The Mi account unlocks tool is the most convenient and effective method to unlock the account.
In case you forgot the password, there is nothing as such to worry about. You can either use the "forget password" option to recover your account password.
However, this may turn irritating sometimes. It might happen that you didn't remember both your MI account id and password both.
In that case, you can bypass the account verification process by using the MI account unlock tool. This process will keep safe your device warranty.
Here we bring you the perfect working solution for it. You do not have to go through complex steps to recover the password. Instead, you can download MI account unlocker tool.
It is a small software for your PC, which makes it easy to bypass Mi cloud verification. It works on all Mi phones like Mi Note 4, Redmi Note3, MI 4c, MI note pro, MI 5.
Note
Before getting into the downloading procedure of the MI Account unlock tool. First, I want to let you know that if you want to unlock your phone officially, you have to take permission from the Mi Official Web Site. You have to wait for a few days or longer for it.
On the other hand, If you don't want to wait for MI unlock tool, then go ahead with our tutorial.
MI Account Remove Tool or MI Account Unlock Tool is a small tool to remove MI Account. If the device shows a notification like "this device may be associated with an existing MI account," you can use the MI account unlock tool to remove the lock from the MI account.
You can remove the account lock in most of the current and upcoming Xiaomi phones. Now download the latest version of the MI Account Unlock Tool and access all the cloud services provided by MI.
What is Mi Account Security, and How does Mi Account Security Work?
With the latest technologies and timely modifications, MI Smartphones are coming with additional built-in security features, and you can use this MI account security feature to protect your own data and information from other people.
When you get a new MI or Xiaomi phone in your hands, it will ask you to activate the MI account to protect your device, data, screen lock, data encryption, etc.
Once you entered your mail id and password, your MI account is activated. If you try to perform a factory reset or hard reset, you can't do that until you log in to the MI account using the correct username and password combination.
At the time of factory reset or hard reset, all settings return to the default phone setting. All user data and phone data will wipe after a hard reset, but you have to enter into MI account to set up your MI device again.
But the problem is that what you will do If the Mi account username and password combination are incorrect. On that condition, you have to enter the correct Mi account username and password.
Otherwise, you will get an error "this device may be associated with an existing MI account please log in to activate this device."
Which Windows OS does MI account Unlock Tool support?
MI FRP Unlock tool is compatible with Windows XP/ Vista/7/8/8.1/10. The MI account unlocks tool supports all the given windows variants. You can use this MI Password Remover tool on all the mentioned platforms and bypass the MI account with ease.
The MI Recovery tool is handy when you forget your MI account Id and password. The guide on using MI Account Remove Tool is mentioned below with details in this article. Keep reading further.
Wrapping Up
This was the entire guide to Download MI Account Unlock Tool and how you can MI password remover download, install it, and bypass MI account also Delete MI Account Without Password.
You can easily bypass your MI Cloud Account with the help of this process. I hope you guys found the article useful.
If you face any trouble or have any questions throughout the process, notify us through your comment in the comment box below.
Feel free to let us know if you are stuck at any step or process. We would be glad to help you. Also, make sure you have subscribed to our newsletter not to miss such updates, tricks, and tips.
Happy Androidng 🙂