Not all people work in the sunlight. Many people prefer working at night and for those, an illuminated keyboard is certainly a boon. One such keyboard is called a backlit keyboard. This keyboard is built with illuminated keys that help people provide bright keys in dark environments.
However, this backlit keyboard has certain time limits. If you are using one, do you know how you can configure Keyboard Backlit Timeout settings for Windows? Here's how you can do so –
How to configure Keyboard Backlit Timeout settings for Windows 10
If your backlit keyboard works and illuminates the keys for a few seconds or minutes and then switches off, then you will have to configure the backlit keyboard.
To configure the timeout of backlit, one will have to configure the BIOS with just two simple steps-
Change Keyboard Backlit Timeout settings for Keyboard
Note that not all Windows 10 PCs come with a backlit keyboard. To check whether you have the Backlit keyboard on your PC or not, go to the Customer Support page of the manufacturer and look for the notebook model of your PC.
If your PC is supported with a Backlit keyboard, then you can proceed further to the two steps through which you can configure the Timeout of the Backlit keyboard.
Step 1. Enter BIOS Setup
To begin with, restart your notebook. Then continuously press the F10 key until the BIOS opens.
Once the BIOS opens, click on the Advanced tab.
Hit enter on the 'Built-in devices option' from the list of options.
Step 2. Access Backlit Keyboard Timeout Settings
In the Built-in Devices Options, select the option of Backlit keyboard Timeout. 
The next thing to do is continuously press the Space bar.
This step will force BIOS to open the backlit keyboard settings.
Here you can select the timeout from the list of time options like 5 seconds, 10 seconds, 1 minute, 10 minutes, never, etc.
You can choose never for your convenience but that will eat up a lot of battery power.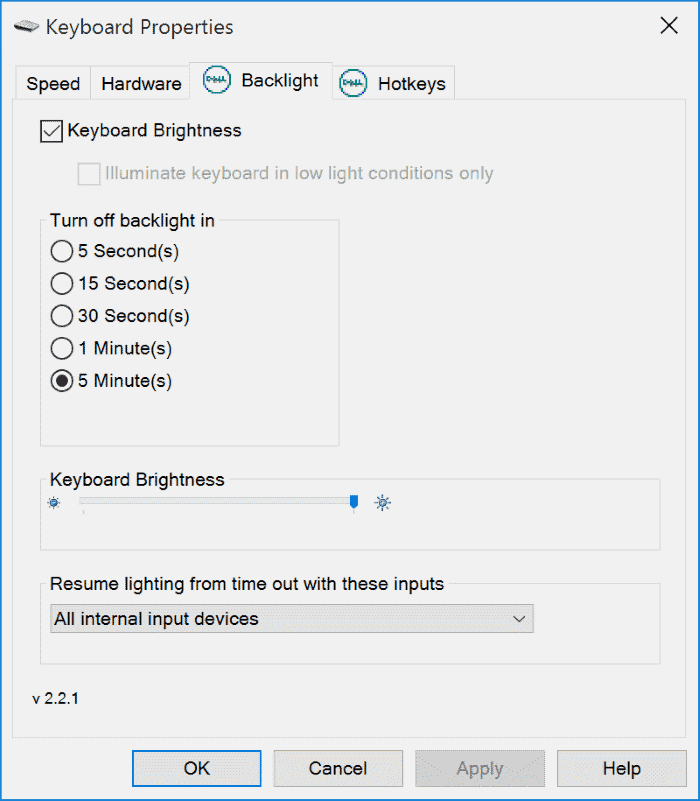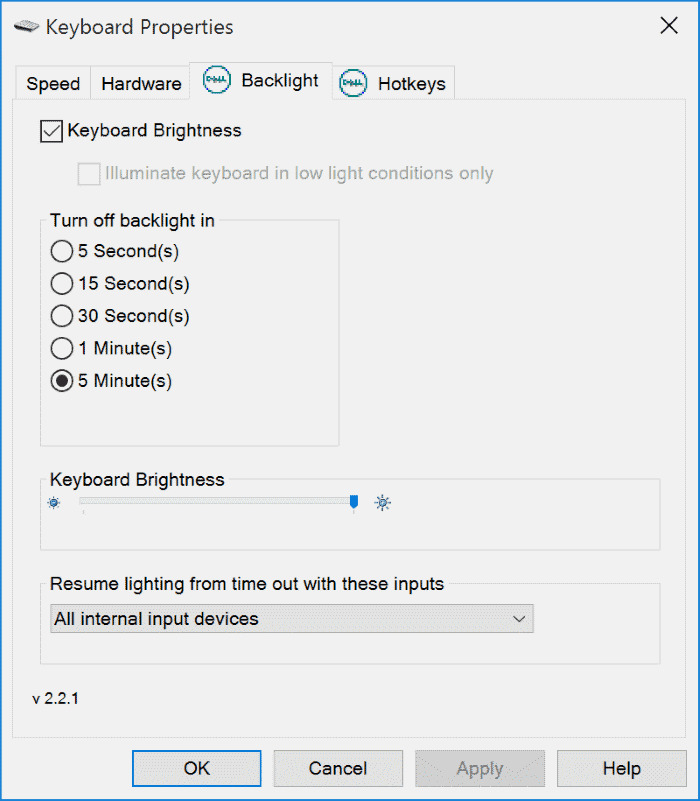 That's it. You have successfully configured the keyboard Backlit timeout Settings. In case the above tabs do not open on your PC,  just check the notebook model on the Customer Support page again.
Thank you for visiting:-)