In this  Comprehensive Guide, We are going to share a detailed method to Search Mobile Number In Truecaller Online Without Using The App. In a world where spam calls, fake calling, phone harassment are all at their peaks, call detector apps like TrueCaller are a boon. Most of the time you get calls from various companies like investment companies, share market, bank schemes, etc. of which 95% are fake and scam.
There are also various threats like somebody calling and annoying you with the motive to irritate you. To know who has been calling you and whose calls are dropping on your number, TrueCaller gives you a hand.
To know how you can know the details of unknown numbers on TrueCaller, keep reading the article further.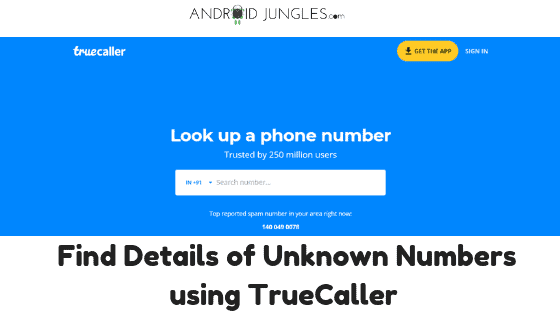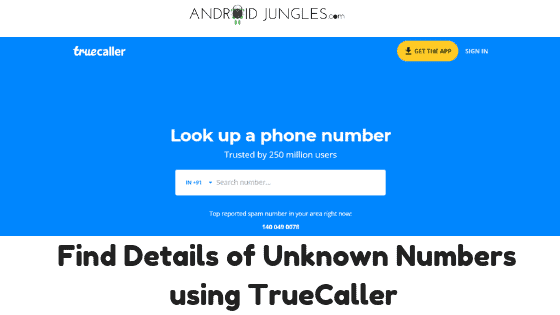 What is TrueCaller?
TrueCaller is a web application that allows you to see who is calling you and help you to block unwanted calls. This app is basically a privacy and security helper and was developed by True Software Scandinavia by Alan Mamedi and Nami Zarringhalam in the year 2009.
Through this app, you can keep an eye on the call records of your phone, who is calling you, who you are calling, and so on. This app is available in 35 different languages as of September 2014. You can install this app on Android, iOS, RIM Blackberry, Nokia Symbian, Windows 7, and Windows 8.
Download TrueCaller App
Download: TRUECALLER APP
App name:– TrueCaller
Developer:- True Software Scandinavia
App Size:- 10 MB
Compatibility:- Android, iOS, Windows 7, Windows 8, RIM Blackberry, Nokia Symbian.
Total Downloads:- 10 Million+
How to Search Mobile Number In Truecaller Online Without Using The App
Step 1:- Visit the TrueCaller official website.


Step 2:- Next, you will have to Sign-in. You can sign in through your Facebook, Google, Microsoft or Yahoo! account.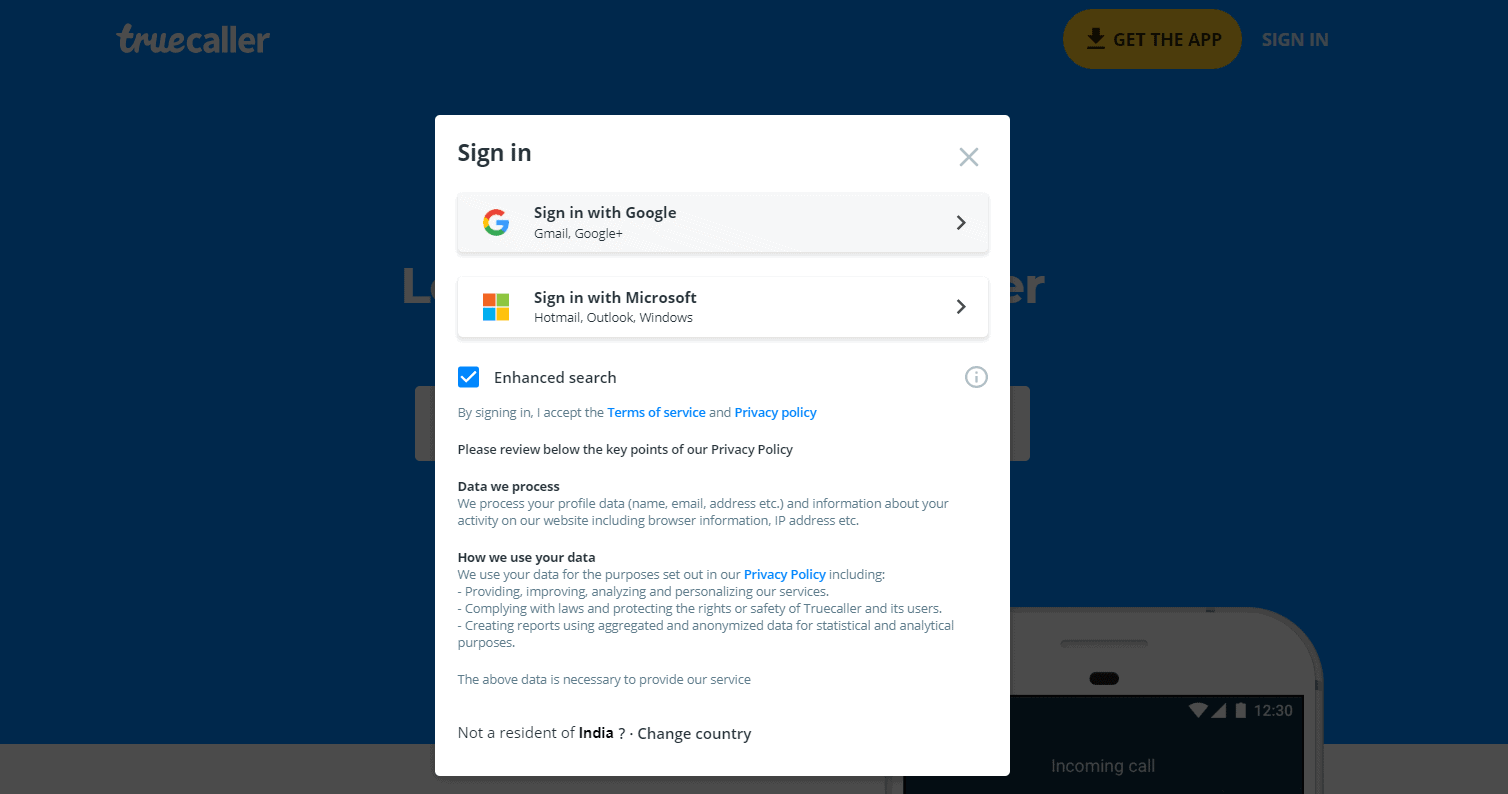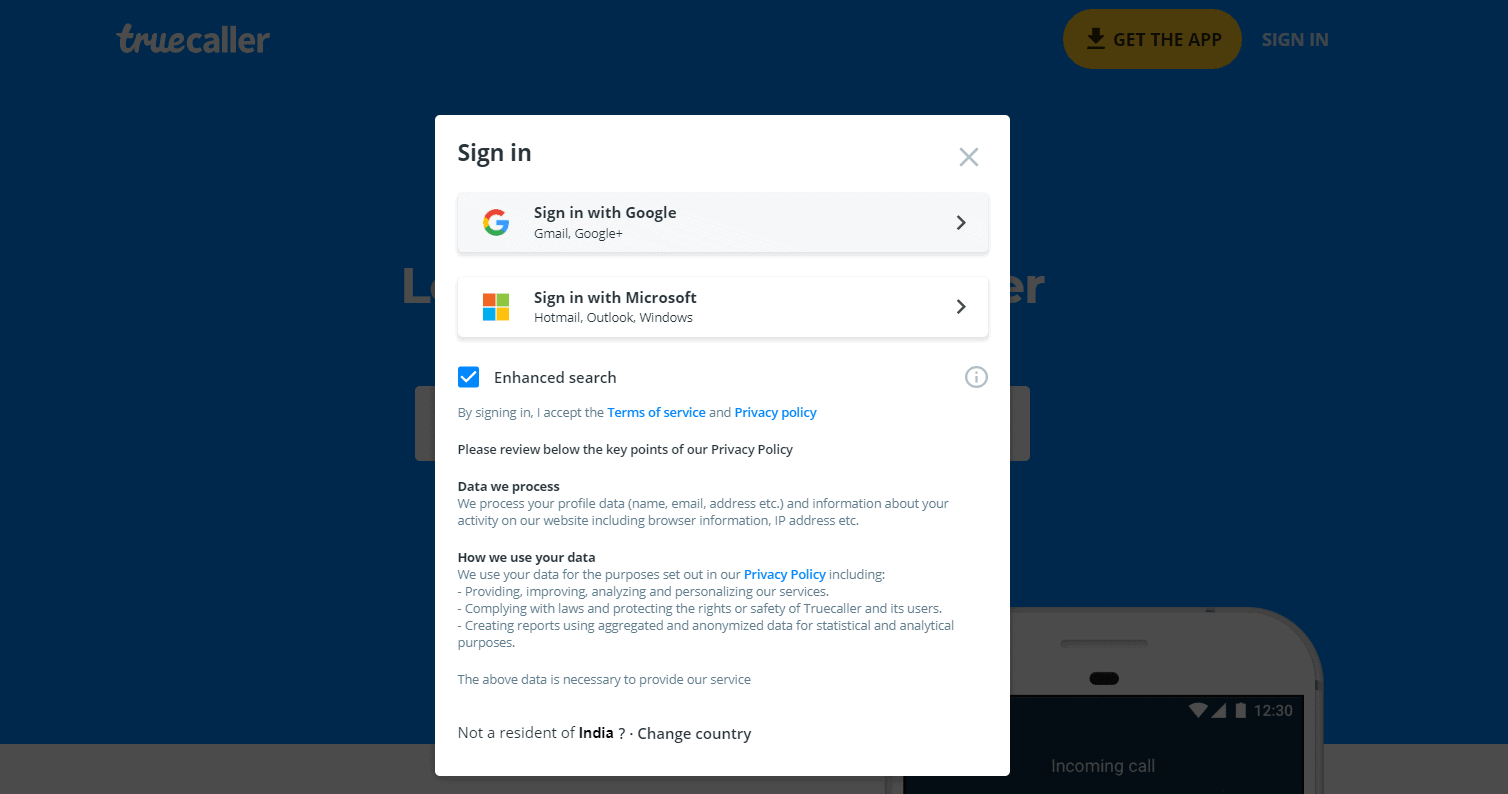 Step 3:- Now enter the number whose caller details you are looking for. TrueCaller will detect your Country code and thus Country.


Step 4:- Then click on the Search button.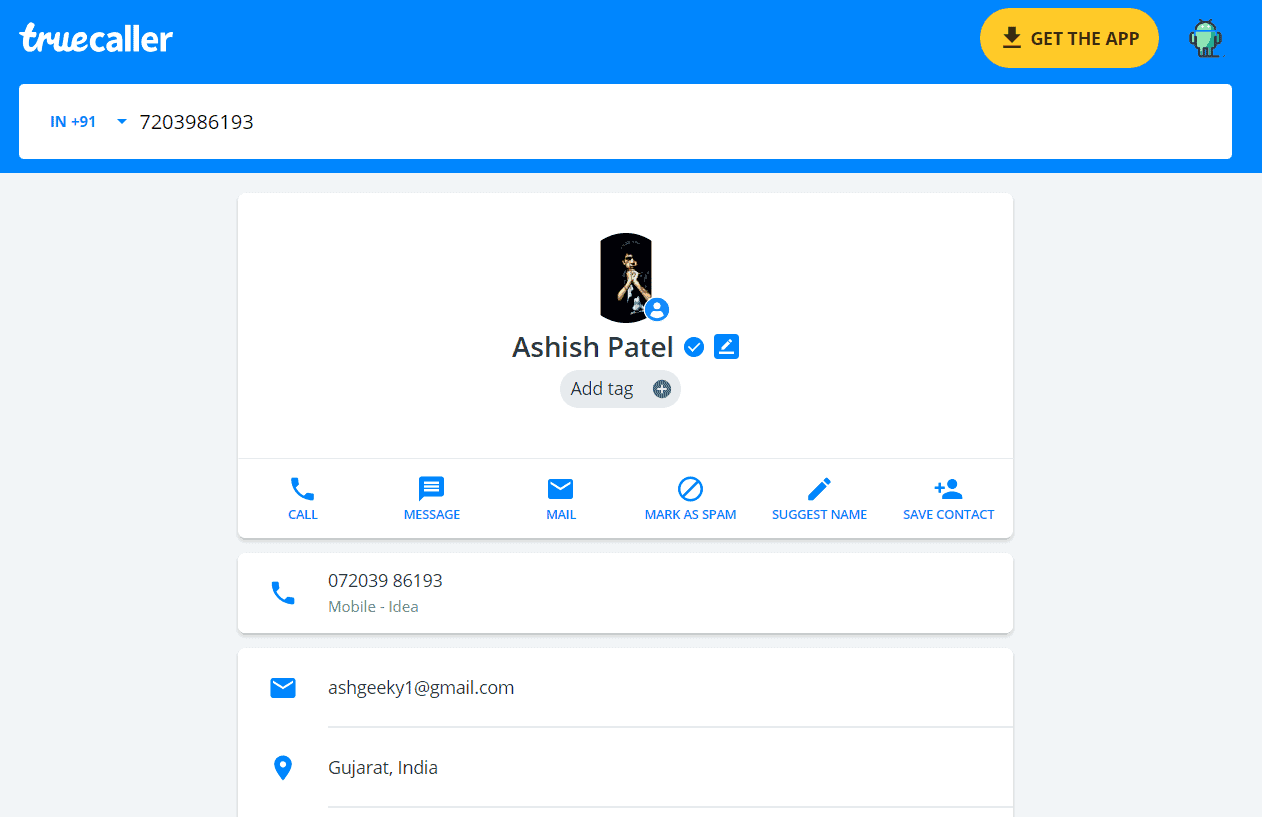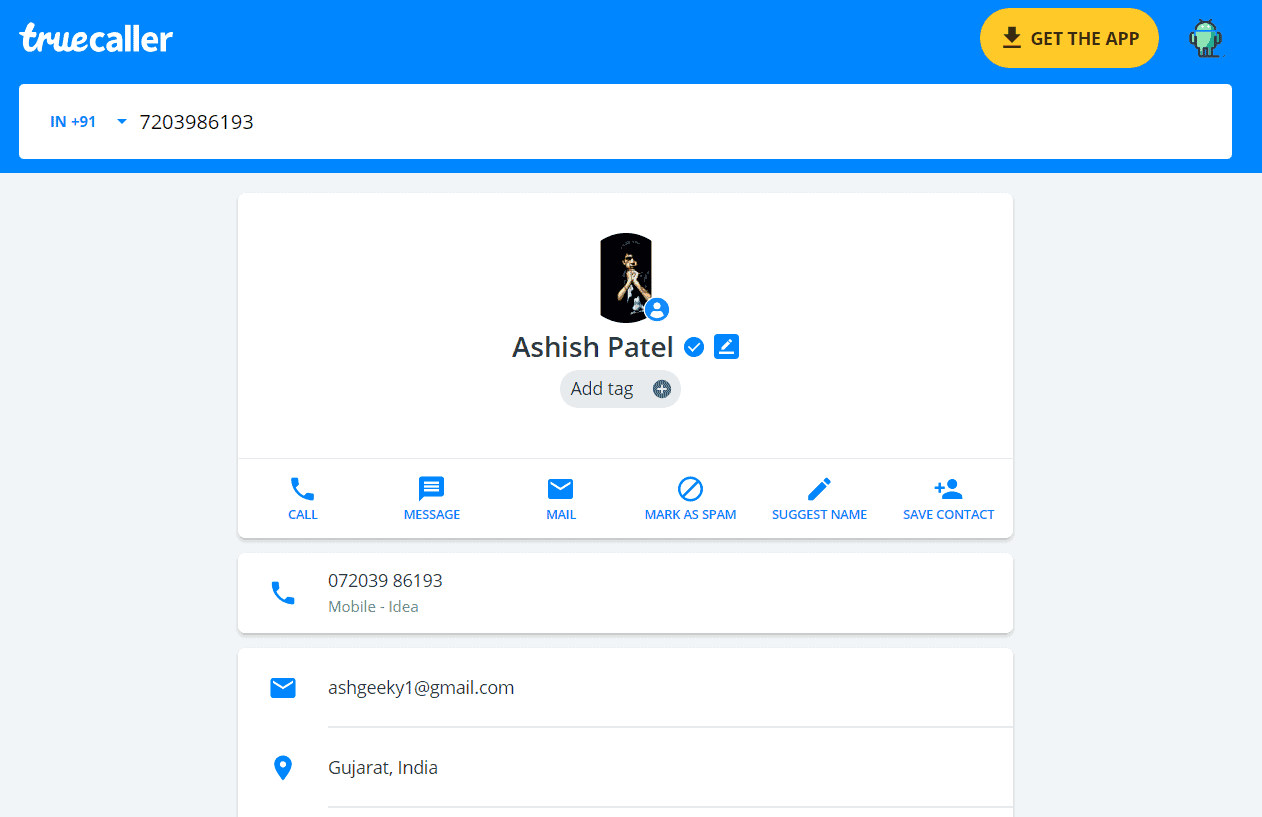 Step 5:- Through the available databases, TrueCaller will show you the information about the phone number you gave earlier.
This way you can know about unknown numbers through TrueCaller.
Note:- If TrueCaller does not recognize a number then it might be a new number that is not yet stored in the contacts of any of the TrueCaller users. And which is why you might not be able to say any details of it.
Features of Truecaller
Although you will yourself when you use this app realize and experience the features of TrueCaller, given below are some highlighted features that define TrueCaller in a true sense-
Automatic search engine to identify incoming and outgoing calls, messages, copied numbers, etc.
Auto-reject if you want to reject a call.
Social media connectivity. You can connect your Contacts to the Social media accounts they are holding. You will get the profile picture and similar data from their social media to your contacts.
Available in Free and Premium Versions, both of which provide excellent results.
You can look up phone numbers online.
You can block calls through TrueCaller.
The details about Landline numbers can also be extracted.
You can get to know about any number worldwide through this global app.
Final Verdict
I assume you may by now have used TrueCaller to find the details of an unknown number. I have, in this article, also mentioned the features of this incredible app that you could use for your convenience. In case of any kind of doubts, do let us know in the comment box below. We are here to help you.
Happy Androiding:-)