Hey people, Everyone now using smartphones this day and I know most people are using their phones to capture beautiful pictures. But sometimes you need to modify or edit the pictures and that can be some tricky task if you don't use some tools.
There any many inbuilt editors available with smartphones but you will get limited editing features. So, here I have shared details and features about the LunaPic photo editor.
LunaPic – feature-rich online photo editor
Basic Details –
Do you know that advanced edits and modifications in images can be done via some high desktop base software like Photoshop, Pixlr, and many more? But I feel that you may do a similar task with LunaPic editor easily and more conveniently.
The millennia like to get things done within seconds and without any hassle. Therefore, web-based applications were created to help out people do stuff without installing any program.
Therefore, most of the full-blown software have their counterpart web-based application. Though a web-based application does not provide tons of features, it sure covers the basic ones.
When it comes to photo editing, it has no match! It not only works well but provides a whole lineup of amazing features. LunaPic is an online photo editing application that facilitates its users with photo editing, uploading, and share. It is available at a few clicks distance, all the time. You can edit your favorite images now and share them with your friends and family.
LunaPic is not just a basic photo editor. As soon as you upload a picture to this platform, tons of editing options are unlocked for you. LunaPic allows you to add borders to your pictures, apply various cool filters, set animations, and have tons of more options to give an artistic look to your photos. This software was launched in October 2006 and has been improving a lot since.
Also, read- How to share location on WhatsApp?
Features of LunaPic –
A lot of online editing services provide basic editing features. LunaPic takes it to the next level. LunaPic editor does not just provide basic photo-enhancement tools like filters and contrast; rather it provides you with many options to enable you to give a professional look to your photos. Another amazing thing is, that LunaPic provides all of these features for free.
Checkout – How To Cancel Twitch Prime? Explained In Simple Steps.
Pixilated Animation – applies animation to your images with twenty different animation templates. If you are unaware of how to do it professionally, the 'Help' page provides detailed instructions to get things done easily.
Social Media integration – allows you to open pictures directly from your Facebook, Twitter, or other social media account and start editing them right away.
Cosmetic Surgery – allows you to increase/decrease any element you want in your pictures to innovate your photos.
Text/Draw tools – allows you to add amazing text, captions, watermark, clipart, and many more. This is the best tool to make motivational posters and quotation wallpapers by adding cool text designs.
Border tool – gives you a list of amazing border options which will give a new look to your pictures. You can select blurred, rounded, color tint, film strip, vignette, beveled edge, and many more border options.
LunaPic Filters – provides you with a list of professional filters which enhance your photos and give them a totally new look. There are more than twenty-five filter options to select from.
LunaPic Adjust Tab – allows you to adjust color, lighting, focus, the haze of your photos. It also comes with editing options like adding blur, mirror effect, photo flip, sharpening, straightening, redeye reduction, smoothing, and many more.
Art – give an artistic look to your photos. There are options to make your picture look like Picasso's art. You can add tattoos, graffiti, watercolor, give a fantasy look, increase the beauty, and make it look dreamy, and many more.
LunaPic Photo Effects – allow you to have several effects like blending (gradient, masking, and two photos), 3D cube, lego style, abstract outline, and several other cool effects; all awaiting you for free.
Undo option – saves you from making a mistake. Creating a great-looking photo goes through a few or maybe several mistakes. Therefore, LunaPic editor got you covered with its undo option. You can undo any mistake you make during editing your photos.
Save locations – are available. You can save the edited pictures directly to your device or you can save them to Twitter, Imgur, or Facebook.
LunaPic URL – Click Here.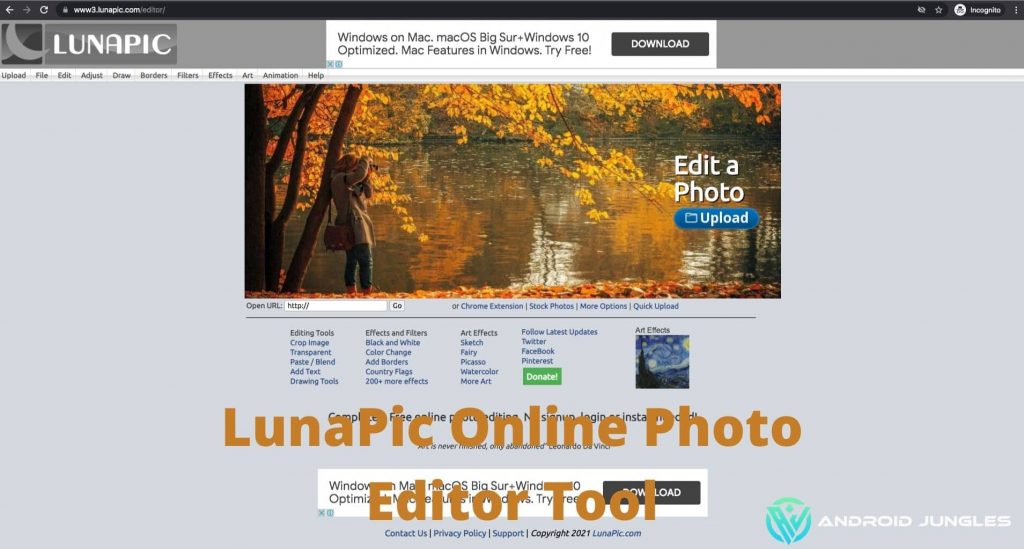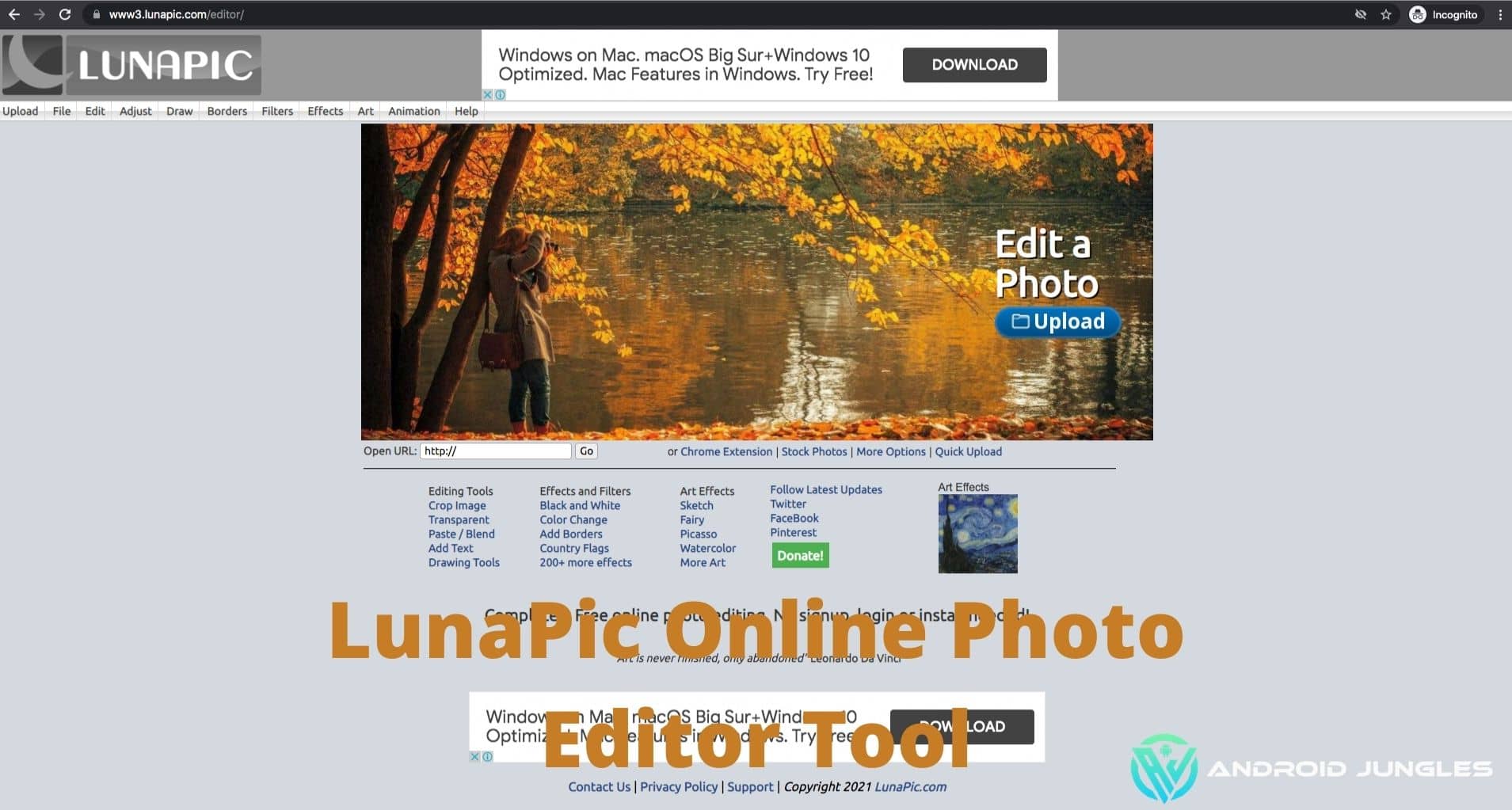 Must Checkout – How To Sync Facebook Birthdays With Google Calendar?
FAQs –
Is LunaPic safe to use?
Yes, it's very safe to use. You can use it without worry from anywhere.
Can I use LunaPic as a free editor?
What is LunaPic?
LunaPic is an online photo editor tool. Which you can use as a free photo editor.
My Thoughts –
Enjoy LunaPic for free. This is the most feature-rich online picture editor which allows you to edit your pictures professionally. What makes this tool special is that it does not require its users to create an ID to avail all these amazing features. You just need to open your browser from any device: PC, Tablet, or smartphone, and start using the services for free. Once you have created your masterpiece, you can save it in full high definition resolution.
Let me know your views in the comments.
Happy Androiding…