For those who do not know, Windows Sandbox is a virtual disposable environment that can be enabled when and if you suspect any software that is suspicious. One can run it compounded in an isolated environment and thus make sure that it would not interfere with any normal processes.
While running Windows Sandbox, at times, you may come across some error code – 0xc030106. Well, the meaning of this code is that the Windows Sandbox has failed to start. The Virtual Machine or Container exited unexpectedly. But there's nothing you need to be worried about that today since we have got the solution to fix error 0xc030106 code on Windows.
Windows Error 0xc030106 – Sandbox failed to start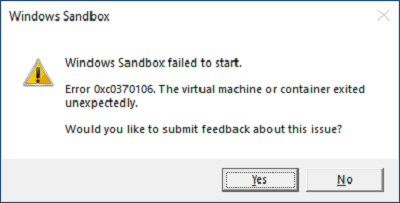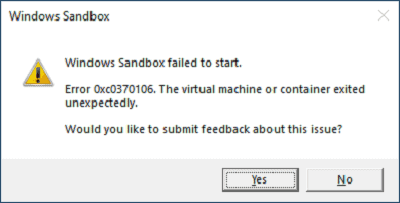 To fix the Windows Error Code 0xc030106, you can make use of any of the below methods –
1.Install Pending Windows Updates
Updates are a common reason if anything does not work well on the PC. Simply go to the Windows Update Section on your Windows 10 Settings App and then click on the 'Check for updates' option. If there are any updates pending, install those and then see if Windows Sandbox works without the error code.
2. Run Windows Sandbox as Administrator
In the Start menu, scroll down to the entry of Windows Sandbox.
Now right click on the Windows Sandbox and choose – More> Run as Administrator.
Then choose YES for the User Account Control and now see if the Windows Sandbox is working properly on your PC.
3. Check if all Supporting Processes are running
Go to the Windows Services Manager and see if the below-mentioned services are running or not.
Network Virtualization Service.
Virtual Disk.
Hyper – V Virtual Machine.
Hyper – V Host Computer Service.
Container Manager Services.
You can also restart these service in the order mentioned above. When you are done, you can try Windows Sandbox again.
Keep Visiting 🙂