Best 7 Fastest Android Emulators for PUBG:- PUBG, the most popular game almost all over the world is a platform for a million game freaks. It is no more a thing to be introduced specifically what impact PUBG has made on these millions. Unlike other similar games, PUBG has got graphics and features of great quality even in its mobile version. However, what all can you fit into such a small screen?
Those who play PUBG on mobile can relate to this- due to the small screen size, our actions may cause some unknown complications. You hit one option like that of adjusting the position of the player but due to the smaller screen size, you end up firing a weapon.
One more backlog of playing PUBG on a mobile phone is the never-ending one- battery drainage. If you play the game on your device, there are huge chances of ending up with a low battery. This can really be annoying. But when you shift to PC, there simply are no such issues to worry about. All you have to do is install and Emulator and you are good to go. With a bigger screen, you get more accurate gaming experience.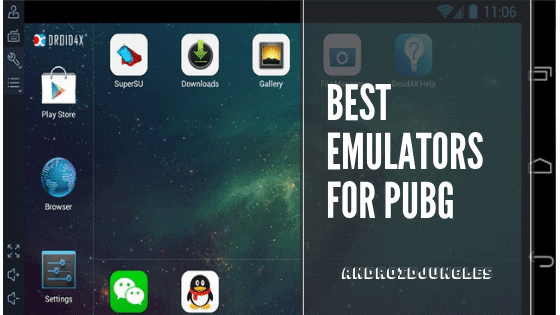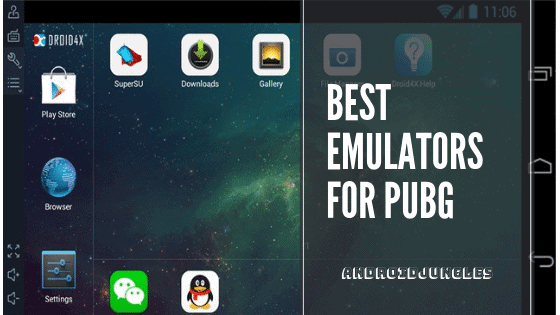 Disclaimer
www.androidjungles.com is not responsible for any issue caused due to the use of emulators. Since not all emulators are compatible with all the apps and games, the limitations on emulators can cause some sort of technical problems. Using these emulators is your personal choice and we do not emphasize the use of emulators.
Best 7 Fastest Android Emulators for PUBG
1. NoxPlayer6
When it comes to playing mobile Games on PC, NoxPlayer6 is the emulator that comes to the mind. Indeed it proves to be one among the best PUBG Emulators for PC. And the best part? It is absolutely free for use. NoxPlayer6 emulator has software that allows you to load apps and games that you have downloaded from a source other than Google Play Store on the PC.
The mechanism of its working is that it works on the software that uses that version which is mainly developed for gaming of Android. You get a number of features on this emulator- Options to take Screenshot and Video Recording. You also get a PC Gamepad and the emulator maps out keys to do functioning.
2. Bluestacks
When we are talking about Emulators, the talk can't be concluded without the mention of Bluestacks. Bluestacks, being the topmost emulator for Android is a platform for millions of users. But the reason why we have enlisted this on the second position since there are cases of complaints regarding service and quality of this emulator.
However, you can make us of Bluestacks for running PUBG on PC smoothly. You can use Bluestacks for free and if you are looking for additional features, there comes a paid version of Bluestacks too. Similar to every other paid and free version, you get ad-free interface on the paid version of Bluestacks.
3. Tencent Gaming Buddy
Tencent Gaming Buddy is an emulator that has specifically designed for PUBG Mobile game. This emulator came into existence due to the increasing number of complaints concerning control of touchscreen issues on smaller screens of mobile phones.
On this emulator, you can play PUBG with much better gameplay and mapped controls on mouse and keyboard. There are layouts to choose from as per your wish. This makes it more convenient for users.
4.  Andy
This emulator is kind of out of the box. Its features are a reason that makes it so unique. You can run almost every android app on PC and Mac through this emulator. It enables you to download the app from any desktop browser to Andy directly. It connects PC or Mac with Android apps so as to launch, get notifications and storage purpose.
You can use your mobile phone as a joystick and then enjoy the whole gaming experience on a bigger screen. This emulator automatically syncs across all the devices that are connected to it. Hence you do not have to worry about the transferring of games.
5. Remix OS Player
This emulator is also specifically designed for gaming. You can map keyboard buttons and thus have a control on the game to your comfort level. Just note that this emulator requires the Virtualization technology to be enabled in your BIOS and does not support AMD Chipset.
This android emulator also runs on Android Marshmallow. This app comes with a user-friendly interface and a number of modifying options. Let me bring this to your notice, this android emulator is the only emulator out there that makes it possible for you to play a number of games at the same time.
6. Apowersoft Android Recorder
This software which casts your mobile phone screen to PC can be used if you want to have the PC experience for PUBG. This software provides you real-time gameplay. Thus, unlike emulators, here you can run the game with more accuracy.
You can take screenshots and record the screening as well. This means that you can also record your gameplay. For games like PUBG, this emulator cum software is one good choice to make.
7. Memu
An emulator that has become quite a lot popular in a short time, yes it is the Memu. With numerous features to be amazed about, the gaming experience through this emulator on PC is a boon! You can install APK files from Google Play Store or copy the APK games and apps on Memu.
The best part is you can have access to keyboard mapping features that could be modified as per the needs for playing PUBG. All the graphics can be enhanced more by enabling virtualization for PC.
Read more: Best 14 LightWeight Emulator for PC
Rounding Up:
And I conclude the article about Fastest Android Emulator for PUBG now assuming that you all have got what you expected through this article. If not, feel free to let us know about your suggestions and queries below in the comment box.
Thank you for visiting our website.
Happy Androiding:-)