In this article, we will be sharing with you all the Best Signal App tips for more Secure Chat on Signal.
WhatsApp, with its very controversial new Privacy Policy and Terms of service, has made people Switch from WhatsApp to similar apps. With the tweet of the richest man on the planet, Elon Musk, many people are shifting to Signal.
After WhatsApp released its latest Privacy policy which will share user data with Facebook-owned and other third-party apps. This has created a very obvious concern Among people regarding their privacy and security.
Hence, many WhatsApp users are now shifting to other apps like WhatsApp. And one such amazing app which many professionals use to maintain privacy and security is – Signal.
The signal is higher security messaging app similar to WhatsApp but with many features and top-notch security.
Best Signal App tips for more Secure Chat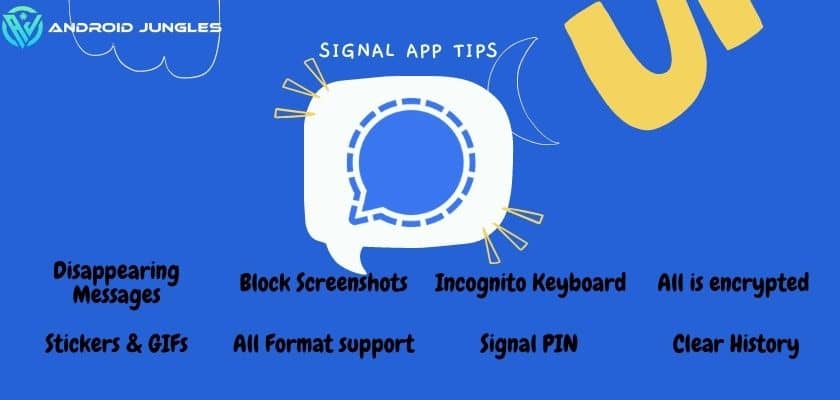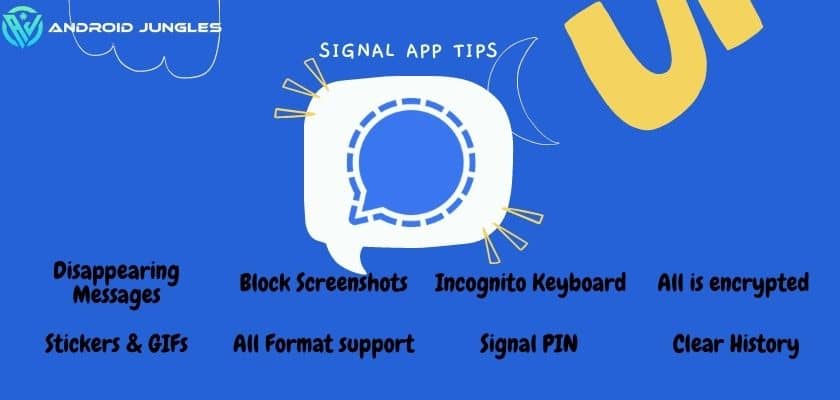 1. Disappearing Messages
One of the best parts about using Signal is that one can set their messages on the "Self destruct" mode. Through this, all the messages you sent will disappear automatically, as they do in Snapchat.
You also get the option to choose the time within which the messages will disappear. Generally, you can make messages disappear from 10 seconds to a week.
Must Checkout – How to Download Signal app on Android, iOS, and PC
2. Block Screenshots -best of Signal app tips
Yes. You can do that on Signal. The signal is a very reliable app when it comes to privacy and Security. By going to the Signal app> Settings> Privacy > Screen security, you can block screenshots in the app and recent list.
3. Incognito Keyboard
As we mentioned earlier, Signal takes the privacy of a user very seriously. And hence it offers a very unique feature in regards with the same.
You can enable the Incognito Keyboard feature from Settings> Privacy on the signal app. This will disable your keyboard to display personalized learning.
Check out – How to start encrypted Voice or Video calls on Signal?
4. All is encrypted here!
Not just your secret chats like Telegram, but everything right from Images, files, profile photos, voice calls, and video calls, as well as GIFs; absolutely everything is encrypted on this app ensuring your security.
5. Stickers & GIFs
Signal has recently introduced Stickers as well as GIFs for its users. Yes, this might sound a little off as mostly all the messaging apps nowadays support both GIFs and stickers.
However, these stickers and GIFs are powered by Giphy but your IP address is hidden from Giphy. This provides a secure use of Gifs. So basically, Signal encrypts your GIFs as well!
6. All Format support
Signal lets users share files, images, etc. Of almost all formats. All you have to do is go to the contact where you want to share a file. Tap on the + blue button, select the file, and share any file in PDF, docs, word, etc. format. You can also share images, contact, location, and GIFs.
7. Signal PIN
The signal app requires you to register a PIN that it will frequently ask you to enter to maintain top-notch Security.
8. Clear History
If there comes a time when you wish to erase all the history of your Signal app or account, you can do that very easily.
Also, read – How to delete Signal Account? (Easiest way 100% Working)
Let me share with you some frequently asked questions regarding signal App tips –
FAQs –
Is the Signal app secure to use?
Yes, it's a secure messaging app. It's a similar chat app that you are using and by the above tips, you can securely chat with your friends.
Can anyone see my Signal messages?
The signal app offers end-to-end encryption for your messages. So, the Signal app doesn't store any data or messages sent by anyone.
The signal app is more secure than WhatsApp?
Maybe yes because the Signal app not collects and stores any data on their side. So, it's a more secure app than WhatsApp.
Does Signal store your messages on their side?
No, the data or messages are stored on your local device. Not on their server or cloud storage.
Concluding Words –
I hope you all found the Best Signal App tips for more Secure Chat on Signal App. In case you have anything you want to know more about Signal, feel free to let us know in the comment section below.
Happy Androiding:-)