Hello Readers, in this article I will be sharing with you all the necessary information regarding ant radio service. So, keep reading the full article and I hope you like all our previous tutorials and articles.
Please share your view below so that we can also get some interesting topics like this that can be beneficial to everyone in day-to-day life.
What is ant service app?
I know this question is the core of this article. So, I will try to cover most of the information that can be useful to understand this question.
Let's start with the basic information about ant radio service.
Also, read – How to Upload Audio To Youtube Using Audioship?
Basic information –
Ant radio service is one type of system service or I can say protocol. And it's a division of Garmin. Garmin is also smartwatches and smart devices manufacturer company. This ant radio service is an inbuilt system protocol that is installed on your smartphone. I can say that you don't need to install it manually.
So, this ant radio service is installed on your phone by the smartphone manufacturer itself, or that will be installed or added while you will get the Android update.
Must check out – How To See Saved Passwords On Chrome.
Simple answer for this question: what is ant radio service? –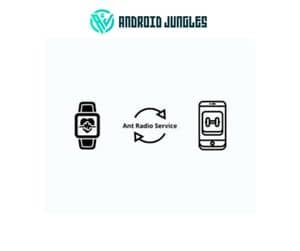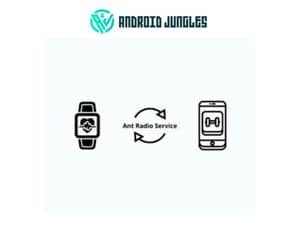 Ant radio service is a protocol or system app that can be used to connect hard with software to sync real-time data or information. Ant radio service works exactly like Bluetooth, NFC, or wireless connectivity.
Now let's understand the uses and why do you need this type of protocol or app in your smartphone –
By this protocol or system service, some health-related apps can be able to track real-time data and that can be transferred to your smartphone via ant-enabled apps from connected fitness hardware like fitness bands and smartwatches or fitness devices.
Ant enabled apps can track the data listed below –
You can find lots of compatible apps and devices with ant and you can also find your compatible devices here –
One more thing that you are wondering about is if this ant radio service is not pre-installed that you can install it or not? So, in that case, if your mobile device is supported by the ant then you can download and install free apps ant radio service app, or ant+ plugin app from your play store and app store and you can use it.
You can check more information to connect the devices here – more info.
Now, please go through the basic questions about the Ant service ratio and its related technical terms.
So, keep reading…
FAQs –
Can I uninstall ant from my mobile?
No, you can not uninstall ant from your phone but you can disable it from your phone.
How can I disable ant from my phone?
First, go to settings – applications – application manager and find the app and you can disable it.
Can I enable ant on my phone?
Is it safe if I disable ant app on my phone?
There are no software issues or there is no problem in phone performance if you disable ant.
Final Words –
So, I think you have all the required information about what is ant radio service is. Well, you can check in your device that this system protocol is installed in your phone or not, and if not then you can follow the steps written above. And then you can get the advantage of the ant radio.
Here are the download links for you –
For Android –
Ant radio service – Download now.
Ant+ Plugin – Download now.
Well, I hope you all like this article. And that's all for this one.

Keep enjoying and let me know your questions in the comment.
Happy Androiding…